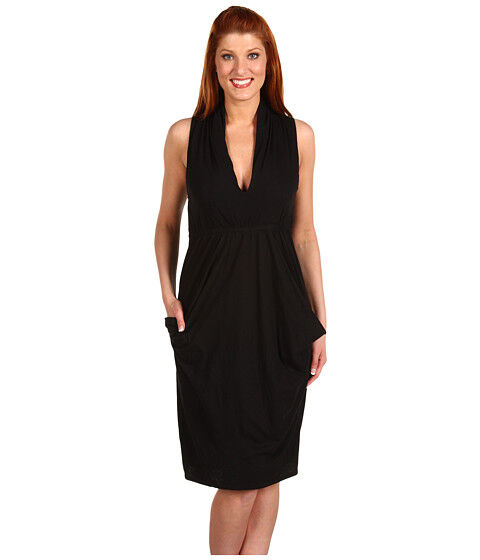 A jersey dress is a comfortable addition to every woman's wardrobe. These dresses can be worn on casual occasions or dressed up for the office or a night out. Jersey is usually a cotton or silk knit blended with a synthetic material to add stretch. It tends to hug the body's contours, making many curvy women reluctant to wear this type of dress. However, understanding the do's and don'ts of wearing a jersey dress makes all the difference, regardless of the wearer's figure. Choose the right cut and neckline for a dress that skims rather than clings. Don't forget to consider the type of underwear and accessories worn with the dress. Jersey dresses are available from clothing and department stores, and online, from eBay.
1: Do Choose a Jersey Dress in a Flattering Cut
When choosing a jersey dress, take the cut into account. It should flatter the wearer's body, enhancing her best attributes and downplaying those she would rather hide. Body shapes are generally described as top heavy, bottom heavy, top and bottom heavy, and athletic, with a number of subcategories, such as hourglass, apple, or pear shapes. Identify the wearer's body type and choose a dress style accordingly.
For example, a woman that is bottom heavy and apple-shaped looks her best when the eye is drawn to the top half. Choose a jersey dress with an empire waist to accent the thinnest part of her body. A woman with an athletic shape should choose a style that creates the illusion of curves, such as a jersey dress nipped or ruched at the waist. A jersey dress with an A-line skirt adds volume to the hips.
2: Do Choose the Right Neckline and Sleeves
The neckline of a jersey dress can be used to draw the eye to the shoulders, neck, cleavage, arms, or back. For example, top heavy women with large breasts look their best in V-neck or halter neck dresses and should avoid high necklines. Apple-shaped women should choose dresses with embellished or detailed necklines to draw the eye away from the midriff. Sleeves and neckline go hand in hand. Women that are self-conscious about their upper arms should choose three-quarter length sleeves and accessorise to draw attention to their wrists.
3: Do Choose a Jersey Dress that Skims the Curves
Jersey fabric tends to hug the curves of the body. Some women look good in tight, clingy clothing, but for others, it is still possible to choose a cut that skims the body without exaggerating the curves; this is especially important for curvaceous women. Although it may be tempting to hide the curves, a dress that skims them often has a slimming effect. Similarly, athletic women can create the illusion of curves by wearing a fitted jersey dress that does not cling.
The fit of the dress is important. Do not be tempted to buy a dress that is meant to cling in a larger size to avoid a tight fit. Depending on the cut of the dress, this could lead to constant adjustments while the dress in worn, such a pulling the skirt down or the neckline up. Instead, choose a dress that does not cling and ensure that it is a good fit.
4: Don't Forget to Choose the Right Undergarments
The right undergarments can completely change the look of a dress. The majority of women wear bras that do not fit properly. Get fitted for a bra at least once a year. A fitting involves getting measured for the right size and having a professional suggest different styles that are suitable for specific breast types. The lift and support provided by a good bra has a slimming effect. In addition, wearing a bra that is the right style and size improves the fit and look of clothing.
Shapewear should not be overlooked either. Buying the right shapewear provides a painless, inexpensive nip and tuck where needed, changing the wearer's silhouette. Those that are unhappy with certain parts of their bodies can use shapewear to minimize and control these areas. For example, control pants can be used to firm a flabby tummy and a waist cincher can be used to add definition to the midriff. A jersey dress that skims the curves looks much better when there are more curves to skim.
5: Don't Over Accessorise
The look of a jersey dress can be changed with the right accessories. Change the shoes, bag, and jewellery to go from day to night. However, take care not to over accessorise. Coco Chanel famously said: "Before you leave the house, look in the mirror and remove one accessory". While all fashionistas may not agree with this, do accessorise in moderation.
Choose shoes that suit the style and cut of the dress, as well as the wearer's body type. Women with an athletic build should avoid large, chunky shoes. Instead, delicate heels can be added for a more feminine look. Those with short legs should not wear shoes with ankle straps as they create a line across the leg. Instead, wear flesh-coloured shoes with nude legs to create the illusion of height or choose tights or stockings and shoes in the same colour as the dress to create the illusion of longer legs.
6: Don't Be Afraid to Try Something New
Since the jersey dress is a staple in many women's wardrobes, these garments can become a fashion rut easily. Do not be afraid to try something new with a favourite jersey dress or to buy a dress that is different from those owned before. Experiment with styles and colours, adding something new to the wardrobe's palette every so often. Choose a bright, cheerful colour for summer or a soft pastel for spring. Try new patterns and necklines, or change the length of the skirt for a different look.
Alternatively, try wearing an old favourite with new accessories. Adding a belt changes the fit and feel of a jersey dress. Try it with different types of shoes and experiment with dressing it up and down, using a range of accessories and hairstyles. A forgotten jersey dress can be revived easily by doing this type of experiment.
Buying a Jersey Dress and Accessories on eBay
To find the perfect jersey dress and accessories on eBay, type a phrase, for example "blue wrap jersey dress", into the search field, which can be found on every page, to see the items available. Refine your results by choosing the most suitable category and item features. Do not forget to visit the eBay Deals section to see great bargains.
Before Buying on eBay
Before buying on eBay, learn about the item and the seller by viewing the item listing page, which is accessed by clicking on an individual dress. Always read the full item description carefully. In addition, check the seller ' s feedback. Feedback is left by previous buyers and gives an idea of the reliability of the seller and the quality of products offered.
Conclusion
A jersey dress is a flattering and versatile item when worn correctly. Choose a cut that flatters the wearer's figure, accentuates the good points, and downplays the bad ones. Choose a neckline that draws the eye to those parts of the body that should be the focus of others' attention or that creates balance between the top and the bottom halves of the body. For most women, a jersey dress should skim the curves without clinging to them.
Don't neglect the wearer's undergarments, including the bra. Shapewear is an inexpensive way to change the silhouette. Take care not to over accessorise a jersey dress. Try something new, such as buying a dress in a different style, pattern, or colour, or wearing different accessories with an old favourite.