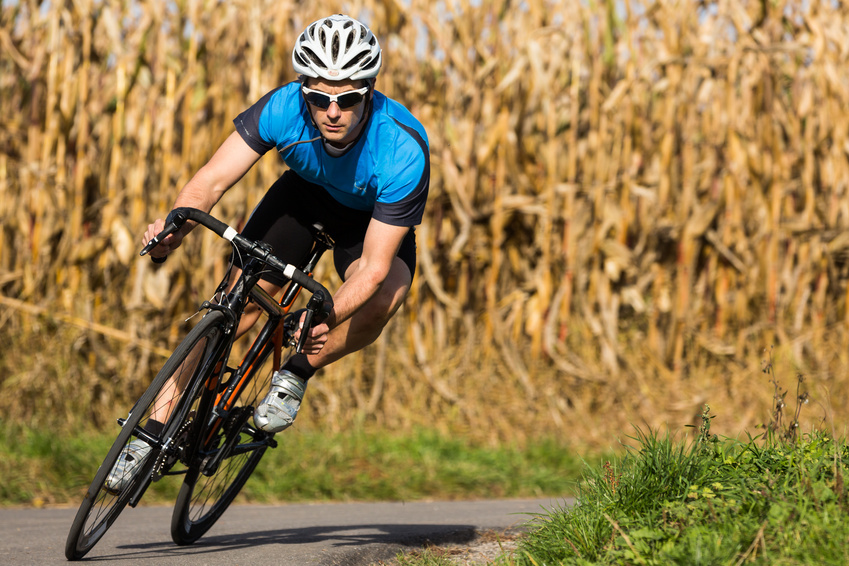 A road bike is a perfect way to get around town, whether to and from work, or just going for a short errand or outing. Longer rides allow passionate cyclists to experience the freedom and exhilaration of the open road. No matter what kind of cyclist you are, safety is everyone's concern. Bikers should take safety very seriously to protect themselves and others.
One major issue for cyclists is visibility, particularly in low-light conditions. Alerting others to your presence from afar is an excellent way of helping prevent collisions. Protective gear is another important component, as it helps keep the rider comfortable and safe on the bike, and can add vital shock absorption in the case of an accident. Finally, it is important to keep a bike running properly, so portable repair items are another thing to have on hand. Some safety equipment, like helmets and lights, are required by law, while others are strongly recommended by expert cyclists. Preparing in advance helps keep everyone safe on the road.
Accessory #1: Road Bike Helmet
No matter where one stands on the issue of whether bike helmets in fact reduce the risk of head injury, in Australia, wearing a helmet is required by law. It is important, however, to get a quality, well-fitted helmet that meets mandatory standards, as poor fit or quality can actually increase the risk of injury. The helmet should be labeled with AS2063:1996 or AS2063:2008 certification, indicating that it has been tested for, and complies with, safety standards. Buying a used helmet is not recommended, since unseen damage could potentially reduce its protective efficacy. Be sure to look for a road bike helmet, which is particularly aerodynamic, lightweight, and designed for optimal ventilation. A road bike should never have a visor, which could partially block visibility.
Bike Helmet Fit
For fitting sizes, the following chart can serve as an approximate guide, based on the measurement of the largest part of the head, usually about 1.5cm above the eyebrows.
| | |
| --- | --- |
| Helmet Size | Fits Head Measurement |
| Extra-Small | Under 51cm |
| Small | 51cm-55cm |
| Medium | 55cm-59cm |
| Large | 59cm-63cm |
| Extra-Large | Over 63cm |
| One Size Fits All (Women) | 50cm-57cm |
| One Size Fits All (Men) | 54cm-61cm |
To get the right fit, buyers should first measure their head with a cloth measuring tape to get an accurate measurement. Alternatively, they can wrap a piece of string or ribbon around their head and then measure the length once laid flat.
A well-fitting helmet should feel snug, but not uncomfortably tight; when gently pushed from side to side, it should not shift. There is usually an adjustable sizing wheel at the back of the helmet, as well as an adjustable chin strap. The helmet should sit forward on the head, but not lower than 1.5 cm above the eyebrow.
Accessory #2: Lights and Reflectors
Lights make a road bike visible to others on the road, in both directions. When riding in low-visibility situations, such as fog or rain, or at night, Australian law mandates that cyclists have a white light on the front of their bike, a red rear reflector, and a red tail light. The lights may be either still or flashing, but must be visible from 200m. The reflector must be visible at 50m from behind by a vehicle's headlights at the low-beam setting. Buyers should ensure that the items they are purchasing are in compliance with these standards. LED lights offer plenty of bright light with long-lasting batteries than filament bulbs; some can even charge from a computer via a USB.
Accessory #3: Bike Bell
Having a bell on the handlebars of a road bike lets the approaching rider warn those who may not otherwise see them. This friendly warning system is an easy way to communicate with pedestrians or other cyclists, and can help prevent confusion or unwanted surprises. Bells or horns can be mounted on front of the bike; it should be easy to operate and loud enough to send a clear signal to others. And since the bell is a rather visible feature of the bike, cyclists should consider whether the bell or horn matches their bike's style. There are many styles from which to choose, ranging from cute to classy.
Accessory #4: Gloves
Riding a road bike places up to one-third of one's body weight on the hands. Biking gloves feature added padding at the pressure points around the palm of the hand, fingers, and thumbs. High-tech versions may have gel at these points, for increased shock absorption. Wearing gloves helps prevent hands from falling asleep on longer rides, and also protects them from wind and weather. Keeping hands warm and comfortable also helps ensure that you can brake and shift gears appropriately.
Accessory #5: Reflective Clothing
Visibility is key to biking safety on the road. In addition to the mandatory lights and reflectors, it is also advisable that bikers have bright, reflective clothing that lets others see them clearly in advance. This is especially true when light conditions are lower. A waterproof, breathable, reflective jacket is a must-have: it keeps the rider dry in wet weather, while allowing others to see them from afar. Biking jackets are designed to be longer in the rear and shorter in the front for optimal coverage and minimal bunching when leaning forward in riding position.
Accessory #6: Repair Tools
Whether biking a long distance or just a short way, a flat tyre or mechanical issues can arise unexpectedly. Having a set of repair tools on hand helps you fix things up quickly and get back on the road. The following chart outlines the basics that should cover the most common road repairs.
| | |
| --- | --- |
| Repair Tool | Description |
| | Small, lightweight pump for adding air to tyres; aluminum rather than plastic pumps are preferable; look for pumps that lock into the inner tube valve |
| | For fixing punctures quickly; must be sized according to bike's tyre specifications, indicated on the sidewall |
| | Folding tool with screwdrivers and Allen keys of various sizes and types; portable and versatile, covers most types of repairs |
| | Facilitates removing tyre in the case of a puncture; reinforced plastic are durable and do not damage tyres or rims |
| | Lubricates the chain to keep the bike operating smoothly |
All of these items are relatively affordable, and can make a big difference on the road. A puncture repair kit contains various items for fixing tubes; some may be quite comprehensive, including a pump and levers, while others may be more basic, with a few patches of different shapes and sizes. Of course, riders should familiarise themselves with how to perform basic repairs prior to setting off.
How to Buy Road Bike Accessories on eBay
When buying accessories for your road bike, be sure to check out eBay for an extensive selection of items and deals on sports equipment of all kinds. To start shopping, go to the site's home page and locate the search bar. Enter keywords for whatever you are looking for, such as "chrome bike bell", or "women's bike jacket". Once you have your search results, you can narrow your choices according to different factors, such as price range, seller location, and more.
Once you have found an item, read the full listing thoroughly to make sure it is what you want. Look for details on materials, size, and condition, as well as what the postage fees are. If you have questions, you can contact the seller through eBay. Finally, take a moment to get to know the seller a bit more by checking their feedback score and comments left by past customers.
Conclusion
Whether using a road bike for transportation purposes or heading out for a long recreational ride, there are a few accessories that all road bike users should have for safety's sake. Road bike helmets are required by law; they should meet safety standards, be designed for riding on the road, and fit snugly, yet comfortably. Gloves help protect hands as they bear one-third of the body's weight, and also keeps them comfortable and functioning for safe operation of brakes and gears. Visibility is another major issue in preventing collisions: front lights, rear lights, and reflectors are also mandatory in low-visibility conditions, and bright, reflective clothing such as jackets makes riders even more visible to other road users. Bells or horns are another way of alerting others to your presence. Repair tools keep a bike functioning properly during long and short rides alike. Well-prepared riders help keep the roads a safe and fun place to enjoy one's bike.