Leather bags are a great investment. The right one will help you carry and organise your essentials, make you look great, and last a very long time. However, choosing the right one is not so easy, especially with so many products to choose from. Here are our six things to check before making that all important purchase.
Finish
The first thing you should look for in a leather bag is the quality of the leather itself. Check every area of the bag for any imperfections. High-grade leather should feel supple and smooth. Softer leathers are usually more expensive. Stay away from "leathers" with plastic-y or rubbery feel, they are not as durable and will not age well.

Be aware that leather products require proper care to make it last longer. Bags with smooth and patent finishes are easy to care for, while suede may need to some extra care. Make sure you factor that in when making a choice.
Stitching
Check the stitching of the bag thoroughly. Not only should they handle stress, they should also look good. Make sure they are strong and even. Proper stitching is a good sign of how well the bag is made. If it is sloppy, you can be sure you're not getting a high quality bag.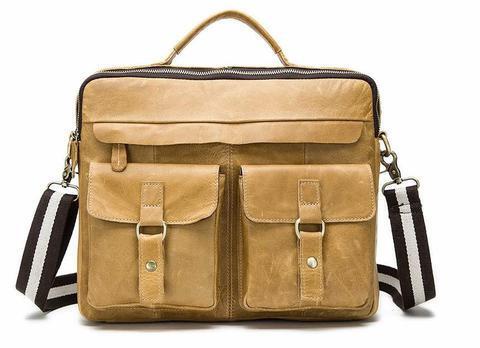 Lining
Your bag's lining may not be visible to the outside world, but it is just as important. Open the bag and all its compartments. The lining should be made from a durable material and should feel like they can last a long time even with everyday use. Lining reflects the overall craftsmanship and expected lifespan of the product. Stay away from bags with flimsy or cheap lining.
Attachments
Look closely at how the bag's attachments are constructed, paying close attention to handles and straps. These are the areas where you hold your bag, they should feel comfortable and durable in the hand. High-quality leather bags have handles made from multiple layers of stacked leather. They shouldn't feel hollow or flimsy.

Try walking around while holding the bag. The handles should not be so long that it allows the bag to sway. This is to avoid added stress on the attachment points.

How the handles or straps are attached to the bag is another thing you should look at. If they are stitched, there should be an extra layer and additional support on the point of contact to increase durability.
Smell
This is highly subjective and may be a temporary problem. When looking for a leather bag, you'd want that "natural" smell. It's best to avoid leather products with overwhelming odour of chemicals and dyes.
Warranty
No matter how carefully you choose your leather bag, it's a good thing to have coverage in case something happens that's out of your control. High quality leather products can cost a lot. Be wise. Check the store's return policy and if the they offer a warranty.
These are some of our tips when looking to buy a leather bag. Check out
our eBay store
.