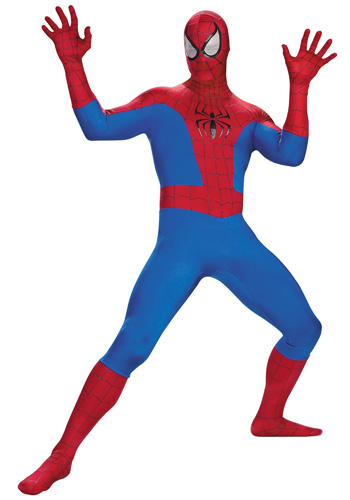 Whether it is for a themed party or a calendar event like Halloween, superhero costumes are a great way for men to dress up for the occasion. Superheroes continue to be present within popular culture and are relevant across generations. The 'incognito' appeal of superheroes makes them appealing and mysterious – a perfect choice of costume that is both classic and modern.
eBay offer a wide range of superhero costumes for men. With a vast array of choice of superhero and sizes to fit all, plus a safe and secure platform to purchase goods, it is the number one shopping choice. This guide highlights the top 6 superhero costumes for men.
What Is a Superhero?
Superheroes are human beings with extra-ordinary gifts or powers - they are 'super' human beings. Their main job in life is to rescue the poor and weak victims on earth and save them from the 'baddies', thus making them heroes.
Superheroes will most likely have an alias that they use to live their daily lives and not draw attention to their superhero aliases. For example, Superman's alias is Clark Kent. Superheroes are found on T.V, in the movies and comic books.
Superhero Costumes for Men
The choice of superhero costumes available for men is vast. This guide will look at 7 of the top superhero costumes available for consideration:
· Superman
· He-man
· Robin
· Spiderman
· Flash
· Robin
1. Superman
Perhaps the most iconic of superheroes is superman. Superman began his career in comic books before moving to TV and films. He is considered the 'man of steel', can see through walls, is faster than speeding light and can fly.
Superman wears:
· Blue all in one suit with a giant S logo on his chest (generally a jumpsuit).
· Red underpants over the top of the jumpsuit.
· Yellow belt.
· Red cape.
· Red boots.
· Superman's alias Clark Kent wears glasses. This can be incorporated into the costume.
2. He-Man
He-Man's main job is to defend that world from Skeletor. He is the main protagonist in 'Masters of the Universe'.
He-Man wears:
· All in one skin coloured body suit.
· Dark brown underpants worn over the body suit.
· Dark brown boots.
· Red cross on chest held in place by silver cross bars that sit around the torso.
· Large silver sword.
· Has a blonde wig.
· Light brown belt.
· Light brown wrist cuffs.
3. Batman
Batman AKA Bruce Wayne is a superhero determined to protect Gotham city. After witnessing the death of his parents as a boy he is seeking revenge against the evil forces that wreak havoc on the city.
Batman wears:
· A grey all in one jumpsuit that has his iconic bat logo on the chest.
· Black underpants over the jumpsuit.
· Black boots.
· Black wrist cuffs.
· Yellow belt.
· Black bat mask that covers the entire of the back of the head and the wearer's eyes. It also has two bat ears.
· Black cape.
4. Spiderman
Spiderman AKA Peter Parker is a photographic journalist and a superhero. Spiderman has super spider powers, including spider senses, the ability to swing from buildings with web and web shooters that come out of his wrist.
Spiderman wears:
· An all in one jumpsuit that covers him from head to toe. The jumpsuit is blue and red with spider webbing on his torso and head. There is a spider on his chest.
· Red boots with black spider webbing.
· Red gloves.
5. Flash
Flash, also known, as the Scarlet Speedster, is a superhero with the ability to move at the speed of light.
Flash wears:
· Red jump suit with yellow lightning bolts around his waist and wrists.
· The suit also has a yellow lightning bolt logo on the chest.
· Yellow boots.
· Red mask that covers the back of the head and over the eyes (leaves the mouth and chin area uncovered). It also has two yellow lightning bolts coming out of the head.
6. Robin
Robin is Batman's trusted sidekick and partner in fighting crime in Gotham City. Robin is a great costume to accompany a Batman to the same event.
Robin wears:
· Green jumpsuit with a red torso.
· Yellow belt.
· Black boots.
· Yellow cape.
· Yellow 'R' logo on the left hand shoulder.
Buying Considerations for a Man's Superhero Costume
As with any product, it is important to take into consideration the brand, cost and quality of the costume. When looking to purchase, pay attention to the following:
Materials

Costumes are generally designed and made for occasionally use. As a result, the quality of the material and fabrics used are often not of a high quality. Be sure to check the fabrics used and assess the following:

· Breathability. Some cheaper fabrics will not allow the costume adequate airflow, causing perspiration and chafing.

· Quality of zips, buttons, and Velcro.

Accessories

Most costumes will come equipped with all the accessories associated with the superhero. Be sure to check that all accessories are provided. This can be achieved by undertaking adequate research before purchase.

Cost

Most costumes are priced fairly and competitively. However the cost will ultimately play a role in the final decision. Depending on the intended use, it is possible to purchase a more affordable product. If the costume is likely to be worn more than once, it is advisable to take this into consideration.

Fit

The fit of the costume is vital. Be sure to check the size charts of the seller. This will give an indication to the fit of the costume.
How to Purchase a Superhero Costume on eBay
eBay offers not only a great range of different superhero costumes, but also an easy to use platform for both buyers and sellers. The following information will assist with locating and purchasing the desired costume on eBay.
· Search Functions: The search functions on eBay are easy to use and locate. Keyword search is on the top of every page of the site. Simply enter the keyword or broad search term for a full list of all available products corresponding to the search. The advance search function is located to the right of the keyword search bar. Categories house all the relevant products, in this case simply got to costumes category and men's costumes sub-category.
· Suitability: Be sure to check the suitability of the product before purchase. Reading the description and photograph that is provided by the seller can do this. Use the 'ask the seller' function if there are any further outstanding questions.
· Exchanges and Refunds: Given the time taken to both search and check the product, it is unlikely this will be an issue. However, it is worth noting the seller's refund policy to avoid any potential issues.
· Purchase: eBay have 3 main safe processes of exchanging money for the goods. Credit card, debit card and third party company PayPal. All are secure methods.
· eBay Deals: Don't forget to check eBay deals to see if there are any further deals. eBay deals offer different deals to eBay and with free postage, which makes it too good of an opportunity to miss out on.
Conclusion
Superhero costumes are the perfect choice of dress-ups for a themed party or event for men. With the ability to go as a single superhero or a group of superheroes the possibilities are endless.
eBay's extensive range of costumes with options suitable for every budget, it really is hard to pass up. This is even without mentioning the easy home shopping and delivery process. In addition, eBay knows that some people will require more knowledge to engage with the site. This is available on the Buying Tips page.