6 Tips for how to get your dog used to wearing clothes!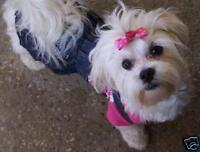 1. Make sure the outfit is the right size and fits well as it may annoy your pooch and or obstruct his/her movement or vision.
2. Put clothes on your pooch right before you take them out for walkies or to do their business (this distracts them).
3. You need to act like nothing is unusual. If you make a fuss, so will they!
4. Make sure your dog doesn't overheat. Observe their breathing pattern, if they are breathing 100 or more breaths per minute they are overheating.
5. Keep walks with clothing short until your dog is used to the clothes. This will prevent them from overheating.
6. Do not let your doggy remove his/her own clothing. Make sure you are doing this for them!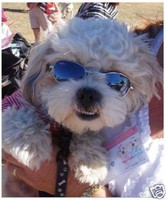 I hope you have enjoyed this short and simple guide to getting your poochie used to wearing clothes!
My 2 dogs, pictured above, enjoy wearing clothes and have done since they were puppies. They both get excited when they are dressed, because they know they are going somewhere special!
The trick is patience and teaching them to wear clothes, because at the start it is unnatural to them. Eventually they will forget that they are even there and will start to enjoy wearing their clothes!
~ MY PETS WARDROBE ~