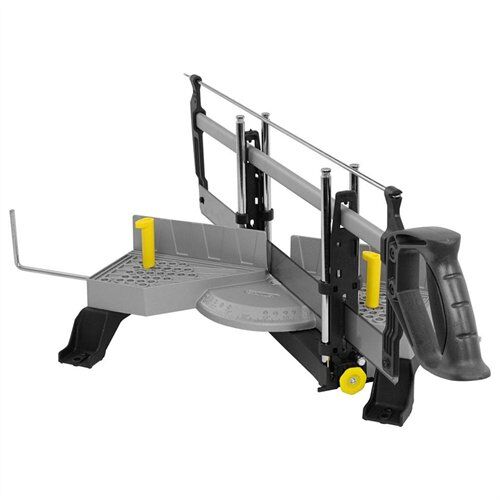 Mitre saws are one of the most used tools for mitre and bevels cuts. Whether you are a professional carpenter or love to do some DIY around the home, there are a number of tools available to help get the exact cuts you want for a whole range of different materials. This guide will outline what a mitre saw is and how to use it, what the various tools are available to make a perfect mitre cut and how to buy these tools on the eBay website. All of the mitre saws and tools mentioned in this guide are available in the Home and Garden category on eBay.
What is a Mitre Saw?
Mitre saws are used to make accurate mitres and crosscuts. It is possible to buy manual and power mitre saws:
· Manual Mitre Saw- These saws are suspended on rollers within a metal guide and mitre box which allows for accurate cuts. Manual mitre saws are rarely used in industrial settings but can be used for picture frames and manual woodwork.
· Power Mitre Saw- Power Mitre Saws can be known as chop saws or drop saws and are brilliant for making accurate mitre cuts in no time. They are most commonly used for framing and cutting of coving. These saws are normally compact and easily transported and will have blades of about 10 inches. Power Mitre saws make cuts through the user pulling the spinning circular blade onto the material that needs to be cut. The material will often be held with a fence, which gives the required cutting angle.
There are varying types of Power Mitre saw available on eBay:
· Standard Saw- Includes a fixed vertical pivot with a rotating cutting table which allows the user to make horizontally angled mitre cuts even though the blade is always in a vertical position.
· Compound Mitre Saw- Has a rotating vertical pivot meaning the cutter and blade can be titled sideways. This allows the user to make horizontal angled cuts and the saw cuts angles in each of the planes.
· Sliding Compound Mitre Saw- These saws are similar to compound mitre saws but have horizontal sliding arms meaning the user can cut on much wider boards.
· Dual Compound Mitre Saw- Similar to a sliding compound mitre saw but the blade and motor can tilt to the left and the right which helps to provide more flexibility when cutting complicated angles.
Top 6 Tools for Mitre Cuts
The top tools for mitre cuts are:
· Mitre Saw Stand- Mitre Saw Stands are easy to use, with all the mitre saws being able to be used from the box. They will usually have adjustable support arms for long work pieces as well as sturdy brackets and end stops. The height is adjustable so it is comfortable to use for everyone.
· Angled Mitre Guide- Angled Mitre Guides are brilliant for cutting unusual angles. They are ideal for mitre cutting frames, skirting beading as well as basic marking out. Angled mitre guides halve the angles to make sure the cut is precise and can set internal and external angles.
· Deep Cut Mitre Saw- Deep Cut Mitre Saws are circular in shape and can offer a large range of cuts for materials like wood, plastic, metal, laminate, plastic and chipboard. These saws need to be fit onto the mitre saw safely and securely to reduce the risk of it falling off or injuring the user.
· Measuring Squares- Measuring squares can come in all sorts of shapes and sizes but there main purpose is to help with measurement in millimetres, centimetres and inches as well as helping to measure angles. They will usually be made of aluminium and are lightweight. Be sure to do all of the measuring away from the saw to avoid injury.
· Dust Bag- Mitre Saw Dust Bags are great for making sure the work environment is clean and tidy. Dust Bags are designed to fit on all the different sized mitre saws and will have a clip on it to fix the bag onto the saw and next to the dust extraction port. Dust Bags are made from cotton based materials and will include a zip so the contents can easily be thrown away.
· Mitre Box- Mitre Boxes are tools that are used to guide the user when making a mitre cut in a board. Mitre boxes usually come in the form of a three-sided box which is open at both ends and the top. There are slots in the walls of the box at exact angles in which cuts can be made. It is these slots that guide the saw when cutting at either 45 or 90 degrees.
How to Buy Tools for Mitre Cuts on eBay
All the products outlined above are available to buy on eBay. By simply searching for 'mitre saw tools' in the search bar on any eBay page, buyers will be faced with pages full of products.
However, if the above guide has helped the buyer to decide on a specific product, more advanced and detailed search can be done. For example a search of 'mitre saw deep-cut' will produce a more specific search.
There are two ways to buy mitre saw tools on eBay and this is through bidding or the buy it now function.
· Bidding – Buyers can bid on the mitre saw tools like a normal auction. The seller can put a reserve price on the product in case the auction does not reach their minimum requirement. Buyers will enter bids and will be notified via email whether you are the highest bidder or not.
· 'Buy It Now' – If the buyer does not want to wait for the auction to finish and the seller has opted for the 'Buy It Now' function there will be the option to buy the mitre saw tools at a set price which will be advertised and the buyer can buy the product there and then.
Once the perfect mitre saw tool has been found it is advisable to check out the seller before purchasing from them. There are two main ways that buyers can check that they are buying from a reputable seller on eBay through reviews and ratings. Other buyers who have bought from this seller are entitled to give feedback on their experience and they can also rate them with a star rating out of five. These reviews and ratingsare impartial and are crucial to making sure the eBay buying experience runs as smooth as possible.
You can search for the best deals on Mitre Saws and Tools by checking in the Home and Lifestyle section on the eBay Deals page. Some fantastic discounts are to be found, along with free shipping costs.
Conclusion
Choosing a mitre saw tool that will get the job done is easy when following this guide. When looking for mitre saw tools, be sure to do as much research about each product as you can to ensure you can cut the materials you want to the specification required. All of the mitre saws and mitre saw tools mentioned in this guide are available to bid on and buy now in the Home and Garden section on eBay.