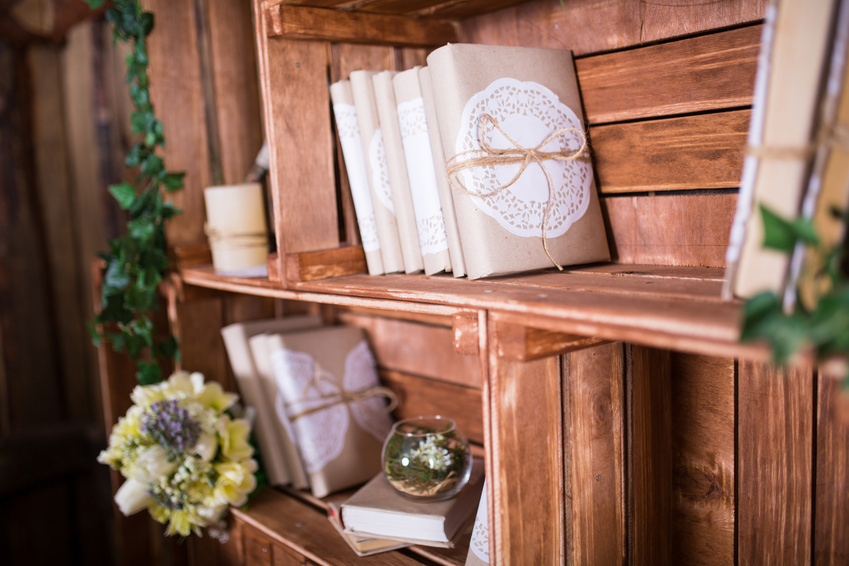 Books can either look good in a home or they create a cluttered appearance and gather dust. To avoid a book collection making the house untidy, take a look at these 7 creative ways of displaying them and enhancing a living space. Here's how to make a decorative feature from a book collection.
1. Use a Wall Unit
A bookcase along one wall in a room will not only create a feature but keep the books in one place. Get creative and adjust the shelf heights and shapes or keep one area for ornaments. This works well in a home office or living room space and you'll be amazed at how much storage there is from this one shelving unit. With just a little creative DIY, your books can be displayed to perfection all throughout your home.
2. Store Books Under the Seats
Benches and window box style seats often have storage space underneath. Instead of a boot shelf, one could use this space to store books. This also works well in a child's bedroom where a seat with storage underneath can easily be adapted as a bookshelf.
3. Use Book Ends Creatively
There are some lovely book end designs around now which are ideal for brightening up a shelf or a desk. Choose from coloured book ends or carved wooden ones in animal shapes. These are ideal for a child's room and also look good in a kitchen to display cookery books. Antique book ends can also be used to display books and are inexpensive to buy.
4. Spruce up an alcove
Many houses have alcoves which can be transformed into a feature bookcase by adding some shelves. This is an easy project to do and can be completed in a weekend. Large alcoves can be designed to hold books on shelves around the edges with a reading seat in the centre. The area under the staircase can also be used as a shelving unit, which makes the best use of every available space.
5. Unusual shelves make interesting features
Why not get creative and forget the straight wooden shelves seen in most homes. These days there are unusual shelving units that make a feature of a wall in a room. Some are spiral and store books in a circular way whilst others are shaped in animal or geometric designs and even maps of countries. Homeowners can create an interesting design by storing books in similar colours in one of these shelves. Another interesting way of displaying books is to fix small shelves at different heights on a wall. Store the books in piles on each shelf. The effect makes an attractive and simple wall display.
6. Use hidden spaces
One of the best ways of storing books where there is limited space is to create a false semi ceiling. By adding a layer and supporting it well, a set of shelves can be created above a living space. This is ideal for a home office or teen bedroom and makes the most of unused areas for storage. Another way of making the most of unused space is to take a round coffee table and add shelving to the base where books can be stored. Large coffee tables sometimes come with lower level shelves which are ideal for those stray volumes.
7. Imagination is the limit
Books can be stored in most places around a house, but it's wise to choose carefully to avoid the cluttered look. A few books displayed on a coffee table give a homey appearance to a living room. A shelf in a bathroom can even hold interesting books to read in the bath. Look around the house and there is bound to be a corner that can be used to store a book or two with a little imagination and creativity.
Books don't just get stored on a shelf these days. There are some really creative ways of displaying favourite stories and making a feature of a book collection. Get creative today and organise a book collection into a conversation piece.