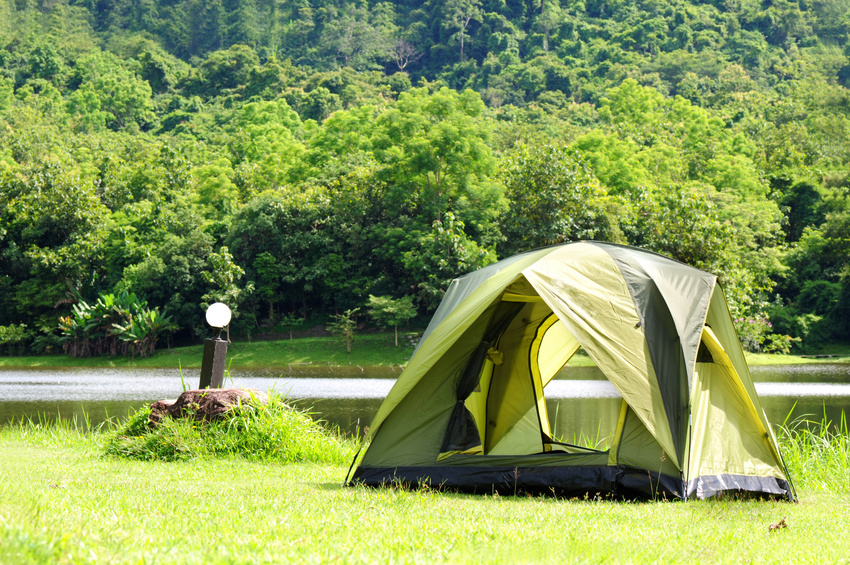 Tarpaulins make the most basic kind of tent. Those trying to decide whether they enjoy camping or who are taking children into the woods for the first time may consider tarpaulin tents simply to start out inexpensively.
When purchasing a used tarpaulin for camping, consider the size and shape required. Several shapes of tarpaulin are offered for camping. Consider what kind of material is required and the level of weather-protection required. The weight must also be considered, particularly if the tarp is to be carried. Grommets or rings make a tarp tent easy to secure but are less necessary for a ground cloth. A buyer who has considered these issues can easily locate the right used tarpaulin on eBay.
Factor 1. Intended Use
The first consideration is how the tarpaulin is intended to be used. Camping tarpaulins are generally used in one of several ways:
Hammock tents
Basic tents
Ground cover
Protective covers

Hammock Tents

The hammock tent, a simple fly tent, stretches from tree to tree above a hammock. Any of the four standard tarpaulin shapes noted below works for this use.

Basic Tents

The simple triangular tent on two posts allows a rectangular tarpaulin, together with a ground cover, to become an overnight home for as many as three people. Catenary tarpaulins where the curve is not excessive may also be used in this way. Square tarpaulins may be pitched as lean-to tents, with or without ground cover.

Ground Covers

These keep the damp of the earth from rising into the sleeping bags and, if properly placed, also keep any rainfall from becoming a river running through the tent. These are typically rectangular or square tarpaulins that match the footprint of a ground-pitched tent.

Protective Covers

The tarpaulin used as a protective cover keeps wind and weather off anything. It could be a small tarp used to protect a woodpile or a much larger tarp that serves as a fly tent over the top of a basic tent. Rectangles, squares, catenaries, and hexagons are used for this purpose.

Factor 2. Size

The sizes of used tarpaulins ranges widely, from as s mall as 1.8 by 2.4 metres, a convenient size for a small ground cloth, to 9.1 metres square and even larger.

The tarpaulin to be used as a ground cloth under a tent varies in size with the tent: family camping tents requiring much larger tarps than festival tents. Choosing a single tarpaulin that extends the full size of the tent creates a much better water barrier than overlapping multiple tarpaulins.

Likewise, a tarpaulin intended for a fly shelter should be large enough to extend over the entire area to be protected. Those covering a hammock need to cover the entire hammock length along the tarp's ridgeline and have enough width to also shelter the hammock's sides.

Factor 3. Shape

Camping tarps are offered in four shapes, each of which has specific benefits when used as ground pitched or fly tents.

| | |
| --- | --- |
| Tarpaulin Shape | Benefits |
| Rectangle | Generally provides space for more people than square tarps but less headroom |
| Square or Diamond | When pitched as a diamond or lean to, offers better views and better headroom but space for fewer people than a rectangle |
| Hexagon | Lighter than square, comparable or better views; like rectangle requires four pegs |
| Catenary | Curved seams reduce fabric flapping and sagging; depending on design, may be useful as ground pitched tent as well |

Tarp beaks, hoods, end caps, and doors make it possible to close off the ends of a tarp tent in inclement weather. Most tarp tents are not manufactured with doors or end caps. Those that are may be called winter tarps or tarp tents.

Factor 4. Materials

Tarpaulins for camping are made from a wide range of materials. Heavy canvas tarpaulins are, in some ways, the original and still classic. They are extremely durable and weather resistant because of their density. Weight is their disadvantage.

At the opposite end of the spectrum are newer technical fabrics that laminate multiple layers of different fibres and may even include a reflective coating on one side to maximise sun blocking capability.

Those seeking to purchase a used tarpaulin do well to balance their various needs against the capabilities of the many materials on offer.

Factor 5. Coatings and Weather Protections

Tarpaulins are often manufactured with weather protections useful to the camper. Heavy cotton duck is mildew resistant, as are many plastic-based tarpaulins. Some vinyl tarpaulins have been coated for resistance to ultraviolet radiation, which allows them to last longer outdoors without becoming brittle. Certain plastics are manufactured for heat and cold resistance within a specified temperature range. Some tarpaulins are coated with a silver, sun and heat reflective surface on one side to help keep the interior of a tent or shelter cool.

Factor 6. Weight

Used tarpaulins vary in weight from 80 g per square metre to more than 300 g per square metre. Lighter tarpaulins can make excellent fly shelters and temporary sun shelters. Heavier tarpaulins are more likely to be useful for ground covers, depending on the material and waterproofing.

When carrying in gear on a long hiking trip, the weight of the tarpaulins can make a significant difference in the hikers' burdens. Consider whether a lighter tarpaulin with excellent waterproofing could meet the need. Campers driving up to a family campground are more concerned about the overall volume of the folded or rolled tarpaulin and whether it fits with the rest of their kit.

Factor 7. Grommets and Rings

Whether a tarpaulin has grommets or rings along the edges may or may not matter depending on how it is to be used. Grommets and rings are useful on tarpaulins that are to be used as outdoor shelters, whether as tents or over a motorbike, because they provide places to attach lashings so the tarpaulin may be held in place against winds.

Long-lasting grommets and rings are made from rust-resistant metals such as brass, aluminium, polycarbonate, or stainless steel. The insertion points should be reinforced.

Purchasing a Used Tarpaulin on eBay

Both new and used tarpaulins may be purchased on eBay. Some may be found among hundreds of deals on tents and swag s. The Advanced search feature is where to specify that a used tarpaulin is sought.

Sizing a Tarpaulin on eBay

In the Search window, specify the largest measurement to find tarpaulins that are the correct size in at least one dimension. A search for a tarpaulin that is 9.1 metres by 6 metres could be specified 'tarpaulin 9'. On eBay, tarpaulins are usually sized in both metric and Imperial, so results include 9 foot tarpaulins also. However, since not all sellers label their products '9m', a search for 'tarpaulin 9m' would exclude desirable products.

Conclusion

Those seeking a used tarpaulin for camping find many options available. The most important factors to consider are the size and shape required for its use, whether as a fly tent, a ground cloth, or simply to provide protection for a woodpile. The weight of a tarpaulin is most important to those packing into a wilderness area. Its materials, coatings, and level of weather protection offered determine how useful it is for a specific kind of camping outing. The grommets and rings it offers help to determine the level of ease in setting up.

Looking for new and used tarpaulins on eBay allows a camper to search through a large and diverse market and locate exactly what is needed, all from the comforts of home.