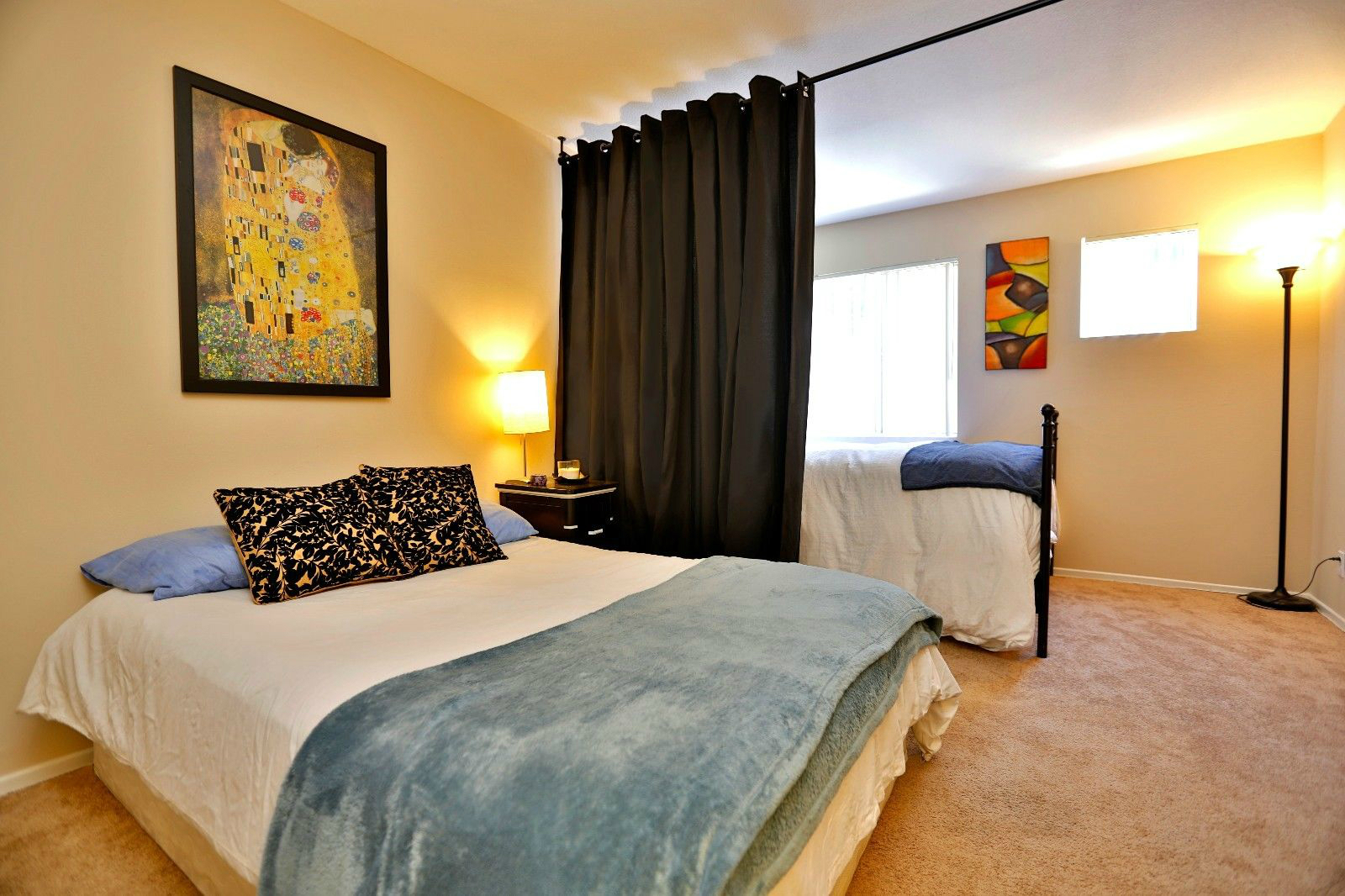 Room dividers don't need to be drab. In fact, a plain divider can be jazzed up in many different ways or a new divider can be made from found objects.
Photo Divider
One of the easiest ways to spruce up a plain divider is with decoupage. Print out some favourite photos as black and white images. Then, coat the back of the photo with decoupage glue. Arrange the photos onto the divider and then coat the top of the photos with decoupage glue. Let the glue dry before using the divider. This idea can also be done with pressed flowers, paper doilies, newspapers, gift wrap or any other paper item with an interesting print.
Door Divider
Creating a room divider is very simple. First, find three old doors that are close to the same height. Lay them side-by-side and connect them with six door hinges. Paint the doors all the same colour or leave them their original colour for a distressed look. This type of divider can also be created with wooden pallets, plywood cut-outs, window shutters, barn window frames and large window screens.
Chalk Board Divider
A plain wooden divider can become a multi-use piece with a coat of chalk paint. Once the paint has dried, quotes, reminders and lists can be written on the surface of the wood with chalk. This type of divider is particularly handy in an office where writing space is needed.
Hole Art Divider
Transform a simple wooden divider by turning it into art. First, draw a design using a maker onto the panels. Instead of drawing lines, though, use dots to create the design. Then, drill holes where the dots are marked. When finished, the divider will allow light to filter through the holes and the panels will have an artistic design.
Cloth Divider
If a freestanding conventional room divider won't work, then one can be creating using nothing but fabric and a little hardware. Install a curtain rod that reaches from one side or the room to the other side. Hang semi-sheer or opaque curtains on the rod. When the space needs to be open, the curtains can quickly slide to the side. When privacy is needed, the curtains can be closed. Another advantage of this type of divider is that it can trap warm or cold air in the room. This is great for people who want to heat or cool only certain areas of their home.
Book Shelf Divider
One of the simplest ways to divide a room is by creating a barrier with book cases. This type of divider is stylish and multi-functional. It also helps to muffle sound that travels from one room to the next.