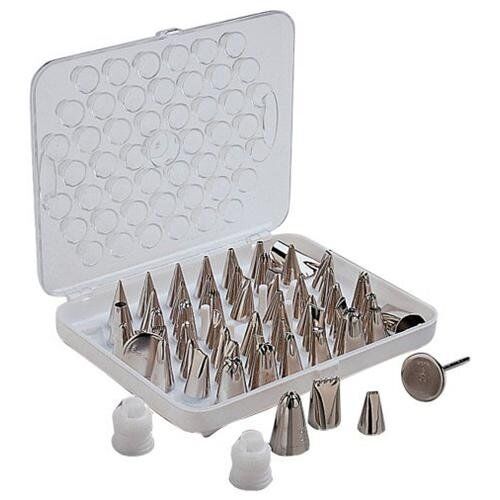 Cake decorating is a sugar art that transforms ordinary cakes into artistic statements. However, to achieve this decoration there are certain cake decorating accessories that are required.
As technology continues to offer shopping alternatives, perhaps the easiest place to identify and purchase cake accessories is online. eBay offer an extensive range of products and choice for all shoppers in the same place.
This guide aims to outline the 7 must-have cake decorating accessories.
Please note: this guide assumes that the cake for decorating has already been made, so will not include accessories forbaking.
Must-have Cake Decorating Accessory One: Decorating Cutters
A decorating cutter is similar to a cookie cutter. A decoration cutter comes in a shape or pattern that when pressed into fondant or icing will cut out a shape. The choice of decorating cutters is extensive. To offer an insight into the amount of choice, below is a table of the different categories of decorating cutters:
| | |
| --- | --- |
| Patch work cutter | Patch work cutters are cutters of people, places or things. All patch work cutters will include intricate designs that are cut out by an internal stencil. |
| Silhouette cutter | Similar to patch work cutters, silhouette cutters are shapes of people, places or things. However, they are not as detailed and tend to be block shapes. |
| Crimped cake cutter | A crimped cake cutter is a repetitive design that starts large and circles in to get smaller and smaller. It is used to create a three dimensional decoration and as a result is popular with floral designs. |
| Cake decorating cutter themes | Themed cake decorating cutters are cutters that come in a specific theme; for example, birthdays, weddings, anniversaries etc. |
| Frill cake cutter | Frill cake cutters create a ruffle lining on the cake. This ruffle lining can be either a straight edge or a garret edge. |
| Quilt cake cutter | A quilt cake cutter is used to create a design right onto the cake rather than cutting the image out of fondant and icing and applying it to the cake. Generally speaking it is a solid design with limited detail. |
Must-have Cake Decorating Accessory Two: Fondant
Fondant is a mouldable icing that can be used to create designs on cakes. Fondant comes in two different types:
· Poured fondant: Poured fondant is a runny icing that is poured onto a cake wet, and then it is dried. Given the nature of the icing, it is commonly used to create thin designs, or to act as a 'glue' for other decorations.
· Rolled Fondant: Rolled fondant is an icing that is rolled into a flat sheet then draped over the cake and moulded to the cake's shape. It is ideal for use with decorating cutters.
Must-have Cake Decorating Accessory Three: Gum-paste
Gum-paste is a sugar dough substance used as 'glue' on the cake. It is easily pliable, and is edible.
Must-have Cake Decorating Accessory Four: Icing Modelling Tool Set
There are a variety of different types of icing modelling tools required to assist in the decoration of the cake. Most of these can be found in a basic icing modelling tool set. A set of eight tools should suffice. Each tool is dual ended and will allow the user to create a different effect on the cake. Be sure to check that the product is dishwasher safe for ease of cleaning.
Must-have Cake Decorating Accessory Five: Icing Spatula
On top of icing modelling tools, it is important to have an icing spatula. This tool allows the user to smooth over any surface. It is a versatile tool that can be used with a range of different icings to create a range of different finishes by employing different techniques.
Must-have Cake Decorating Accessory Six: Piping Bags and Nozzles
Piping bags are used to create different finishes on the cake by 'piping' icing in intricate detail on and around the cake. Often made out a silicone, the piping bag will have a number of different nozzles that create a different look when icing is piped through it onto the cake. It is also possible to use a striping piping bag, which has the ability to pipe two different colours onto the cake at the one time. When addressing the nozzles placed at the bottom of the piping bag, be sure to check that they are made out of stainless steel. This material is dishwasher safe and holds its shape better over time than a nickel-plated tip.
Must-have Cake Decorating Accessory Seven: Cake Boards and Non-Stick Mats
Every cake needs a boardto sit on. The cake board will ensure that the cake is stable, especially if creating a tiered cake. A board can be placed under each layer for stability. The board at the bottom of the cake will be on show, be sure to choose an interesting shape and a board that is finished with a nice colour or finish.
Whilst working on the cake, it is advisable to use a non-stick mat to keep the board still. This will stop the cake from slipping, whilst adding intricate and delicate details.
How to Buy Cake Decorations on eBay
eBay is an excellent site to purchase all manner of cake decorations. Not only that, but it is a safe and secure site that is a leader in its field. The next section offers advice on how to engage with the website to gain the most out of it.
· Searching: The first step is to search for the desired product on the site. This can be done a number of different ways. The first and most visible option is by using the search bar located at the top of every page. In this search bar, simply add a broad search term or product, and eBay will collate all available products matching the search onto one page ready for perusal. It is also possible to complete an advance search, which is located to the right of the search bar function. If the exact product is not known, it is possible to search using the categories search function. In this case, simply follow the categories, home and garden, parties, occasions and cakefor all products currently on sale for cake decorations.
· Is the product exactly what the buyer wants? Be sure to check the suitability of the product before purchase. Reading the description offered by the seller and cross-referencing it with the photo provided can help with this. If there are any outstanding questions, it is also possible to send an email to the seller using the 'ask the seller' function.
· Purchase: There are three ways to purchase a product on eBay: 'Buy It Now", 'Bid', or 'Best Offer'. Be sure to take note of the selling method, as each requires a different process to buy. Upon a successful purchase, when it comes time to exchanging money for the product, this can be done by credit card, debit card or PayPal. PayPal is a third party site that act as a facilitator between seller and buyer. All are safe and secure options.
· Additional information: If more information is required, refer to eBay's buyers tips page. eBay outline further information about the above, as well as answer frequently asked questions.
· eBay Deals: Be sure to also check out 'eBay Deals' for any cake decorating accessories. eBay deals offer different deals on a daily basis to eBay, as well as free postage and handling.
Conclusion
Creating bespoke cakes for special occasions is a great way to mark any event. Not only that, but with the excellent range of cake decorating accessories available on eBay, it is possible to purchase all seven of the above must-have items in one shopping experience. And when making a purchase, it is wise to do so via PayPal, as the transaction will be covered by eBay's buyer protection programme.
All aspects of the decorations are edible, meaning the cake will not only look fantastic, but tastes great as well.