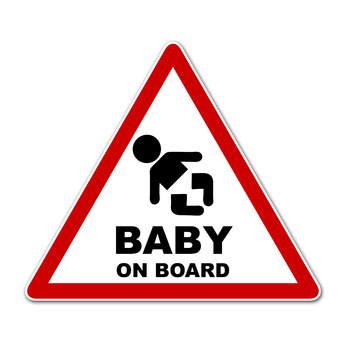 Safety decals are a great addition to both family and commercial vehicles including cars and trucks. Decals can be a great way to inform anyone around or in the vehicle of a safety hazard, of something that they have to do before starting the vehicle, or of potentially dangerous cargo. Safety decals are a great addition to both cars and trucks because they are practical, informative, and can help make a vehicle safer with a minimum of effort.
Purchasing a decal should involve choosing a safety concern and then finding an appropriate decal. Decals can be purchased in some shops, at some safety associations, and online sites like eBay where they might be easier to find and more readily available. Buyers can also consider checking local requirements for specific safety decals before making a purchase.
Safety Decal 1: Reflective Tape
Reflective tape is a great safety decal to add to a vehicle because it can be used for a variety of purposes. Reflective tape can be added to the inside of doors to make them more visible when open, to the end of a pick-up bed or to a bumper to make the end of the vehicle more visible, or to the sides and mirrors of a vehicle. Many people also use reflective tape on wheel rims to make them more visible when driving.
Some reflective tape is sold specifically for night use. This sort of tape is extremely useful for anyone who drives a great deal at night, especially trucks with larger loads. Usually, white or yellow tape is appropriate for night-time use, while orange, red, or dark yellow tape is better for daytime use. However, any colour might be appropriate depending on the average use of the vehicle.
Safety Decal 2: 'Baby on Board'
Anyone who has a baby on board can benefit from a 'baby on board' decal. These decals are sold as stickers and signs for a car's window. These signs are mostly meant to encourage safer driving. They are intended to help other drivers realise that there is an infant in the car and that they should watch their own driving. However, 'baby on board' decals do not serve any practical purpose other than as a safe driving influencer.
Safety Decal 3: 'Open Door'
Another type of car and truck decals includes 'open door' stickers. These stickers are placed on the interior of a door so that they are visible when the door is open. The idea is that the door becomes more visible when open in order to prevent accidents. This is especially important if the car or truck is frequently parked near a road or in a parking lot with the doors open. These safety decals are typically available in red or yellow and are sometimes reflective to improve their visibility.
Safety Decal 4: Anti-Theft Warning
Anti-theft decals are perfect for cars and trucks being used for either commercial or residential use. Anti-theft decals serve a very practical purpose because they warn potential thieves that the vehicle has anti-theft devices on board, which can actually help to prevent the theft. In some cases, it can also be a good theft deterrent even when the vehicle is not equipped with anti-theft hardware, although this may not be a good idea if thieves catch on.
| | |
| --- | --- |
| Anti-Theft Technology | Recommended Decal |
| GPS Tracking | GPS Alarm Tracking; Remote Tracking Equipped; GPS Tracking Equipped |
| Company GPS Tracking | GPS Tracked by Company |
| Anti-Theft Alarm | This Vehicle is Equipped with an Anti-Theft Alarm |
| Company Alarm | Company Anti-Theft |
Company decals are typically provided by the company that owns the car or truck. Such decals state that the vehicle is being tracked or monitored by that company via GPS tracking. Anti-theft stickers can also be purchased from online stores like eBay to either denote which type of anti-theft protection is in place or to simply warn that an anti-protection device is in place.
Safety Decal 5: Public Safety
Public safety stickers include a great deal of public warning messages. However, they should usually be reserved for commercial vehicles or those that have public health and safety items such as a fire extinguisher or first aid kit in case of emergency.
'Emergency Kits on Board' Decals
Public safety stickers can be used on vehicles with emergency kits as well, although only if the person with the items is able to share them. Public officials at an event can also use decals to denote where safety items are being stored in a vehicle. The most common of this type of safety decal is 'first aid on board' or 'fire extinguisher on board'. Vehicles located near rivers, marinas, or beaches that carry life jackets can have decals stating 'lifejacket on board'.
Safety Decals for Trucks
Many trucks make wide turns, especially when hauling trailers, so it may be a good idea to purchase a 'do not overtake vehicle while turning', 'this vehicle makes wide turns', or 'do not pass on the right' decal for a truck. Each of these is a public safety decal intended to help other drivers drive safe around a truck that might not be safe to pass when turning, and might not make neat turns. Turning safety stickers should be applied to the back of the truck as well as the rear of any trailer being hauled.
Safety Decal 6: Performance Warning
Some vehicles require certain steps before turning on. For example, a commercial truck might have the wheels blocked for unloading. A sticker warning to unblock the wheels before attempting to drive is an excellent safety sticker. Any specific driving instructions or performance requirements for the car or truck can also be noted on a sticker. Usually, if specific instructions are not available on a decal on eBay or another site, then it is possible to have one custom made for the purpose.
Safety Decal 7: Load Warning
Load warning signs are another great safety sticker to purchase for trucks. These usually include that the vehicle is overloaded, that the vehicle has a very large load, or even that there is a dangerous material such as a poison, biohazard, or flame hazard on board the vehicle. It is important to check local regulations before purchasing one of these decals as their use may be restricted, as is the transportation of hazardous items.
Buying Safety Decals on eBay
Anyone can look on eBay to find and purchase safety decals for their car or truck right from their home. eBay is an international marketplace with a great deal of sellers listing safety decals ranging from 'baby on board' to 'biohazard', and everything in between. You can purchase one of the available items based on your safety needs, any local restrictions on signs, and what deals are available.
Usually, making a purchase on eBay is as easy as searching for the appropriate safety decal, choosing one or more items to compare, reading the full description, and then committing to the purchase. Pay attention to the estimated shipping time if you need the item in a hurry as some sellers on eBay are located internationally. Finally, all you have to do is wait for your decals to arrive and then place them on or in your car or truck.
Conclusion
There are many different types of safety decals including options not listed here. Safety decals can range from simple reflective tape to signs that warn of dangerous cargo, overloaded trailers, or even a wide turn. The purpose of these decals is to inform in order to keep drivers safe on and off the road. For this reason, it is important to only purchase necessary safety decals as they are not considered decorative.
Buyers can choose to purchase safety decals as stickers, signs, vinyl, or even as magnets. These decals can be purchased at a variety of locations including online shops like eBay, physical stores, and regulations departments, depending on the sign. Buyers can choose what to purchase, where to buy, and what they need based on their safety requirements, when they need the decal, and their budget for the decal.
Safety Decal|Safety Sticker|Reflective Tape|Fire Extinguisher|Truck