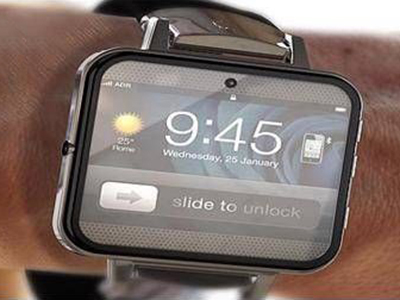 Apple has officially unveiled the Apple Watch. This long-rumored wearable isn't going to hit store shelves until early 2015; however, at the unveiling, Apple shared a number of details about what we can expect from the high-tech wristwatch when it does officially launch next year.
1. It Will Tell Time
This one is probably a given, but you can use the Apple Watch as a plain old wristwatch. Apple already has a variety of different watch faces designed for the device, ranging from digital clocks with fun backgrounds, to old school watch faces that use hands to tell time. You can change the face at any time.
2. You Can See and Respond to Texts
The Apple Watch will display text messages that you receive on your iPhone on its small screen. While you won't be able to type out a long response, you can create a few pre-set responses to store in the watch and select these when you want to send a quick message back to someone without searching for your phone.
3. It Will Be a Health Tracker
For more than telling time, the Apple iWatch is also going to be capable of tracking details about your health. Kind of like a FitBit or other fitness tracker, the watch can monitor how many steps you've taken throughout the day, or track an individual workout. You'll also be able to monitor your heart rate through the watch, removing the need for expensive heart rate monitors.
4. You'll Be Able to Send Your Heartbeat
Speaking of heart rates, the Apple Watch will allow you to record your heartbeat and send it to a friend. Be it a lover far away, or a friend you're training for a marathon with, thatperson will be able to feel your heartbeat on their wrist just as if it was their own.
5. There Will Be Several Models
There's not just one Apple Watch; there are actually three different versions. Apple announced there would be an Apple Watch, Apple Watch Sport, and Apple Watch Editions. The Apple Watch Sport is designed specifically with active people in mind, while the Editions series is made of higher quality materials.
6. You'll Need an iPhone to Use It
While you'll be able to perform some functions on your watch far from your iPhone, most of them are going to require you have your phone nearby in order to work. The watch won't be able to handle things such as phone calls without having your handset nearby.
7. You Can Personalise It
Apple has already shown off a ton of different bands for the Apple Watch, and we can expect a lot more to start showing up before the watch is even released next year. Watch bands are easily swapped out, so you'll be able to personalize your Apple Watch to match your own style and taste.