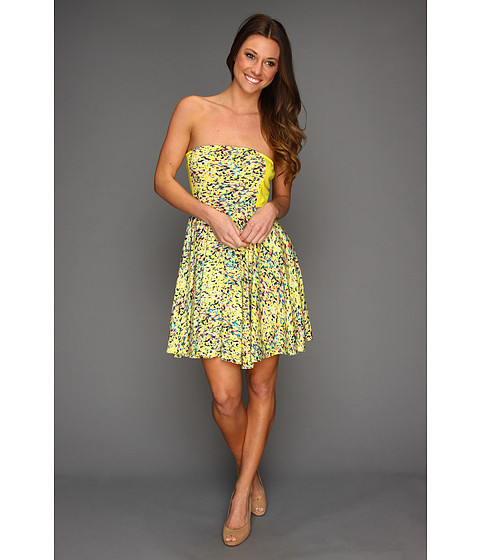 A strapless dress can be a great way to add a bit of glamour and style to a formal look. Strapless dresses have also become popular as daywear, with more and more sundresses and other casual dresses leveraging this silhouette. When looking for and purchasing strapless dresses, women may have many questions with regards to fit, style, comfort, and more that can complicate the process. Finding the right strapless dress means addressing silhouette, material, and even the support garments that may need to be worn with a dress.
Learning a few helpful hints to leverage during the purchasing process for a dress can be just the edge consumers need to have a great experience when shopping for one of these popular dresses. It can also help ensure they find dresses that work well with their own personal senses of style and their body types. Given the wide array of options available in the marketplace today, women may also like to know some of the better retail options for finding the largest and most varied selection of strapless dresses available. Local clothing shops and online retail sites like eBay are both good shopping possibilities.
1. Look for the Right Silhouette
Women with smaller busts might consider dresses with heart-shaped bustlines. This can add curves and volume to a woman's bust and a touch of femininity. Women with larger busts may prefer straighter bustlines that minimise the chest, or they may want to consider dresses with halter neckline straps for added support.
In terms of a woman's overall body shape, petite women often look great in short strapless dresses. Taller women can go for maxi dress options, as their height allows them to avoid becoming overshadowed by the maxi style. Women who are pear-shaped can look for strapless dresses with fuller skirt lines, such as A-line strapless dresses or empire waist strapless dresses. If broad shoulders are at issue, a straight bustline and a bit of volume in the skirt can counterbalance the shoulders.
2. Find the Right Support Garments
Any woman who has worn a strapless dress has come across the conundrum of how to enjoy this style while still getting adequate support and comfort at the bustline. Bras and other support garments have become much more advanced in recent years. Strapless bras with removable and adjustable straps are a popular option. There are also self-adhesive bras to consider. These undergarments adhere directly to the skin, providing support without leaving a woman to worry about a strap or even the back component of a bra showing through a dress. Bustier-style corsets provide even more support and coverage and look great as standalone pieces as well.
3. Consider Strapless Dresses with Built-in Support
Many women with large busts tend to stay away from strapless dresses out of concern that they might not get enough support from the dresses, or that strapless bras might be uncomfortable or cumbersome. Fortunately, there are many strapless dresses available today with support built into the dresses. These options can have elastic support beneath the dresses at the bra level or even have actual padding and back straps integrated into the designs, as well. For women with large busts, these solutions help make strapless dresses a much more feasible option.
4. Accessorise a Strapless Dress
Wearing a strapless dress draws attention to the arms, shoulders, and decolletage. Choosing the right accessories to accent these parts of the body can really highlight the drama and beauty of a strapless dress. If a strapless dress has a simple bustline, a large, chunky necklace can add a dramatic focal point. For women who want to keep their decolletage open or who are wearing a dress with a more ornate bustline, drop earrings that fall well below the ears can be an ideal accent.
Wraps and shrugs are other great accessories to leverage in tandem with one of these dresses. A shrug can keep a woman warm at an evening event or even provide her with a way to transition a dress into a more formal environment, such as a church. After a wedding ceremony, for example, a woman could then remove the shrug at the reception and allow the dress to make its full statement. Any shrug or wrap should ideally match the dress in terms of the dressiness of the fabric. A formal strapless dress, as an example, would not work well with a cotton shrug and would be more appropriate with one made of a dressier fabric, such as silk or even chiffon.
5. Choose Event Appropriate Strapless Dresses
With the wide range of strapless dresses available today, consumers can find the right dresses for anything from the most formal affairs to casual afternoons at the beach. It is important for consumers to find and wear dresses that work well within the context of certain events. More formal events usually demand a longer length, with richer materials such as silk, chiffon, or brocade. A cotton strapless dress can be safely worn at the beach, pool, or any casual day affair. Short cocktail dresses are great choices for evening weddings or even a night out at the clubs.
6. Confirm Size with a Seller
As any woman can verify, sizes can vary greatly from one label to the next and even within a label with different cuts and silhouettes. It is important during the purchasing process that consumers confirm the sizing chart used for a particular dress or brand. The following table gives consumers a general reference point for how Australian sizes measure for women.
| | | | | | | |
| --- | --- | --- | --- | --- | --- | --- |
| Size | 8 | 10 | 12 | 14 | 16 | 18 |
| Bust (cm) | 82 | 87 | 92 | 97 | 102 | 107 |
| Waist (cm) | 63 | 68 | 73 | 78 | 83 | 88 |
| Hips (cm) | 88 | 93 | 98 | 103 | 108 | 113 |
With very close-fitting dresses, there is more urgency to finding an ideal fit. An empire-waist or a flowing maxi is not as hard to fit correctly. Tall and petite women may want to confirm length in addition to the dimensions of a dress.
7. Communicate with a Seller
When shopping online, consumers should take advantage of the opportunity to communicate with a seller. Doing so can help consumers confirm the fit and characteristics of a strapless dress. Consumers should ask as many questions as they like of a seller so that they can get to know a dress well before purchasing it. It can also open consumers up to some helpful styling hints. Sellers may often make recommendations as to other styles that may work for a consumer or even the accessories that can work well with a dress.
Buying a Strapless Dress on eBay
The online ecommerce site eBay is one of the largest resources for women looking for a wide range of strapless dresses from which to choose. This retail site creates its catalogue of choices by bringing together sellers and deals from around Australia and the world. Searching through this catalogue is easy. The site provides you with a user-friendly search bar on every page. You can use this to run a search based on a keyword term, such as strapless dress, to get an overall idea of your options or use a more descriptive term, such as red strapless dress formal, to get more refined results.
Evaluating Sellers on eBay
One of the benefits of shopping on eBay is that consumers can communicate directly with sellers and get to know a bit about them. While you look through the various listings that result from your search, click on the highlighted names of any sellers who are offering particularly appealing items. This takes you to their seller pages, where you can message them directly with questions and review the feedback they have received from other consumers.
Conclusion
Whether they are looking for something to wear to a wedding, a summer tea party, or a barbecue at the beach, women have a wide range of strapless dresses available to them in the modern marketplace. Strapless dresses come in fun and casual styles, as well as formal and refined styles. These dresses feature a range of materials and may even include useful features like built-in bras or bust support. Given the wide array of options available to women today, approaching the marketplace with the right helpful tips can help women narrow in on the right dresses for their needs. Considerations like silhouette, undergarments, and accessorising can all factor into the decision making process when looking for a dress.
With these tips in hand, consumers can then search through the catalogue of dresses offered by an aggregator such as eBay and narrow down their choices using the convenient search interface. During the appropriate warm seasons, local women's clothing shops also feature a nice selection of strapless dresses.