You can find great Michael Kors handbag bargains on eBay if you know what to look for
I've eTailing high-end designer handbags for many years now and have literally handled thousands of high end brand handbags. Michael Kors has been one of the most popular and still is, so here are some handy tips on how to spot a genuine Michael by Michael Kors handbag, and hopefully pick up a bargain for yourself.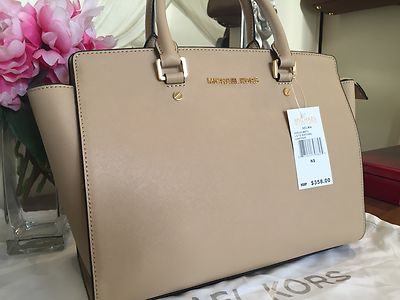 Do your homework and don't rely on sales assistants or well-meaning Facebook experts
Do your homework on the bag that you want. In my experience, you cannot always rely on the young sales assistants in the MK store to guide you properly as they unfortunately do not have enough experience with the brand to know the specifics of the different designs. The only professional authentication service Michael Kors offers is in New York City, any bags need to be posted to MK Headquarters in New York for authentication. It is actually against company policy for sales reps to authenticate bags. Here are some pointers to help you though in your search for that perfect Michael Kors bag: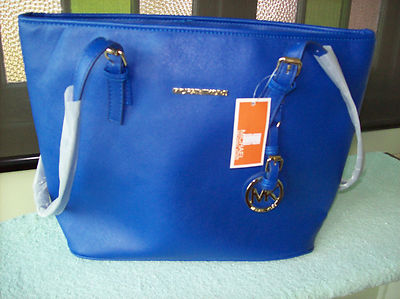 Add a caption
This bag is clearly plastic and the brigh orange swing tag is a dead giveaway
1. Saffiano leather has no smell
Saffiano leather, to someone inexperienced with this finish, can be confused with plastic. Because of the way that it has been treated, saffiano leather does not smell like leather - in fact it shouldn't smell of anything. Real saffiano leather will burn when briefly held to naked flame. Plastic made to look like saffiano however will burn or melt. Saffiano is a fantastic finish in an investment bag as it is very durable, cleans easily and does not scratch. It softens in warm conditions or in the sun, and I find that if you bag has been packed away badly and or a little squashed, half an hour or so in the sun will warm up the leather enough to removed any dents.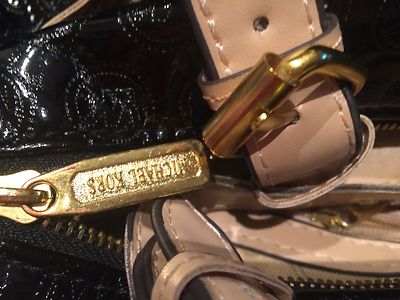 Add a caption
Firstly, no MK zipper pull looks like this. Secondly the hardware is rough, flaky and unevenly coloured. Just awful
2. Smooth, shiny, even hardware and perfect stitching
The hanging fob charm, if you bag has one, will always be suspended from a matching leather strap or a chain. It always appears on its own – there should be no other charm attached. The charm should be of a high quality metal hardware that is beautifully smooth and even, does not flake and is evenly coloured. Note that the Selma design does not come with any charms. The charm should have no sharp or rough edges.
Stitching will always be perfect. MK does also sometimes use contrast stitching.
MK uses several brands of zippers including YKK and ideal so don't be surprised if the zipper does not have YKK on it.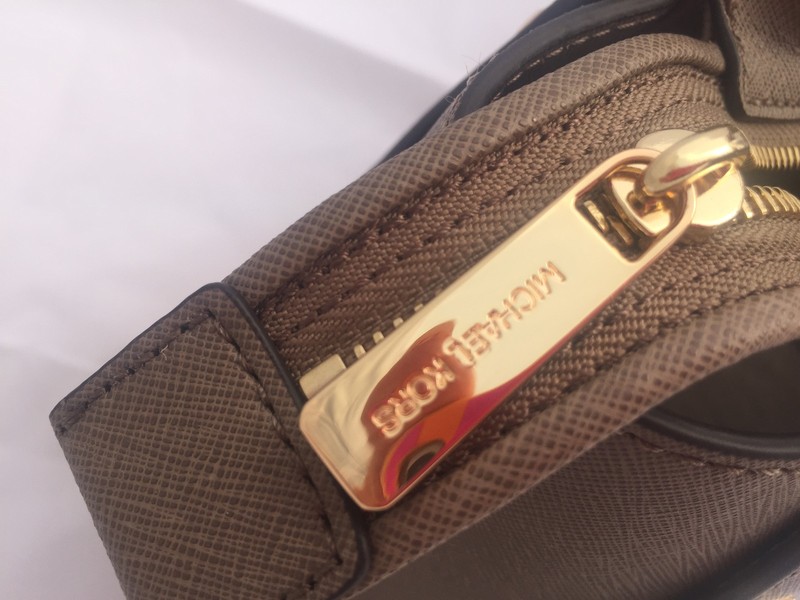 Add a caption
This is a genuine MK zipper pull. It's even, smooth and a beautiful gold (not brassy yellow colour).
3. Date and Manufature labels sewn into the seam
All newer Michael Kors bags have date codes inside the bag. The date code can be found on an inner side seam of the bag. Look for a small clear plastic tag about 2 cm long. It will state the country of manufacture (e.g. with the words "made in China" or "made in Vietnam") followed by letters and numbers. Michael by Michael Kors bags are made in Asia in countries like China, Vietnam, the Philippines, Bangladesh, Myanmar, Burma and Indonesia. The letters represent the style of the bag, e.g. Jet Set Totes will have the letter "B" followed by a "-" and then four numbers. These representing the month and year of manufacture. Note that if your bag is an older model, it may not have a style or date code though. Vintage bags only have a "Made in..." tag.
In 2013, MK introduced style codes and tags. Bags made between 2014 and 2016 has a style number tag stitched into the lining directly behind the date code tag. In 2016, the design of these tags changed slightly. The date code, made in country and style number are now all located on the same black tag.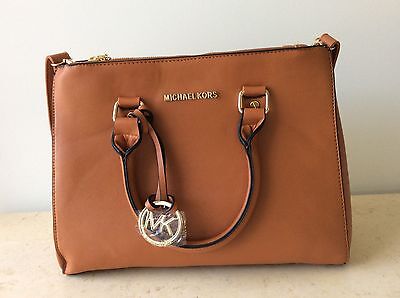 Add a caption
This lettering is too narrow to be genuine. The bag overall just looks dreadful!
4. External Michael Kors Lettering
Some newer bag designs come with the words "Michael Kors" attached to the outside of the bag at the top between the straps. The letters are cleanly stamped, evenly coloured and spaced and directly attached to the leather. The height and width of the letters should be equally proportioned. I have come across a number of counterfeits with quite long lettering.

I have found lately that the lettering on some of the newer bags is sometimes a bit crooked. It's disappointing but I guess as MK expands their manufacturing footprint across Asia, so some of their quality control standards have dropped. Slightly crooked lettering on newer bags is thus not an indicator of authenticity.
5. Lining should be smooth with the logo woven into it
The lining should always be smooth and slightly shining with the logo or monogram woven into it. It should never be printed onto the lining and is never a dark contrasting brown. If a bag looks like it has cotton lining, as in the image above, walk away! In 2016, MK changed the design of its lining somewhat, moving away from the circular logo to a solid looking "MK" repeat lettering with no circle around it. Some MK models with also have "Michael Kors" woven into the lining.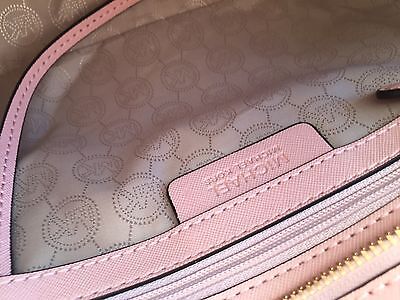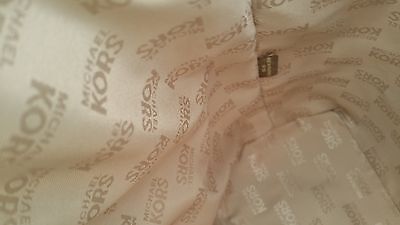 6. MK bags do sometimes go on sale
Unlike Louis Vuitton, Michael Kors bags DO go on sale. I have seen sale bags in Trade Secret. Bags only go places like Nordstrom Rack or Trade Secret when they are last season's stock.
Michael Kors does have outlet stores but not outlet websites. As far as I understand, an outlet is for factory seconds and overflow stock – which means items with a defect of some sort (made incorrectly) or last season items that have not sold. Some items here will have an obvious defect, whereas others only have a minor issue that is barely noticeable. Outlets have really only come into being in the last 10 years as previous to that, high(er) end designers would rather destroy overflow and seconds stock. Louis Vuitton is so protective of its brand that it still does.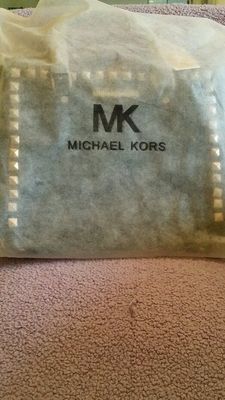 Add a caption
MK does not make cheap dustbags like this - they should be sateen
There are honest sellers on eBay, but there scammers out there too. You need to be cautious when you buy. Ask questions if you need to or and don't be afraid to ask for original photos. Any seller worth his salt will be happy to reply to you and help you through the buying process. Having said that, the eBay money back guarantee is excellent.

My final word is to be a bit wary of sellers who offer an authentication service. Only use a VERIFIED authentication service. I recently came across one who claimed they could authentic your bag, at a price, for your peace-of-mind. They wouldn't tell you what criteria they evaluated a bag on AND the specifically said that the authentication was not suitable for eBay or Paypal. To me, given that they sell the same bags themselves, this shows a lack of integrity and I would highly recommend staying away from "stores" that offer this.

Remember it always pays to do your homework. Happy shopping!