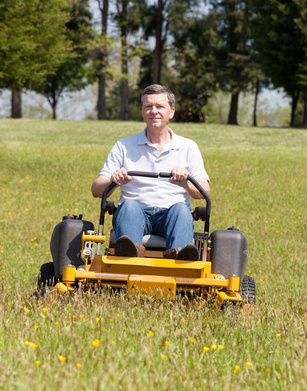 Riding Lawnmowers are great for taking out the stresses and strains of cutting a large lawn or garden. They can cover large amounts of ground much quicker than a push mower and can leave you to finish mowing the lawn quickly whilst enjoying the experience. Even with Riding Lawnmowers being really easy to use and a great time saver, there are a few fantastic accessories available to make mowing the grass even easier and quicker. By taking a look in the Home and Garden section on eBay, it is simple to find the great accessories outlined in this guide to either buy straight away or bid on.
Types of Riding Lawnmower available on eBay
Before we move onto the accessories that are available, it is important to identify which type of riding lawnmower is being used to make sure the accessories are applicable to your machine. The three main types of riding lawnmower are:
Standard Riding Lawnmowers
Standard Riding Lawnmowers are the ideal mower for basic garden or lawn work. They will mow the lawn quickly and can easily have the accessories mentioned in this guide attached to the back of them.
Garden Tractors
Garden tractors are the riding lawnmower of choice for people with larger gardens or grounds and are larger than the standard riding lawnmowers. They will have a lot more power and larger transmissions, which are perfect for larger grounds and heavy-duty work such as hauling and can easily remove shrubs and small trees that are in the way of the pristine lawn.
Zero-Turn Riding Lawnmowers
Zero-Turn Lawnmowers have superior manoeuvrability and speed for huge grounds and lawns that have a lot of obstacles like trees, bushes, flowers and ornaments. Zero-turn lawnmowers have an axle at the front of the machine that pivots, allowing more control to cut the grass around objects. The pivoting axle allows for quick turns and cut precision. With the other riding lawnmowers it is necessary to keep reversing to get out of a spot, but with a zero-turn lawnmower it is easy to turn 360 degrees instantly. These heavy-duty mowers can cut the grass in double quick time compared to a standard riding lawnmower. The machines are the ones that are being used on large grounds like public gardens and golf courses.
With all of their advantages over a standard push mower, there are a number of accessories that make cutting the grass even more efficient.
8 Accessories for a Riding Lawnmower
The top accessories for riding lawnmowers are:
Trailers
Trailers allow the user to carry up to 180kg worth of equipment and are fitted with a foot pedal to allow you to dump cut grass easily. Trailers are hard-wearing and rust resistant and are great for moving around with lots of equipment to help keep the garden looking great.
Leaf Sweepers
Sweeps up leaves and other bits around the garden with a brush sweeper and is usable on lawns and harder surfaces. Lawnmower sweepers help save hours of hard work carrying and clearing leaves to leave the lawn looking brilliantly clean.
Spreaders
Lawnmower Spreaders are used to distribute fertilizer and other nutrients for the grass to ensure the lawn is in top shape all year round.
Sprayers
Similar to spreaders, lawnmower sprayers are used to spray the various chemicals and nutrients needed to keep the grass growing well and staying green. They will generally hold a capacity of around 25 litres of liquid and are distributed evenly through the nozzle on the top of the container.
Aerators
Get air, nutrients and water into the lawn with a lawnmower aerator. Aerators will have strong steel blades that penetrate the grass and enable the soil to get everything it needs in order to grow properly. They are very light and make keeping your grass lush look easy.
Dethatchers
Riding Lawnmower Dethatchers bring matted layers of thatch and large clippings to the surface for a pristine, healthy lawn. They can be used all year round and are good to use if mowing has been done on the lawn without bagging or sweeping the clippings. Layers of thatch can build up on the surface of the soil which can prevent air, water, light and nutrients from reaching the roots. Dethatchers will keep the lawn looking green and healthy.
Lawn Rollers
Lawn rollers are great for flattening the grass and keeping uneven ground like mole holes at bay. They are also good for pushing the sown seeds into the soil so they can get all the nutrients they need. They give a nice striped finish as well to make the lawn look amazing.
Spare Tyres
Spare Tyres can be kept on the riding lawnmower at all times in case one of the tyres gets a puncture or is worn out. When choosing spare tyres it is important to find out which size of tyre is required for your riding lawnmower so you are not left stuck when a tyre needs to be changed. Spare Tyres are generally quite easy to fit but be sure to find out exactly how to do it via the instructions.
How to Buy Riding Lawnmower Accessories on eBay
All the products outlined above are available to buy on eBay. By simply searching for 'riding lawnmower accessories' in the search bar on any eBay page, buyers will be faced with pages full of products.
However if from reading the above a specific product has now been chosen more specific searches can be done for example a search of 'riding lawnmower aerator' will produce a more specific search.
There are two ways to buy products on eBay and this is through bidding or the buy it now function.
· Bidding – Buyers can bid on the product like a normal auction. The seller can put a reserve price on the product in case the auction does not reach their minimum requirement. Buyers will enter bids and will be notified via email whether you are the highest bidder or not.
· 'Buy It Now' – If the buyer does not want to wait for the auction to finish and the seller has opted for the 'Buy It Now' function there will be the option to buy the product at a set price which will be advertised and the buyer can buy the product there and then. This is good because the buyer is guaranteed to definitely get the product and to receive it quicker unlike using the bidding route.
You can search for the best deals on riding lawnmower accessories by checking in the Home and Lifestyle section. Some additional fantastic discounts are to be found, along with free postage costs.
Conclusion
Riding lawnmowers are great for cutting large areas of grass and the accessories outlined in this guide make it even easier to cut, roll, and collect grass meaning the lawn can be kept in perfect condition with relative ease. Before choosing any accessory for a lawnmower, make sure that it is suitable for your machine and will be suitable for the type of grounds that will be looked after. All of the riding lawnmower accessories mentioned in this guide can be bought or bid on in the Home and Garden section on eBay.