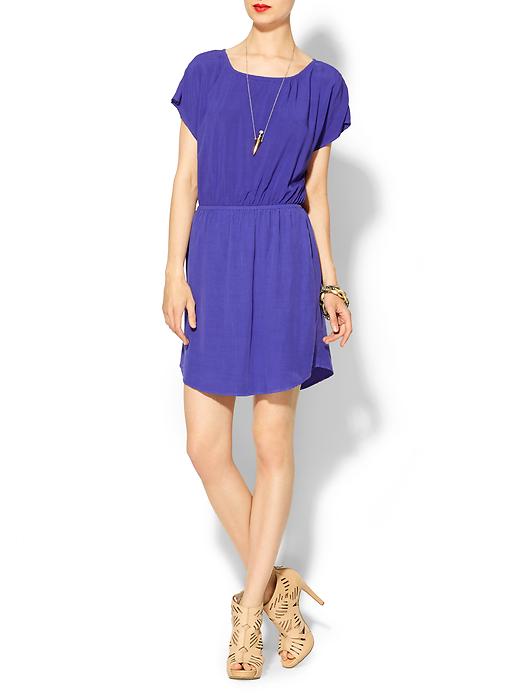 The mini dress is an ultimate classic that can make a woman look casual, chic, sexy, elegant, or a number of other things, depending on how the mini dress is worn. Unfortunately, mini dresses also can have a bad reputation for being too revealing if worn improperly. Most women should wear them carefully, choose a dress that suits their figure, and then choose the right make-up and accessories to complement the style.
The do's and don'ts of wearing a mini dress can vary depending on where the dress is being worn. For example, wearing a mini dress to a work party is a great deal different from wearing a mini dress on a date or to a club. For this, most women should use common sense and dress appropriately. These do's and don'ts are intended to help women choose figure-conscious, classy, and beautiful styles to complement any type of figure.
1: Do Consider Pairing the Mini Dress with Tights
One of the biggest concerns with the mini dress is that it is very short. While this is fine in itself, adding tights of any kind can be a great way to wear a mini dress in colder weather or to tone down the look if the dress is a little too short. Most women should avoid fishnet or net tights and wear opaque or solid tights instead. However, tights are not absolutely necessary to wear with a mini dress, especially if the temperature is warm. If the dress is a little too short, tights can make it classier and offer more coverage so they are always a great consideration.
2: Do Wear a Mini Dress with the Right Shoes
Shoes can make or break an outfit with a mini dress. Shoes can have a heel or not, depending on the occasion, time of day, style of the dress, and the woman. If wearing heels, remember that they do make short skirts look shorter and that the combination of heels and mini dress is very hard to pull off during daytime.
Boots
Boots and a mini dress are an instant classic but there are a few things to watch out for. Avoid over-the-knee styles unless they end right over the knee or the entire outfit might look a bit trashy. Knee or calf boots with tights and a dress can look very cute and classy for any time of day.
Flats
Flats are very easy to pair with a mini dress, depending on the style of the dress. For example, a casual A-line style skater dress could be easily paired with Converse or Vans but a fitted bodycon dress definitely should not be. Try matching the style of the shoes with the style of the dress and remember that while it is easy to wear dressier shoes with a casual dress, the other way around is usually a mistake.
3: Do Find a Flattering Cut
The cut of a mini dress can be the difference between it being flattering and ugly because every woman has a different figure. For most women, choosing a flattering dress is about accenting the waist and creating a waist-to-hip definition. Women who are larger on the top should avoid styles that accent the top, and women who are larger on the bottom should usually avoid anything that is not fitted on the top.
| | |
| --- | --- |
| Dress | Definition |
| Strapless | Usually formal or party dress with no straps |
| Halter | Sleeveless with a strap that goes around the neck |
| A-Line | Fitted in hips and waist and flared below the hips |
| Bodycon | Hugs the body |
| Empire | Loose fit from the bust down |
| Sundress | Casual dress, usually A-line cut |
| Sheath | Straight cut dress that falls from the shoulders |
| Circle | Fitted in the waist and bust and flared from the hips |
| Colour Block | Features a panel of different colour |
| Shirt Dress or Tunic | Looks like a long shirt |
There are many other styles and types of mini dresses and usually choosing one is all about finding a good style that flatters the figure. Peplum mini dresses are also increasingly popular although they should be chosen with care as they can overwhelm a petite figure. Each of the dress styles above can be easily found and compared on eBay.
4: Do Choose an Appropriate Length
Mini can mean a lot of things because the taller the woman, the shorter the dress is on her. Tall women should choose styles that are mid-thigh to almost to the knee, especially if they intend to wear high heels with the dress. Shorter women can get away with a much shorter skirt in order to add to their length. However, it is important to check the dress before going out to ensure that it offers full coverage and that it does not ride up too high when sitting down.
5: Do Be Comfortable with Your Body
Mini dresses are revealing and the most flattering way to wear one is to be comfortable. Do not spend the whole night pulling the dress down because it is not flattering. Anyone who is self-conscious about the amount of leg they are showing can consider wearing tights or leggings. Many women who are not athletic or toned choose to wear shapewear under a stretchy dress because it prevents the dress from conforming to rolls of fat on the belly or from outlining any specific problem areas.
6: Don't Wear the Mini Dress Too Tight
While a tight dress is fine, it is always a good idea to not wear a dress too tight. A mini dress is already short and showing off a lot of leg which means that it is already sexy. If the dress shows off belly or the person wearing it looks like they can barely move, the look is far from flattering. Usually, it is a great idea to purchase a dress based on personal measurements rather than size as many dresses are sized differently from shirts and bottoms. This means measuring hips, bust, and the smallest part of the waist before making a purchase and then buying a dress that is a bit larger than those measurements.
7: Don't Show Too Much Skin
While it can be tempting to purchase a low-cut mini dress, the look is rarely flattering except for at clubs. Most women find that they are most flattered by not showing off cleavage with a mini dress. However, it is perfectly fine to show off shoulders and arms because these offer a lot of balance and can look very nice with a mini dress.
8: Don't Overdo It
Last but not least, it is always a good idea to remember to not overdo it. If the event is very formal than overdoing it is perfectly fine of course, but for a party or casual wear, the idea is to keep it simple and let the dress do the talking. If the dress is simple, pair it with a statement necklace or belt, or elegant shoes. If the dress is glamorous, let it be the centre of attention and keep accessories to a minimum.
Buying a Mini Dress on eBay
Anyone can use eBay to look for a mini dress that suits their style, figure, and personality. The website features many sellers who offer new and used dresses that can range from high-end designer to budget options and deals. As a buyer, you can choose to buy from any of these options in any style or colour you like. Essentially, you can use eBay to browse through every style of dress you are considering and then make your purchase without leaving home.
Important things to consider on eBay include whether or not the mini dress is new, how long the shipping could take, and what the buyer says about the dress. You can typically find measurements or size information in the listing description but if not you may want to contact the seller to ask. Once you have made your decision, you can check out and wait for the dress to arrive.
Conclusion
A mini dress is a wardrobe staple for many women and an instant classic look if worn correctly. The trick is to purchase a style of dress that suits the body shape and type and then choose a dress style that is flattering rather than overly revealing. For example, a plus size woman can look very elegant in a shift dress paired with 30 to 40 denier tights while a slender woman might look equally as elegant in a bodycon dress.
Most of the things to avoid when wearing a mini dress include revealing too much. Showing too much skin or wearing a dress too tight can look trashy because of the length of the dress. By shopping carefully and pairing the dress with a nice pair of shoes and perhaps leggings or tights, everyone can create a classy and flattering look.