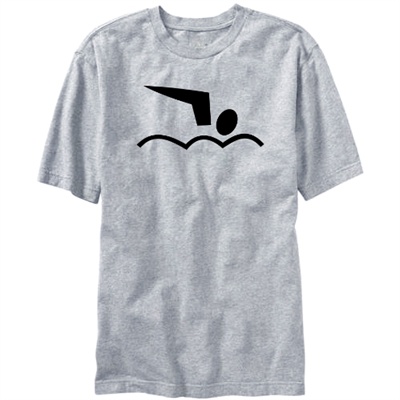 The T-shirt, or "tee", is a type of shirt that gets its name from the "T" shape formed by its body and sleeves. Originally developed when one-piece underwear was divided into a separate top and bottom, t-shirts are now one of the most popular types of casual shirts in the world. T-shirts were first made of cotton, and many still are. However, modern t-shirts use a range of materials depending on the intended purpose of the shirt. Some sport tees, for example, use special wicking fabric designed to draw sweat away from the body. Though t-shirts are easy to find, there are several factors buyers should consider before making a purchase. Buyers on eBay should also know how to quickly find t-shirts on the site.
Factor #1: Type of T-shirt
The original t-shirt was simple. It had short sleeves and a round neck. Today, buyers have much more choice in the type of neck, and length of sleeves.
Different Types of T-shirt Necks
There are two basic types of t-shirt necks for men: the crew neck, and the v-neck. The crew neck is the original round neck that has been used on t-shirts since they were first invented. The v-neck differs from the crew neck because it comes down in a "V" shape at the front of the t-shirt. Another type of t-shirt neck, the "scoop" neck, drops lower than conventional crew necks and v-necks. This type of neck is more popular in women's t-shirts, but is finding its way into men's t-shirts as well.
Length of Sleeves
The length of modern t-shirt sleeves can be anything from nonexistent to long. Buyers can choose from short sleeves, long sleeves, and sleeveless t-shirts. Though sleeveless t-shirts are technically not "t-shirts", they are sometimes sold as such.
Factor #2: Material of the T-shirt
The bulk of t-shirts available are made of cotton. Cotton t-shirts are comfortable, durable, and also easy to print on. This is important if buyers are considering applying their own designs to a t-shirt. Other materials commonly used in t-shirts are polyester, or a cotton/polyester (poly-cotton) blend. These materials absorb liquids at a slower rate than cotton. Other materials used include rayon, linen, silk, satin, and nylon. T-shirts intended for sportswear are made of blends that include a wicking fibre, a material that is designed to draw sweat away from the body to the outer part of the t-shirt, keeping the wearer's skin dry.
Factor #3: The T-shirt's Colour
A t-shirts colour plays an important role in whether the shirt flatters a wearer or not. To determine the best colours to buy, buyers should first determine their skin tone.
How to Determine Skin Tone
Everyone has a natural undertone that can be divided into one of three types: warm, cool, or neutral. Determining undertone is best done in front of a mirror with plenty of natural light. This setup allows buyers to easily identify their natural undertone.
| | | |
| --- | --- | --- |
| Natural Undertone of Skin | Skin Tone | Suitable Colours |
| Warm undertone | Darker skin tones: olive, gold | Warm colours: reds, oranges, yellows, dark browns |
| Cool undertone | Fairer skin tones: pink | Colder colours: purples, blues, greens, pinks |
| Neutral undertone | Natural | Almost any colour |
Another way to identify skin undertone is with jewellery. Silver, white gold, and platinum jewellery are flattering on people with cool undertones, while yellow gold suits those with warmer undertones better. Those who look good regardless of the type of jewellery have a neutral undertone.
Factor #4: Design on the T-shirt
While plain t-shirts are very popular, one of the most attractive features of t-shirts is the fact that they look good with designs, writing, and decorations on them. Almost any visual design can be printed on a t-shirt. Some t-shirts also feature embroidered designs. These can be more expensive, but are more durable than prints. Buyers can also opt for custom designs on t-shirts.
Factor #5: Brand of the T-shirt
The brand of a t-shirt is the organisation behind its production. In fact, one company could have several different brands of clothing. As a brand builds its name, it becomes more sought after and valuable. A well-known brand also maintains the quality of its t-shirts because it has to protect the name of its brand.
Factor #6: Size of the T-shirt
Buyers should purchase t-shirts that are the correct size. If buyers are not sure what size they are, they can easily measure themselves at home.
How to Measure for T-shirts
Buyers can measure themselves to find out what t-shirt size to order. The process is simple, and only requires a cloth tape measure, a full-size mirror, and a friend to help make accurate measurements. For better results, measurements should be taken while wearing sheer, tight fitting, clothing. T-shirts are sold based on chest size, so this is the only measurement necessary. Chest measurements must be taken right under the armpits, where the chest is at its widest. Shoulder blades should be included in the measurement.
Australian T-shirt Sizes
Unfortunately, t-shirt sizes are not standardised. They vary from manufacturer to manufacturer. However, the difference is slight. If in doubt, buyers should opt for the next larger size.
| | |
| --- | --- |
| Size | Chest Measurement (cm) |
| Small (Size 14) | 95 - 96.5 |
| Medium (Size 16) | 100 - 102 |
| Large (Size 18) | 108 - 110 |
| XL (Size 20) | 112 - 116 |
| XXL (Size 22) | 116 - 121 |
| XXXL (Size 24) | 124 - 125 |
Choosing the right size is more important when making purchases online. Though it is possible to return t-shirts and exchange them for another size, this defeats one of the main purposes of purchasing online: saving time.
Factor #7: The Fit of the T-shirt
Though they are related, the fit of a t-shirt differs from its size. It is possible to have t-shirts of the same size, all with different fits. Buyers should choose the best fit for their body type when selecting t-shirts. Though each manufacturer may have different names for the different fits available, the following can serve as a guideline:
Slim fit: More tailored cut, tends to curve at the torso
Regular fit: Designed for an average frame
Big and tall: Designed for men over six feet two inches in height

Factor #8: The T-shirt's Quality

A high quality t-shirt lasts longer, fades slower, and is more comfortable than a lower quality one. Buyers should get the best quality t-shirt that fits their budget. One of the ways to determine the quality of a t-shirt is by its weight. The standard weight of a t-shirt is around 155 grammes. Lighter t-shirts are of lower quality, while heavier t-shirts are of higher quality. However, weight is not the only factor that affects quality. Fitted t-shirts tend to be lighter even if they use the same fabric. The type of fabric used can also be high quality and durable, but if it is light in weight, then the weight test fails.

Finding T-shirts on eBay

Buyers looking for t-shirts on eBay can easily find what they are looking for by using the search bar. The search bar is available on the eBay home page, and other pages on the site. For example, entering the term "green t-shirt" lists all currently available green t-shirts on eBay. If this list is too long, buyers can enter more specific keywords to view fewer, but more relevant results.

The list can be narrowed down even more by choosing from various criteria including size, brand, and material. Buyers can also browse through deals on men's T-shirts on eBay, where t-shirts are often sold at discounts. Before committing to a purchase, buyers should review a seller's return and exchange policy. This can be important if a t-shirt needs to be returned in case it is not the right size, or if it is damaged.

Conclusion

T-shirts are one of the most popular types of casual wear available today. The classic tee is made of cotton and features a round neck and short sleeves. However, buyers today have many more choices available. T-shirts are available with different types of neck designs, sleeves that are short or long, and in a range of materials.

Before choosing a t-shirt, buyers should consider various factors. These include the type of t-shirt, the material used, and the quality of the material. Buyers should also choose colours that suit their natural skin undertone, and t-shirts that fit their body type. If buyers are not sure about what size t-shirt to purchase, they can take a chest measurement to find the right size. Buyers can choose from a wide range of different t-shirts on eBay.