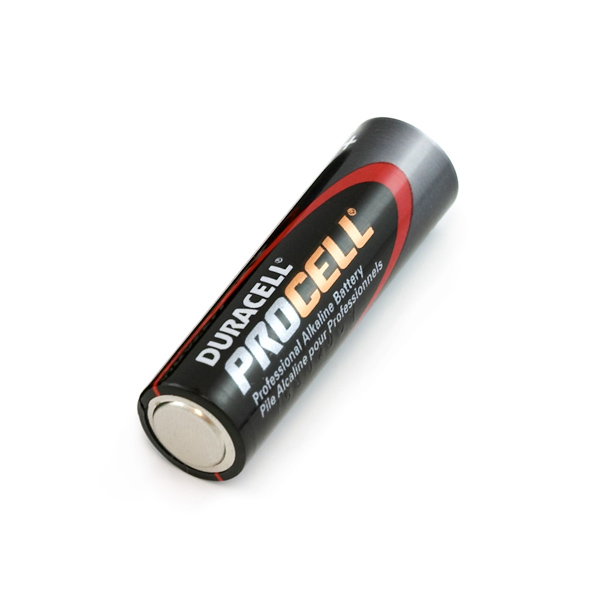 Batteries come in all shapes and sizes, and they are used to power all sorts of portable devices, from MP3 players and digital cameras to toys, flashlights, and smoke alarms. Some batteries can be recharged and used several times, while others can only be used once before they need to be thrown away. Single-use batteries have a lower upfront cost, and provide enough charge to power many different types of devices. Not all single-use batteries are the same though. For this reason, shoppers should consider several factors when shopping for single-use batteries. When evaluating which batteries to buy, shoppers should consider the types of batteries, brands, sizes, cost, and more. eBay offers shoppers good deals on single-use batteries along with a varied selection.
1. Battery Type
Single-use batteries are designed to be used until their power is drained, and then these batteries have to be thrown away. Not all single-use batteries are the same. The two main types of single-use batteries available are alkaline and lithium batteries. They are similar in many ways, including how they are used, but there are a few distinct differences. These differences are listed and compared in the table below.
| | | | |
| --- | --- | --- | --- |
| Battery Type | Lifespan | Price | Capacity |
| | Up to 2 years | Low | Low |
| Lithium | Up to 10 years | High | High |
Lithium and alkaline batteries are about the same in nearly all aspects as far as functionality goes. However, lithium batteries have a higher capacity and a longer lifespan. This means that people can use lithium batteries for more powerful devices without having to worry about the battery power draining too quickly. The downside to this is that lithium batteries require a higher upfront investment.
Types of Alkaline Batteries
There are two types of alkaline batteries: standard and premium. Standard alkaline batteries are less powerful than premium batteries and standard batteries are cheaper. Standard alkaline batteries can be used in devices with a low to moderate power drain. They are ideal for remote controls and portable scanners. Premium alkaline batteries are more powerful and can be used in devices that require a lot of power. Therefore, premium alkaline batteries are ideal for digital cameras, MP3 players, and other portable electronic devices.
2. Battery Brands
Numerous brands of single-use batteries exist. Top brands include Duracell and Energizer. While these brands are the most familiar to consumers, they are not necessarily the best choice. Many people assume that these name brands are more reliable and that the batteries sold under these brands are the more powerful batteries, but that is not always the case. When it comes to single-use batteries, all brands perform at the same level. Consumer advocacy groups found little difference in the performance of name brands, less expensive generic brands, and store brands. When choosing batteries, the brand is not necessarily a reliable indicator of performance.
3. Sizes of Batteries
Single-use batteries can be purchased in a variety of sizes. Before choosing batteries to purchase, shoppers should check their devices to see what size batteries are required. Typically, the larger the battery, the more expensive the battery. Sizes range from AAA on the small size to D on the large size. Smoke alarms and some toys require 9-volt batteries.
4. Cost of Batteries
Cost is one of the most important factors to consider when purchasing single-use batteries. Prices for single-use batteries vary greatly depending on the type of battery, brand, and quantity. While it is not always best to choose the least expensive battery, shoppers should look for the best deal. For toys and devices that require that batteries be changed regularly, it is a good idea to choose less expensive batteries. Otherwise people end up investing a lot of money in batteries that need to be replaced often.
5. Uses for Batteries
A shopper should identify how the batteries are to be used before making a purchase. When shopping for batteries for a digital camera, a shopper should look for powerful batteries that are strong enough to power the controls, as well as the flash and other power-hungry components of the camera. Standard alkaline batteries are typically not the best choice for use in digital cameras. Lithium batteries are the optimal choice for digital cameras because they have twice the capacity and a much longer life. However, for a remote control, which uses only a small amount of power, the cheaper alkaline batteries are a good choice.
6. Marketing Language
Shoppers should be aware of the various marketing words used in product descriptions on packaging and in advertising for batteries. The most common marketing words used are the brand names. Another common term often used by marketers when describing batteries is "heavy duty". These types of batteries are actually not any stronger than other types of batteries. In fact, the term "heavy duty" is often used to market less expensive, short-life batteries to entice people to buy them. The words have no real meaning when placed on the packaging for batteries typically found in stores. Real heavy duty batteries are typically used for industrial purposes.
7. Buying Batteries in Bulk
People who use a lot of single-use batteries, and do not want to purchase rechargeable batteries, should consider buying batteries in bulk. Buying larger packages of batteries can cut the price of each battery in half. Because batteries can be stored for years without losing charge, one does not have to worry that batteries may eventually "go bad" and cease to function. A person should be sure to store the batteries in a cool, dry place until the batteries are ready to be used.
8. Proper Disposal of Batteries
People should consider battery disposal options before deciding on which batteries to purchase. Single-use batteries are designed to be thrown out with the rubbish, but that is not always the best way to dispose of batteries. While they do not contain heavy metals, single-use batteries do have other substances that can be harmful to the environment in the event the battery leaks. Finding a recycling centre for alkaline batteries is often difficult, but recycling lithium batteries is a bit easier. This is something that shoppers should take into consideration when looking for environmentally-friendly options. People should be sure not to expose single-use batteries to extreme heat or fire, as this can cause the batteries to explode or leak toxic chemicals.
How to Buy Single-Use Batteries on eBay
You can find great deals on single-use batteries on eBay. You can search for batteries of all sizes and even find bulk packages. Start by performing a basic or advanced search using keywords to describe what you are looking for. For example, type "aa single use batteries" into the search bar to perform the initial search. From there, select options such as brand, condition, or price to narrow down the results even further.
Read the item descriptions and view the pictures (where available) to get a better idea of what you are buying. Be sure to compare prices and analyse delivery costs. Additionally, compare sellers to decide who you wish to do business with. You can do this by reviewing the seller's feedback rating, which is readily available in each listing.
Conclusion
Single-use batteries are also known as disposable batteries. They are designed to be used until they have no power left and then tossed in the rubbish. People use single-use batteries in a wide range of devices, from digital cameras to remote controls to battery-operated toys. The quality of single-use batteries varies considerably depending on the type of battery and its brand. When shopping for batteries, a shopper should take the time to determine what the batteries are going to be used for before choosing the type, size, brand, or quantity to purchase. By taking these factors into consideration, shoppers can ensure that they find the best deals on single-use batteries that meet their needs. No matter what kind of batteries shoppers are looking for, they can find what they need on eBay.
Single Use Battery|Battery|Used Battery|Disposable Battery|Consumer Electronics