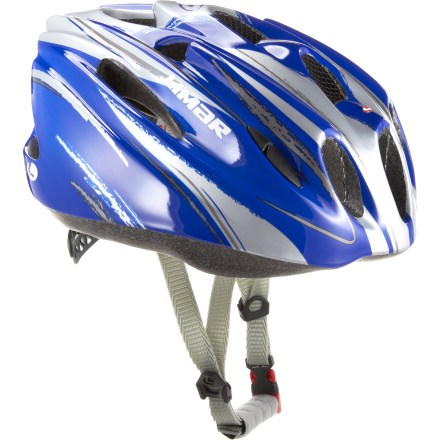 Mountain biking is not for the weak of heart, and it is not simply cruising on a bicycle. Mountain biking is a serious sport, and for those who enjoy it, it is exciting, fast paced, and can also be dangerous. The best way to prevent injury from mountain biking accidents is to be prepared. Bikers need to outfit themselves with some safety accessories that protect them from scrapes, falls, and the elements.
For inexperienced mountain bikers, this can be disconcerting, but it is always better to be safe when biking and prepared for anything that may come up while riding over rough terrain. Consumers are able to find everything they need to accessorise themselves and outfit their bikes for mountain riding on eBay, from pads to gloves and everything in between.
Accessory 1: Helmet
Every biker needs a helmet. Even pleasure cyclists should wear helmets, but mountain bikers in particular need the protection that helmets offer. When most people think about cycling helmets, they imagine bulky, ugly headgear that looks unflattering and is uncomfortable to wear. That simply is not the case with today's cycling helmets.
Helmets are lightweight, stylish, and even colourful. Mountain biking helmets fit tightly against the skull for the most comfortable design available, and they come in either two styles: those which cover the head and the face, or those which only cover the head. The price of helmets varies according to brand and style.
Accessory 2: Protective Clothing
Mountain bikers know that comfort is key, as well as protection, and that means wearing the right clothing while cycling. Consumers who are not used to purchasing biking apparel may imagine tight bike shorts that do not provide much protection. Technology has changed and newer biking shorts are created with padding to make cycling even more comfortable, and offer flexibility and range of movement for the cyclists.
Along with the right shorts, cyclists also need breathable, comfortable tops or jerseys to cycle in. These are generally made of special material that offer benefits such as UV protection, moisture wicking to keep cyclists dry while riding, and special bonus features like pockets for cell phones or snacks. Female cyclists also have the option of riding in comfortable knit skirts which have a spandex liner for privacy. These are sporty and offer the same protection that shorts do.
Accessory 3: Padding
When falls do occasionally happen to cyclists on mountain bikes, there are several points of contact that tend to get injured most frequently. These are the knees and the shins. Mountain bikers need to purchase special pads for these areas to keep them protected while riding. They are also called knee guards, protective armour, and shin guards.
Knee guards slip over the knee and fit tightly against the knee, usually with a layer of padding directly over the knee cap. Shin pads may also protect the ankles too, and some pads protect all three of these fragile areas. Pads are stretchy and comfortable, but often have a layer of plastic over the bone itself.
Accessory 4: Gloves
Cyclists are often gripping their handlebars while navigating treacherous terrain. This sometimes causes scrapes and abrasions that are usually painful. Cyclists are able to alleviate hand strain and irritation by slipping into some special cycling gloves. Mountain biking gloves are usually padded and made of durable materials such as leather and polyester.
The padding helps protect the bones in the hands and fingers, and the fingerless quality of the gloves makes them easy to wear since all of the fingers are not completely covered. Shock absorbing gloves are a good option for safety and protection for bikers taking long rides, and they keep hands from hurting.
Accessory 5: Shoes
Another area that needs safety attention while cycling is the feet. Pedalling feet need extra support to stay free of injury while mountain biking. Mountain biking shoes are not made like other sport shoes. They offer special traction on the soles that absorb shock and make pedalling a breeze while keeping feet safe, properly supported, and secure.
Mountain bike shoes are often slip-on style or have Velcro closures for convenience, so laces do not get caught in gears or pedals. Cyclists need to wear these special shoes while biking and not traditional sneakers, which do not provide the same level of protection. Prices vary based on the materials and the brands of shoes. Some commonly seen mountain biking shoes are created by Pearl Izumi and Giro.
Accessory 6: Sunglasses or Goggles
There is nothing more uncomfortable than flying dirt or debris going into a cyclist's eyes, so bikers need to be extra careful and protect this sensitive area from irritation and damage. The best way to do this is by donning protective sunglasses or goggles while mountain biking. This also makes cycling more pleasurable considering riders do not have to worry about squinting in the sun, high winds, or insects in the face.
Flying debris can cause eye injuries, and sunglasses are a simple and safe solution to this issue. The best glasses to purchase are made from non-breakable materials, and are created from durable, sturdy materials. Mountain biking sunglasses or goggles that wrap around, may have extra features like anti-fog coating, UV protection, scratch resistance, and increased clarity as well as an ergonomic, comfortable design, for the best fit.
Accessory 7: Water Bottle
It is the most basic necessity, but it is easy for cyclists to take off on a ride and forget what they need the most to stay safe and hydrated on a long ride: water. A water bottle is a must for every mountain biker, and riding in extreme hot temperatures can be very dehydrating. Water bottles that are made for biking attach to the mountain bike easily.
Alternately, cyclists can use a pack or bag that slips around the waist and provides a holster of sorts for water bottles or attaches to the cycle. A simple, lightweight clip, called a water bottle cage, can be purchased to attach a bottle to the bike, so there are no excuses when it comes to the convenience of carrying water or a sports drink all of the time.
Accessory 8: Emergency Kit
When cyclists are up in the mountains and far off the beaten path, it pays to be prepared. Emergency kits for mountain bikers consists of a patch kit for tyre repair, should a hole or flat occur, small tools for adjustments on a bike, and a miniature air pump. An emergency kit may also contain some snacks such as protein bars in case the ride goes longer than expected and the cyclist needs a bit of fuel for the return journey.
How to Buy Mountain Bike Accessories on eBay
If you are an experienced mountain biker and need some new safety items, or you are just beginning a foray into mountain biking, eBay has great deals on everything you need to cycle safely over streets or in the mountains. Navigate to cycling to browse what is available, and select specific categories to view items for purchase, such as cycling gloves or water bottles. Select the right mountain biking accessories according to budget, brand, and size. Clothing for mountain bikers come in various colours, materials, and styles, so you can select what works best for you.
Buy from Reputable Sellers
Shop for mountain bike accessories from authorised merchants who are Top-rated sellers. Ensure that you are buying from a seller who has excellent feedback ratings from previous buyers so you know you are dealing with a quality seller.
Conclusion
Mountain biking is an exhilarating sport that tones the body while providing an exciting ride. Whether bikers are riding for sport or for fun, mountain biking is a satisfying way to spend time outdoors and get some exercise. Everyone enjoys mountain biking, not just professionals. However, mountain bikers of all skill levels need to make sure they are riding as protected as possible in case of a fall. Protection can be the difference between an injury or simply just an inconvenience.
While gearing up in safety equipment can be frustrating or uncomfortable, modern day biking gear is made out of lightweight and comfortable materials that promise breathability, durability, and style, as well as providing the safety cyclists need to feel secure while biking.