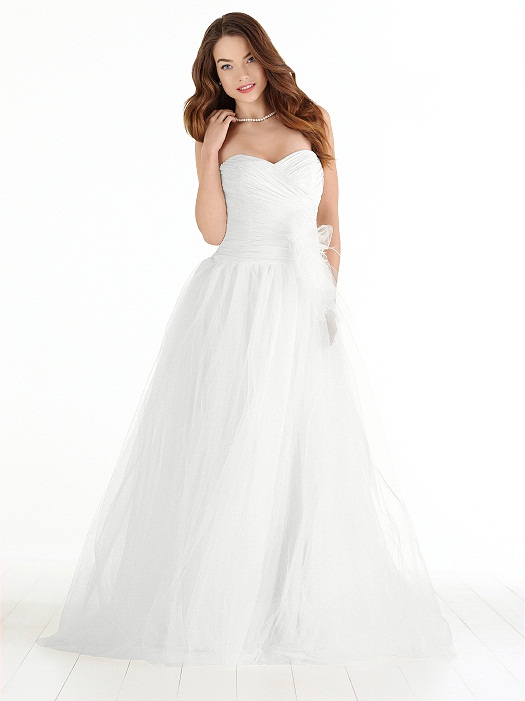 Going to a wedding requires women to dress up, but not too much. A dress is the standard required wear, but that does not mean that choosing the right one is always easy. It can be embarrassing to wear the wrong dress, especially if it is the same colour as the bridesmaids' dresses or looks awful in photos. Unfortunately, each of these mistakes is very easy to make.
Most of the time it is possible to avoid wedding fashion faux pas by doing some research and then choosing a dress based on colour, fit, and style. For example, just because a dress looks good on the rack or the model does not mean it is flattering on every body type. Here are eight basic tips on buying a dress to wear to a wedding.
Tip 1: Check the Style of the Wedding
The first thing that anyone should do before purchasing a dress is to check the style of the wedding. This factor is extremely important because it can drastically change the type of dress that is suitable to wear to the wedding. For example, a simple sundress with pearls and low heels might be perfect to wear to a casual wedding but a formal wedding might require something a little more ornate. It is usually possible to check the theme of the wedding by asking the bride, the bridesmaids, or the mother of the bride.
Tip 2: Consider what the Bride and Bridesmaids Are Wearing
It is also important to consider what the bride and bridesmaids are wearing. For example, if the bride wears a simple empire waist dress, then it might be a faux pas to show up with a full circle skirt or flared A-line. Typically, it is never a good idea to wear white to the wedding. Also check which colour and style of dress the bridesmaids are wearing before going out and purchasing a new dress. As a rule, the bridesmaids should be a touch better dressed than the guests so knowing what they are wearing can help with choosing a style of dress as well.
Tip 3: Consider Age
Age has nothing to do with which type of dress is flattering on the figure but it does affect which type of colours and materials are flattering for formal events. Most younger women can get away with circle skirts, A-line skirts, flare skirts, and other styles that enhance the hips but most agree that sheath, pencil, fitted, and shift styles are much more flattering on an older woman's figure.
The materials of the dress might also be chosen based on age. Lighter materials such as silk, rayon, polyester, cotton, and other standard materials can usually be pulled off by anyone. However, a more mature woman can pull off velvets, brocade, and other heavy fabrics.
Tip 4: How Formal is the Wedding?
As some dresses are more formal than others, it is always important to check how formal the wedding and the location are before buying a dress for a wedding. For example, a shift dress might look out of place at a beach wedding but a flowing maxi dress might be perfect. A cocktail dress is usually a failsafe dress to wear to a wedding. Most are semi-formal so that they look dressy without being too formal.
Tip 5: Choose a Flattering Colour
Colour is not everything but it is a great thing to consider. Most buyers can check their skin tone to see which colours are flattering on them. Typically, the only important thing about skin tone is whether it is warm or cool as this does affect which colours are flattering. Cool skin tones tend to look better in blue, green, and red. Warm tones tend to look best in warm tones such as brown, red dark blue, rust, orange, mocha, tan, and beige.
Tip 6: Pick a Stylish and Flattering Cut
The style and cut of the dress are very important because different dresses flatter different body shapes. Each body shape is flattered by a different type of dress although some dresses are flattering across multiple body types. Women should check their body shape before shopping for a dress and then choose a style that flatters their silhouette.
| | | |
| --- | --- | --- |
| Dress Style | Description | Best For |
| A-Line | Fitted in bodice, waist and hips; flared below hips | All body types |
| Wrap | Wraps around the body to accent the waist | Most body types except rectangle figures |
| Full Skirt | Flares from the hips | Full figures |
| Empire Waist | Very high waist and loose skirt | Most figures except pear and inverted triangle shapes |
| Sheath | A fitted straight dress | Most women |
| Shift | Looser version of the sheath | Most women except pear shapes |
| Halter | Ties at the neck with no sleeves | Most women except inverted triangle shapes |
| Babydoll | Loose from the bust down | Fuller women |
Usually, it is a good idea to learn the body type and then choose a dress that accentuates the figure. Hourglass figures can usually wear almost anything and look good. Pear shapes should almost always wear something that is fitted on the top. Banana and apple shapes should typically wear something that is loose or flared on the hips and then place a belt or tie at the waist to create the illusion of curve. Inverted triangles should wear something to enhance their hips and then show off shoulders and bust to create a full hourglass look.
Tip 7: Try Not to Look Sexy
It is not a good thing to be sexy at a wedding. Showing cleavage or too much leg is fine if going out or at a party but unfortunately at a wedding it just says that the person wearing a sexy dress wants attention when that attention should be going to the bride. Remember that it is her day and her time to shine. Choosing an outfit that shows little to no skin is always a good idea. Consider going for classically sexy with a fitted dress if something more demure is not the right style. As a general rule, little to no cleavage and a hemline that is mid-thigh or knee length is the best way to go. However, it is perfectly fine to show off arms and shoulders, which can be a very appealing and beautiful look.
Tip 8: Consider Asking the Bride
It is always possible to ask the bride what she thinks is a good dress to wear. Usually, this is only a good idea if the person buying the dress is close friends with the bride. It is also possible to ask the bride's friends or bridesmaids as well as the mother of the bride. Showing a dress to any of these ladies and asking if it is appropriate to wear to the wedding may also be a good idea for anyone who has already bought a dress but is not sure if it is suitable for the wedding.
Buying a Dress for a Wedding on eBay
eBay is a great place to look for a dress for a wedding because you can purchase any size, colour, style, and print. Best of all, you can search through multiple options, compare different styles, and even find great deals on dresses without ever leaving home. Once you buy the dress, you do have to wait for it to ship to you, so it is also a good idea to ensure that the estimated shipping time allows it to arrive on time.
Searching for a dress on eBay is relatively easy and you can search by colour, style, type, or whatever other consideration you might have. It is a good idea to read the full description and to check any measurements listed on the page before purchase. Sellers on eBay also list both new and used items so it is a good idea to check the condition before purchase.
Conclusion
Purchasing a dress for a wedding is a big deal, especially for anyone who wants to look fabulous, stylish, and appropriate. Wearing something that is too low cut or the same colour as the bridesmaids' dresses might be a fashion faux pas at a wedding. However, it is usually very easy to avoid these simple mistakes by doing a bit of research before choosing a dress. Most people who are at a wedding usually end up in the photos so it is also a great idea to choose something that is flattering.
There are plenty of styles, cuts, and colours that flatter different women and choosing one is typically as easy as finding the right colour and skin tone. Most women should also check with what colour scheme the wedding has and, if possible, what style of dress the bridesmaids are wearing before choosing their own dress. If budget is a constraint, there are always deals on dresses on eBay, so this is a good place to look first.