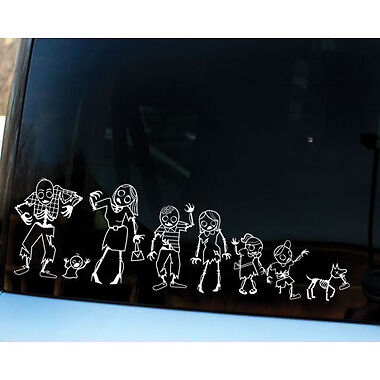 Car and truck decals come in a staggering array of shapes, colours, and designs. Some focus on politics or philosophy, while others are strictly for entertainment; some cover all of these categories. Like humour, decal choices are quite personal and what one person loves, another might find entirely inappropriate, so choose carefully when buying these as gifts.
Humorous decals
are often based on current events, trends, popular culture, pets, or hobbies. If using trendy decals, consider changing them when a new trend comes into effect. Fishing, hunting, camping, and 4x4 decals are widely available and range from macho to tongue-in-cheek. Learn about the funny car and truck decals available from
eBay
, novelty stores, auto trimmers, and other suppliers. Know how and where to apply them for the best effect.
1. Stick Figure Families with a Difference
Love them or hate them, it seems like stick figure families are here to stay. For those that have decided not to create their own stick figure families on the rear windows of their cars, there are plenty of decals available to explain this absence, blaming anything from axe murderers to
dingos
. Those that want to create a stick family with a twist can choose a Star Wars family. A plethora of
funny stick family characters
are available, but be warned: many decals contain adult humour.
2. Avast, Landlubbers!
Pirates
have been guilty of many things over the years, but these days they even stand accused of stealing stick figure families. Although, as they say, to err is human, to arr is pirate, so all is probably forgiven. From stylised Hello Kitty pirates to bunny skulls and crossbones, pirates come in all colours, shapes, and sizes.
3. Old Anglers Never Die, They Simply Smell That Way
It is said that angling requires a good sense of humour. The number of decals available focused on
fishing
supports this theory. Some are cute, some are funny, and others are just plain rude, but there is something for everyone. Choose from a selection of Gone Fishing decals for those that spend more time on water than on land, or get a little naughty with
rod-related humour
.
4. Prepare for the Zombie Apocalypse
Zombie-themed humorous decals
are a popular choice from zombie hunting permits to Zombie Outbreak Response Team badges. Although 2012 proved to be devoid of zombies and the Apocalypse failed to take place, who knows what the future holds. Perhaps it is best to choose a side with a zombie decal before it is too late.
5. Be Warned
A wide variety of
humorous warning signs
are available. These range from warnings about touching tools and cars, to cautionary signs regarding driver flatulence. Again, be prepared for some adult humour when browsing through these decals.
6. Basic Mechanics: How to Spot a Problem
For those that are somewhat clueless about mechanics and vehicle maintenance, a
Problem/No Problem
decal is perfect. If the vehicle is on its wheels, as it should be, the decal reads "No Problem". However, if the vehicle is upside down, there is clearly a problem. This handy decal makes this obvious to even the slowest thinkers.
7. 4x4s Rule
Although 4x4 trucks are generally not known for speed, they are known for their power. The
humorous 4x4 decals
available are perfect for those that love their trucks and do not mind taking things a little more slowly. Star Wars fans can turn their Toyotas into
Toyodas
. Nissan and Toyota drivers can choose to mark their trucks as recovery vehicles for rival makes.
8. Dogs and Cats
Most pet owners are quick to see the humorous side to their relationships with their fluffy companions. A variety of
I love dogs
stickers are available, some breed specific, others commenting on their taste. For a more subtle message, choose paw print decals.
Funny cat decals
are not only for cat lovers. A number of these lean more toward dog owners, inviting cat owners to look for their pets under their tyres; of course, the rivalry between cats and dogs extends to their owners. Although Internet sensation
Grumpy Cat
seems more focused on stick figure families, he may have a word or two for dogs and their owners.
9. The Lighter Side of Tailgating
Tailgating is a dangerous practice that most responsible drivers find annoying. Those that do not observe proper distances run the risk of hitting the cars in front of them if they brake suddenly. Funny
tailgate decals
ask drivers to back off in a humorous, and sometimes slightly rude, fashion. Threats range from driving slower to flicking boogers, but all of these decals have the same message: back off.
How to Apply a Decal
Finding the perfect decal is only half the battle won. Applying a decal can be tricky, especially if a bubbled finish is to be avoided. A roll of masking tape, scissors, a tape measure, and a squeegee or old credit card is required for application. Wash the area where the decal is to be applied and dry it thoroughly.
Place the Decal
Place the decal in the desired area without removing the backing paper. Hold it in position by applying a piece of masking tape along the top edge. Ensure that it is aligned correctly. For a wide decal or one with numerous images, make vertical cuts between each image from top to bottom. Cut through the transfer and backing paper, but not the tape.
Lift the Decal
Lift the decal or a segment without undoing the masking tape at the top. Start from the top and peel away half of the backing paper from the transfer paper and vinyl image.
Smooth the Decal
Use the squeegee or credit card to lay it the decal against the car. Work slowly and carefully, gradually removing the rest of the paper. Once the entire decal has been applied, remove the tape. If there are bubbles, carefully work them towards the nearest edge. Prick stubborn bubbles with a pin and work the air towards the hole. Small bubbles disappear by themselves over time. Patience is key; wait a week or two before washing the car or truck.
How to Buy Humorous Car and Truck Decals on eBay
eBay
sellers offer a huge selection of humorous car and truck decals. Browse the products available or search for specific themes by typing a phrase, for example "
Bear Grylls decal
", into the search field found on every page. This shows all the listings tagged with the chosen keywords. Narrow your results by choosing the most suitable category and item features.
Before buying on eBay, take the time to learn all you can about the item and the seller. Always read the full item description and study any images included. Check the seller's feedback information to see what other buyers think of his or her products and customer service. If you have any questions that are not answered by the item description, then contact the seller.
Conclusion
Humorous car and truck decals come in all shapes, colours, and sizes. Some are family-friendly, while others are more risque. Choose decals that are suited to the driver's sense of humour. Pick from current trends or events or choose a hobby-related decal. Humorous decals about fishing, hunting, and other outdoor pursuits are plentiful. Alternatively, choose characters from popular culture or favourite film or television characters. The possibilities are endless.

Take care when applying the decal. These accessories are prone to bubbling and are easy to apply at a slight angle or off centre. If necessary, take the time to measure the area where it will be applied in order to create a finished, professional look. eBay sellers offer a wide range of humorous car and truck decals.