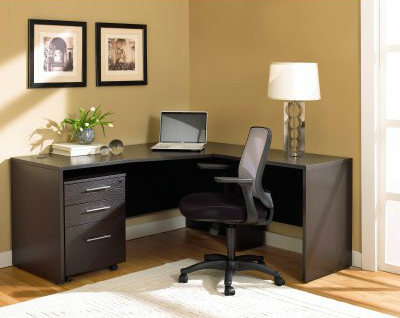 Working from home can have many pros and cons and it is extremely important to have a place which can allow you to work with all the furniture and equipment needed to facilitate that. A home office or study area should be an area away from the rest of the household that will allow you to work uninterrupted so it is important to buy all of the necessary equipment in order to make sure your work gets done, you are comfortable and any work things can be organised and stored effectively. There is a huge range of Home Office equipment available in the Home and Garden: Furniture category on eBay.
The Top 9 Items Needed for a Home Office
Desk
Most working people will spend more time at their desk than they will in their bed so it's important to find a desk that is comfortable to sit at. The main types of office desk available on eBay are:
· 3 Draw Cabinet Desk- 3 Draw Cabinet Desks are usually made of wood and will have small cabinets under the left hand side of the desk to help keep the desk tidy and organised.
· Corner Desk- If space is limited in the office, a corner desk might be a great choice. They will fit nicely into a 90 degree corner and come equipped with shelves above the flat surface for storage space.
· L-shaped Desk- Like a corner desk, an L-shaped desk will help to optimise the space within the office. They are generally similar to the size of a 3 Draw Cabinet Desk but have the added bonus of a bit more leg room because of the extra space made with the bottom part of the 'L'.
· Office Cubicle Desk- Office Cubicle desks are generally very small and quite enclosed so it isn't that great in terms of comfort. However, if it is a very small office it might be a good choice as it still has enough space for a computer and some writing space.
· Computer Desk- Computer Desks are great for keeping the space used to a minimum but can offer very little space if you do a lot of manual writing. Computer desks will come with a sliding desk to keep a keyboard and mouse on.
· Glass Office Table- Glass Office Tables look great and are easy to clean. They are generally more expensive than their wooden counterparts but give a great business feel to the home office.
Chair
· Tub Chair- Tub chairs are great for personalising the office with bursts of colour and can be upholstered to the users taste and preferences with various materials. Tub chairs will have a steel frame and will be able to swivel.
· Pebble Chair- Pebble Chairs are generally used for informal office meetings so are quite quirky and comfortable which is important when sitting at the desk all day.
· Lounge Chair- Lounge chairs are elegant swivel chairs that are suitable for meeting rooms and are extremely comfortable due to the padding in certain areas on the back and bum areas.
· Arm Chair- Arm chairs are the most common type of office chair as they are fairly comfortable, affordable and go with any interior design. They have arm rests and offer enough comfort for a long work day.
Desk Lamp
Desk Lamps are small lights which can be manoeuvred to a desired angle to ensure you can see what you are doing at your desk even if the main light isn't on. Desk lamps can come in various sizes and styles so it is important to decide how much space it can take up on the desk before buying.
Pin Board
Pin Boards are hung on the wall and are great for organising a work day or are great for sticking small reminders in a visible place. Pin boards will generally come in a size that is very similar to an A3 piece of paper so lots of notes can be pinned on at once.
Filing Cabinet
Keep all important documents and files safe and organised in a filing cabinet. Filing cabinets can come in all sorts of shapes and sizes so it is important to consider how much paperwork will need to be organised and filed before picking one that is suitable.
Book Shelf
Keep all of the office manuals and text books away from the desk with a book shelf. Book shelves are usually made of wood and can come in the form of a cabinet or are drilled directly into the wall. Which one you choose will depend on how many books are in your office environment.
Desk Organiser
Desk organisers are basically small shelves which help to organise paper on the desk and helps to keep the desk tidy so it is easy to work in an uncluttered working environment.
Computer/Laptop
A staple requirement for most working people now is a computer or laptop. There are thousands of different types of computers and laptops available on eBay. Many come equipped with the software required to do daily work tasks but it may be advisable to buy some software such as Microsoft Office to do all of the documentation and presentation work.
Printer/Scanner
Printers are a huge part of the home office and are needed to print documents and spreadsheets. Many printers will come equipped with a scanner and copier as well to make duplications of documents easily.
How to Buy Home Office Equipment on eBay
There is a large range of home office furniture available on eBay. Type 'office desk' into the search bar on any eBay page and a search results page of office desks will appear and you buy these items in the following ways:
· Bidding- Just like buying at a real auction, bid for office furniture with your best offer for that item.
· 'Buy it Now'- To save time, find the office furniture you are interested in and buy it at a 'Buy it Now' price. This saves the hassle of having to keep watching bids and the item can be shipped much quicker.
Be sure to always check the seller's feedback rating as this is a great way of telling how trustworthy the seller is and that they are someone that people have been able to do business with. Check how many transactions they have undertaken and always ask the seller questions about the item if there is anything that needs clearing up.
You can find the best deals on home office items by checking in the 'Home and Lifestyle' section. Some additional discounts can easily be found, along with free postage costs. Fantastic deals are added to the deals page daily in all categories so make sure you visit regularly so no bargains are missed out on.
Conclusion
Having a home office makes it easy to get work done in the comfort of your own home if all of the items needed are readily at hand. Be sure to measure the space where the furniture will go before buying to ensure the size of the items are fine and ask the sellers of the items any questions you may have. All of the items mentioned in this guide are readily available to buy and bid on in the Home and Garden: Furniture category on eBay.