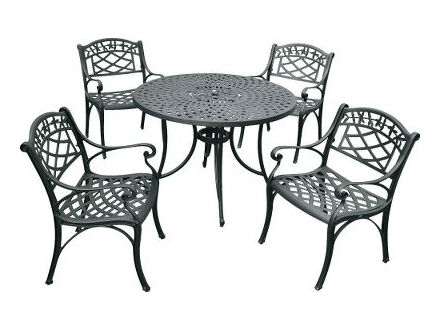 Furniture is an integral part of a home, and homeowners generally look for pieces that can last for years. Homeowners should have similar expectations when it comes to buying indoor and outdoor furniture. The weather in Australia is generally conducive to spending time outside, and quality furniture is necessary for relaxing outdoors while at home. Buying durable outdoor furniture is challenging, however, because there are times when the climate is not pleasant, and outdoor furniture must be able to withstand the elements.
Following a few tips on choosing durable outdoor furniture materials helps consumers find outdoor furniture that lasts. Consumers should also take a few steps to maintain outdoor furniture to keep it looking good. As long as they know what to look for and how to care for furniture, shoppers should get years of use from their outdoor furniture.
Tips on Choosing Durable Outdoor Furniture
Manufacturers of outdoor furniture typically produce pieces that stand up to the elements. Understanding the different durability features helps consumers know what to look for in outdoor furniture.
1. Buy Weatherproof Outdoor Furniture
It is essential to buy outdoor furniture that is weatherproof. Outdoor furniture is made from wood, metal, or plastic. Wood can weaken and rot from moisture. Consumers who choose this material should therefore look for treated wood or varieties that naturally resist the elements. Treated wood repels water, while a wood such as teak is nearly impermeable.
Metals corrode from holding moisture on the surface. Galvanisation makes metal rust-proof, and aluminium is naturally resistant to corrosion. Moisture from rain does not degrade plastic outdoor furniture, but UV rays from the sun can change its colour. Plastic furniture should be therefore left in the shade while it is not being used.
2. Choose the Right Materials
The durability of outdoor furniture also depends on the material it is made of. The table below specifies the levels of longevity associated with different types of woods and metals.
| | |
| --- | --- |
| Material | Durability |
| | Low weight belies high durability; cast aluminium is very strong and difficult to bend; extruded aluminium is weaker |
| | May be cast or wrought; heavy and extraordinarily durable; should be treated to prevent corrosion |
| | Soft wood; less durable than other types of wood; somewhat susceptible to rot, but less expensive |
| | Hard wood; very stable; maintains strength over long period; also retains its rich red colour |
| | Tropical hard wood; popular choice due to its resistance to rotting, warping, shrinking, and swelling |
| | Tightly woven; strands themselves difficult to break but can fray over time; entire piece usually lasts a long time |
| | Not as durable as other materials; susceptible to pitting and weakening; inexpensive, so less costly to replace |
Iron and teak are great choices for their durability. However, furniture in any material should last many years if the owner takes the time to maintain it.
3. Look for Well-Constructed Outdoor Furniture
Consumers should pay attention to how outdoor furniture is constructed if they want to buy durable pieces. Screws should be stainless steel or brass that can withstand rust. Durably constructed outdoor furniture may also feature wooden dowels and pegs to hold pieces together. Furniture held together by glue or staples tends to come apart over time.
4. Buy Weatherproof Cushions and Pillows
Cushions and pillows are susceptible to mildew from moisture and discolouration from exposure to sunlight. Synthetic fabrics, such as acrylic resist mildew, and ventilated fabrics help cushions and pillows dry more quickly to avoid water damage. Consumers can also look for cushions and fabrics that are treated to block UV rays.
Tips on Maintaining Outdoor Furniture
Maintenance is a significant aspect that contributes to durability in outdoor furniture. Even if outdoor furniture has qualities to make it last a while, it still requires care to keep it in good condition. Follow these steps to maintain different outdoor furniture materials and items.
5. Apply Oils, Sealers, and Stains to Wooden Outdoor Furniture
Stains, sealers, and oils all help wooden outdoor furniture maintain its appearance. They make wood less porous so that rain drops bead up and roll off, preventing wood from rotting so that furniture lasts longer. Some stains, sealers, and oils also block UV rays to keep wood from discolouring. Many pieces of wooden outdoor furniture come pre-treated, but consumers should still oil these pieces seasonally to maintain their appearance.
6. Clean and Treat Metal Outdoor Furniture
Metal outdoor furniture is relatively low maintenance. Cleaning requires simply wiping it down with a damp cloth. Consumers should avoid pressure washing since this can damage the furniture. Aluminium is rust-proof, but iron requires application of an anti-rust solution.
7. Be Gentle with Rattan
Rattan is sensitive compared with other outdoor furniture materials. One can wipe rattan with a damp cloth to clean it, and avoid chemical cleaners and pressure washing as these can damage rattan. Also, keep rattan outdoor furniture in the shade when not in use as it can become discoloured from sunlight. Using rubber stoppers beneath the legs of a rattan outdoor seat can also keep the rattan from cracking and splitting.
8. Protect Cushions and Pillows from Mildew and UV Rays
If cushions and pillows do not come with fabric that blocks mildew and UV rays, the consumer can apply spray finishes to the fabric to protect it from these elements. Washing cushion and pillow fabric periodically keeps it clean and fresh-smelling. Most fabrics are safe for the washing machine. If cushions and pillows become stained, faded, or odorous, one should look into replacing just the fabric if possible. This should save money over buying completely new cushions and pillows.
9. Cover or Store Furniture
Although much of Australia has a suitable climate for using patio furniture year round, many places see a good deal of rain during winter months. Consumers should consider placing covers over their outdoor furniture at this time of the year. The covers keep furniture dry, maintaining it until it is ready for use in sunnier weather. Those who prefer not to have covered furniture sitting outside may choose to store it away. A large shed creates the necessary space in the absence of a basement.
How to Buy Durable Outdoor Furniture on eBay
You can buy durable outdoor furniture from local and online shops that sell garden furniture. eBay also offers a large selection of durable outdoor furniture. You can search for the pieces you want on any page on the site that has the search bar. Use a term, such as "teak outdoor furniture", and select the category related to home and garden items when eBay returns the results. You can then filter the listings by the piece of furniture you are looking for.
Durable outdoor furniture often costs a few dollars more, but you might be able to find a low price on a quality piece on the eBay Deals page. Discounted outdoor furniture should be listed in the category for home and lifestyle items.
Conclusion
The ability of outdoor furniture to last depends on its resistance to weather-related damage and the strength of material used in its construction. Consumers should therefore pay attention to these features. Some materials, such as teak and aluminium, are naturally resistant to damage caused by moisture, while other materials require treatment in order to make them more durable. Furniture should also be well-constructed, featuring quality screws or wood dowels or pegs, in order to last. Cushions and pillows that go with outdoor furniture can be weatherproof as well, so one should consider buying such pieces to last a long time.
Even after purchasing durable outdoor furniture, one should take measures to maintain it. Shoppers can find great deals on durable pieces on eBay, making the website a solid source for outdoor furniture that lasts but does not cost a lot.