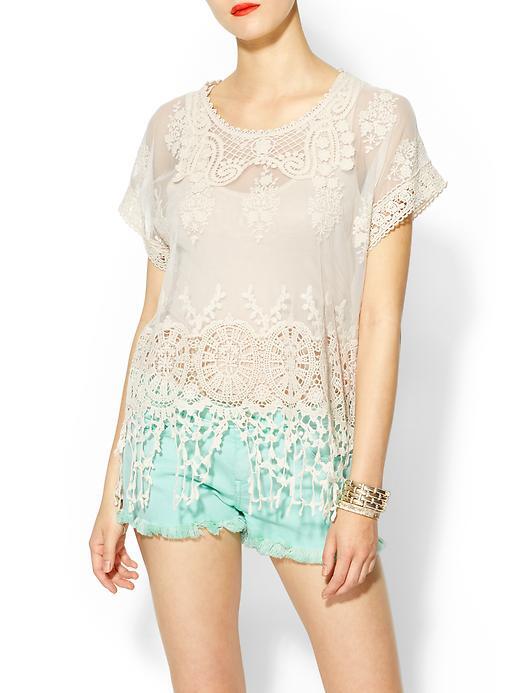 A lace blouse is an article of clothing that should be a wardrobe staple. These blouses come in a wide range of styles and designs, and they can be dressed up or down for just about any occasion. Additionally, lace blouses can be worn all year round. Many women are not sure how to wear a lace blouse, so they tend to shy away from these tops. However, lace blouses are nothing to fear, and with a few style tips, any woman can pull off this look. Whether headed to a nightclub or to a Sunday brunch, a lace blouse is something every woman should have at her disposal. When shopping for a new lace blouse for a wardrobe, a shopper should consider browsing the large selection available on eBay.
1. Go for a Classic Look
The most obvious way to wear a lace blouse is to go for a classic look. A woman should choose a lace blouse that has a simple pattern and is white in colour. She can pair it with a dark pair of shorts, pants, or a skirt. The outfit should be accessorised with simple and traditional jewellery, such as a pearl necklace and earrings. Women should avoid wearing any dramatic colours with their outfits. For a sophisticated look, they should stick to dark-coloured bottoms with their white or off-white tops.
2. Pair the Lace Blouse With a Bright Skirt
For a fun look, a woman can also choose a bright coloured skirt to go with the lace blouse. When doing so, a skirt that emphasises the waist should be chosen so that she can tuck the lace blouse into the skirt. Women should choose skirts that are at least ankle length. For a fun look, the skirt should be flowing. This outfit is ideal for a spring or summer look. Open-toed wedge shoes can be worn to complete the look.
3. Wear Printed Pants With Lace Blouses
Lace is an excellent way to pull off a rocker-chic look. To achieve this look, a white lace blouse should be paired with patterned skinny jeans. Women can choose whatever patterns they wish, but a contrasting floral print is always a good option. To really pull off the rocker part of this style, the outfit should be paired with black leather boots and a cropped leather jacket. Fun bangles and a chunky necklace put the finishing touches on this style.
4. Choose a Contrasting Collar for the Blouse
A woman who has a plain lace blouse may be looking for a way to change the look without going overboard. A faux collar can make this happen. A faux collar is a piece of fabric that tucks into the collar of the shirt to give the blouse a different collar. They can be found in all colours and designs, so a woman can find one to go along with any outfit or style. Ideally, the faux collar should be a contrasting colour. This helps to really make the outfit stand out and give the wearer a unique look. It is also an inexpensive way to style a lace blouse because when the collar is changed, it creates an entirely new outfit.
5. Cover the Blouse With a Blazer
If a woman wants to wear a lace blouse in the autumn, winter, or just on a cool night, then it can be paired with a nice blazer for a chic look. A woman should choose a sheer lace blouse to wear over a camisole of a contrasting colour. This top should be worn with a pair of skinny jeans and high heels. A boyfriend blazer can be worn over the top to complete the look and keep the wearer warm. The feminine appearance of the sheer lace blouse balances the masculine appearance of the boyfriend blazer for a casual look that is perfect for cool nights out.
6. Choose a Cropped Top
Another way to style a lace blouse is to choose one that is cropped. This casual style usually has a simple design and is perfect for warm weather. Pair the cropped top with high-waisted pants of any colour and a pair of Oxford shoes. The result is an outfit that is perfect for a yacht party or a summer night out with friends. A light coloured cardigan can be worn on top if it gets too chilly.
7. Dress Up Denim With a Lace Blouse
Sometimes wearing contrasting styles creates an interesting look. While a lace blouse is usually considered to be a dressy top, it can be paired with faded, worn, or frayed denim shorts or pants to created a fun style. As with the contrasting look of the boyfriend blazer, choose a sheer lace blouse with a dark-coloured camisole underneath. The look can be balanced by wearing a lacy headband and a pair of sneakers or Oxfords.
8. Wear Layers
When in doubt, new styles can always be created by wearing layers. A woman can wear the lace blouse over a camisole, add a faux collar, and a jacket or cardigan to mix and match a number of different styles. By simply adding or removing one of the elements, one creates a new style. Women should choose darker colours for autumn and winter styles and pastels and whites for spring and summer colours.
9. Add Fun Accessories
As with layers, accessories can also be used to create a number of different styles for a lace blouse. For dressy looks, women should always stick to simple jewellery that is not too flashy. However, for any other occasion, the choices are endless. Long necklaces draping over the blouse can draw attention to the blouse and make it the centrepiece of the outfit. To make a simple lace blouse stand out, women can accessorise their outfits with a bright clutch, shoes, and belts. Wearing fun accessories with a lace blouse can take it from traditional to contemporary instantly.
How to Buy a Lace Blouse on eBay
If you do not already have a lace blouse in your wardrobe, then you can find many great deals on lace blouses on eBay. Additionally, a large selection is available for you to choose from. Start by performing a basic or advanced search. Enter keywords into the search bar found on the home page to describe the blouse that you want. Since an initial search query returns thousands of results, refine the search even further by selecting different categories and options. Choose the size, colour, brand, and more to narrow the list to a more manageable number.
From here, begin looking at photos and reading the descriptions of each blouse to find the one that matches what you want. Be sure to compare prices as well as the postage and packaging fees. Some sellers offer free postage and packaging to further reduce the cost. Lastly, check out the seller's feedback rating before finalising your purchase.
Conclusion
A lace blouse is a classic style that women have worn for centuries. However, these blouses can be styled and accessorised to match current trends. These tops are so versatile, that every woman should have at least one in her wardrobe. Lace blouses can be worn with just about anything, and they can be used to create just about any look. Whether a woman's style is rocker-chic or preppy, a lace blouse can be worn to complete her look. Knowing how to properly style a lace blouse helps women be more comfortable in these traditional tops. By exploring the different style options, women can see just how essential these tops are to a wardrobe. Shoppers can find a number of lace blouses and accessories to go along with them on eBay.