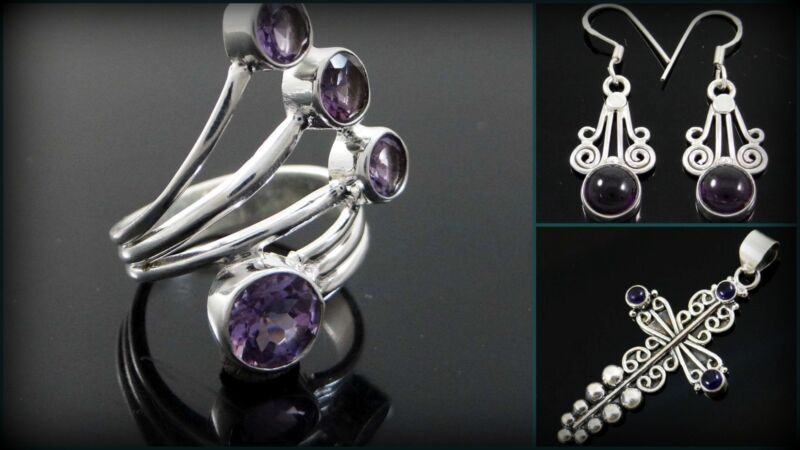 You cannot wear inexpensive jewelry all time for any and every occasion. This festive cum wedding season you cannot be successful without at least one expensive trinket. I know expensive ornaments are a woman's best friends but it isn't feasible for everyone. Therefore, we can go for not so expensive yet classy ornaments.
Pure silver, also called fine silver has 99.9%silver content. But since silver in its finest form is very soft, therefore it is mixed with other metal to carve out jewelry.
Sterling silver
on the other hand has 92.5% pure silver and the remaining 7.5% is an alloy of copper, nickel or zinc. Whereas, a silver plated jewelry has a thin layer of silver placed on some other metal.
To keep your sterling silver lustrous and remove tarnishing, follow the steps mentioned below:
Clean your sterling silver jewelry as soon as it starts tarnishing. This will maintain the luster.
To remove the oxidation from silver, use a polishing cloth. You can try using a mating paper to keep the mate finish intact.
If there are still remains of tarnish, wash your silver jewelry in luke warm water with a few drops of dish washing liquid. A soft baby toothbrush can serve the purpose of cleaning.
If you have gemstones studded on your sterling silver jewelry, use a piece of cotton with liquid wash to clean them instead of dipping the whole piece into water and soap.
Once you are done cleaning, rinse your jewelry properly ensuring that there isn't any moisture left.
Most importantly, keep your sterling silver jewelry in an air tight container. Do not keep them on chemically treated surfaces that might lead to tarnishing.
There are tools that can help prevent tarnish on sterling silver jewelry such as-
Chalk- Keeping a chalk in your jewelry box will naturally absorb chemicals from air.
Anti-Tarnish Strips- They help in absorbing tarnish causing agents in the air.
Aanti Tarnish Cloth- These cloth pieces are chemically treated to absorb sulfur and other corrosive chemicals that can cause damage to your sterling silver jewelry.
Silica Packs- They are the best when it comes to absorbing moisture in the air.
P.S. Do not use toothpaste, baking soda or any harsh chemicals to clean
sterling silver
jewelry as this may make your ornament dull ruining the surface.