This guide is here to help those of you new to buying Magic: the Gathering (MTG) cards on ebay. NOTE: This guide is based on MTG the physical card game not Magic: the Gathering Online (MTGO) the online card game although most of the same principles apply. In this guide you will find information on the following three important areas of buying magic cards online:

Condition
Tournament Legality
Playsets

Condition:
Most collectors and players generally prefer with cards in Mint to Near-mint condition as these cards have no- to very few physical flaws, but cards in Fine condition are still considered playable. If there is to much variance condition of your card Tournaments may request that cards be sleeved with coloured backing. Here is a brief outline on how cards are graded: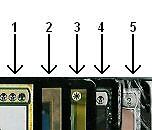 1 - Mint (M) – This is a flawless card no markings and unplayed. These cards are ones that have gone straight from the pack into a sleeve.
2 - Near Mint (NM) or Excellent (EX) – These sometime have minor markings or have been played in sleeves and kept well protected.

3 - Fine (F) or Played – With a card in this condition can easily been seen that it has been played. Edges may have slight whitening on 1-2 sides but no distinguishing markings.
4 - Good (G) or Heavily Played – Cards in this condition have distinguishing features such as a small dirt mark, heavily whitened edges viewable from both sides of the card and visible creasing. These cards have a very played look to them.
5 - Poor (P) – Any card in worse condition than all of the above.
In some situations especially with more expensive cards it may be and idea to ask the seller for scans of the cards, if clear pictures of the cards themselves are not available.
Tournament Legality:
There are many things you need to check first of all what type of tournament do you play e.g. Extended, Legacy, or Vintage. With that in mind you can check the official MTG site for that particular cards legality.
Any cards in (G) or heavily played condition may be considered distinguishable and may require colour backed sleeves.
Gold bordered cards (e.g collectors and international edition) are not legal in any tournament as well as any from Unhinged or Unglued series. These cards are for friendly play or collecting only.
Having any more than four of a card other then basic lands is also not tournament legal. (There are some exceptions where the card says otherwise e.g. relentless rats)
Playsets:
The basic rule is: A playset for any card other than basic land is 4. Generally this makes it cheaper for you to buy a set of four in one go as opposed to buying cards individually. This can also mean you save on postage.
Conclusion:
So there you have it… I hope those of you starting out found this guide useful as it is the fundamentals of what to look out for when buying cards on ebay. Pricing-wise I keep a copy of SCRYE handy just to give me an idea of how much to expect. Always keep an eye out on postage costs and payment methods as International money orders generally aren't cheap…