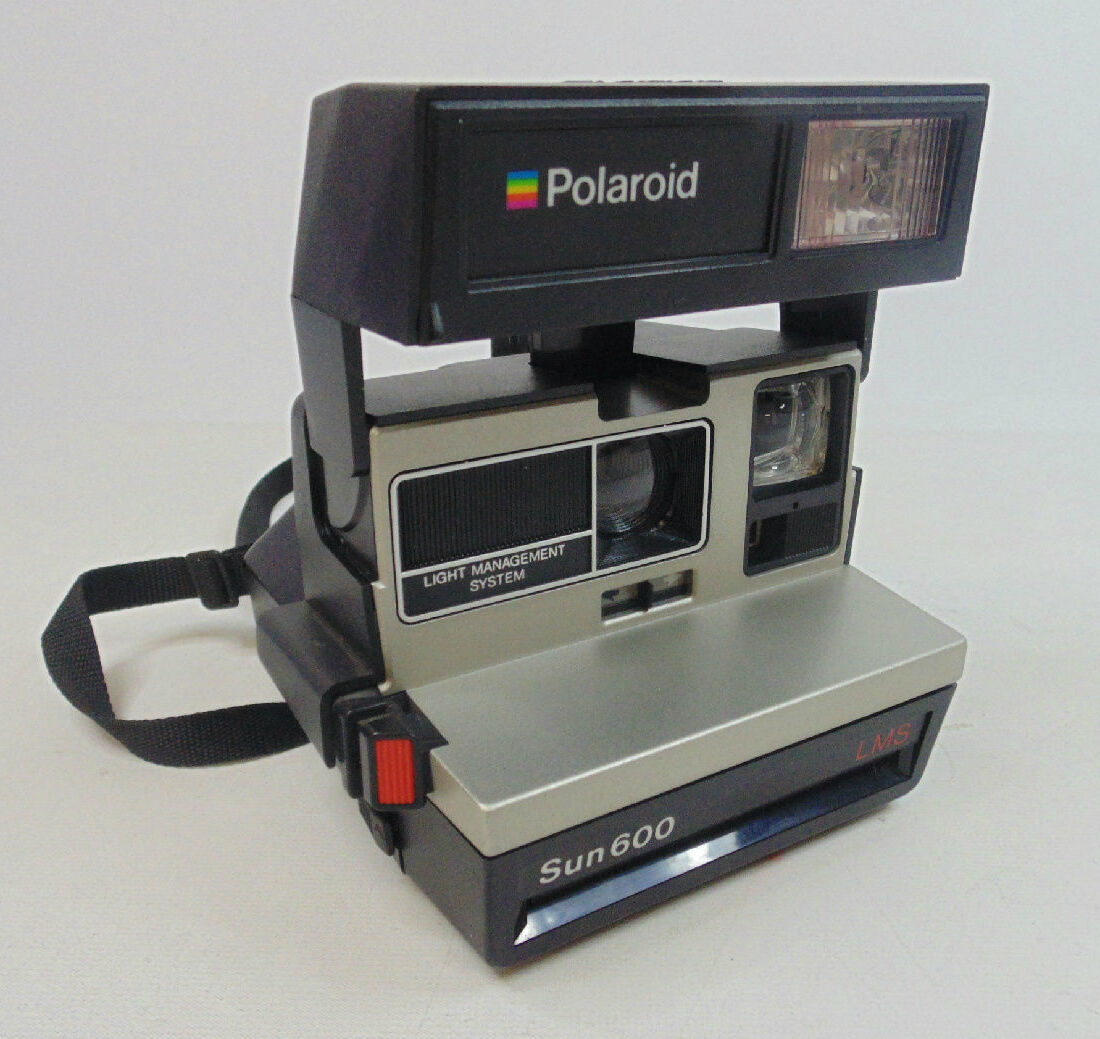 In recent years, Polaroid cameras have enjoyed a resurgence in popularity. This is partly because of their retro image quality, spontaneity, and instant results. There are two categories of usable Polaroid camera available on the market; integral or peel-apart. Either of these can make a great gift for the photography enthusiast.
Polaroid Integral Film
Integral film cameras are the most common type of vintage Polaroid products available on the used market and they work by developing the film inside the camera, this means simply hitting the shutter button and waiting for the results to appear. However, Polaroid ceased to produce integral film in 2008, with the Impossible Project replacing them as the lead manufacturer. Their appeal lies in the fact that they provide instant gratification with a developed print produced within minutes. There are three types of integral cameras for buyers to choose from.
600 Series Polaroid Camera
Adopting the name of the film they use, the 600 Series Cameras are the cheapest way to get into the world of instant photography. These plastic-bodied Polaroid products come equipped with a fold-up flash and can often be fetched at bargain prices. They are usually able to focus on subjects as close as two feet opposed to the standard three feet on other Polaroids. The recommended type of film for 600 Series cameras is the PX 680 by the Impossible Project.
SX-70 Polaroid Camera
For those looking to progress their Polaroid photography further, the SX-70 is the obvious choice. Produced from 1972 - 1981, it should appeal to amateur and professional photographers alike, who possess an in-depth knowledge of composition and exposure. These models are considered to be collectors items and cost significantly more than 600 Series products. They come in a number of timeless design styles including a brown leather option and are capable of focusing down to 25 centimetres on subjects. They also enjoy features such as auto focus and Time-Zero film. The PX-70s film by the Impossible Project is the ideal choice for this camera type.
Polaroid Spectra Camera
An often neglected choice, the Polaroid Spectra are capable of producing superb images at a fraction of the cost of Sx-70 models. The standard model can autofocus at distances as close as two feet through its LCD viewfinder and the self-timer is capable of capturing multiple exposures. The lens produces sharper results than found on 600 Series models and provides a slightly more rectangular image format of 9.2-7.3 cm, the Impossible Project offers its PZ 680 film which is ideally-suited to the Polaroid Spectra camera.
Peel-apart Film
Using peel-apart film is slightly more complicated than integral film. It involves peeling the paper apart from the print, but many consider this to be a worthwhile tradeoff because of the superior results that can be achieved compared to integral film. Measuring 10.795 x 8.255 centimetres, 100 film is the most popular product used to develop peel-apart photos. Although it's no longer produced by Polaroid, Fujifilm still manufactures 100 film, which develops faster and offers sharp results. The most popular peel-apart film options are Fujifilm FP-100C and FP-3000B, with both producing excellent results in outdoor environments and the latter performing well in dimly-lit indoor environments. Both are easier to use than the original 669 Polaroid film, but lack the vibrant colours of the original Polaroid film.
Polaroid Land Camera
These models are the ideal entry-level cameras for those looking to get into peel-apart Polaroid photography. Land Cameras posses a vintage aesthetic available at bargain basement prices for those willing to search hard enough. Ultra professional high-end version of this product were also made.
Polaroid Big Shot
The Polaroid Big Shot was among Andy Warhol's favourite cameras. It's a peculiar looking device that is intended solely for taking portraits with the aid of its Magicube flash cube to produce an almost limitless array of results.