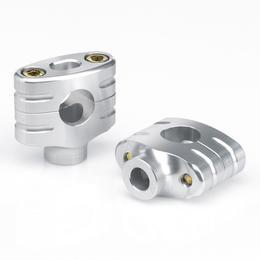 PIT bike racing is in many ways similar to motocross, the sport from which it developed. Initially, PIT bikes were designed for use in the pit lanes of Motocross events, hence the name. Because PIT bikes were put together to handle tarmac and rough terrain - while being small and exceptionally manoeuvrable - their handlebar position is usually low. Indeed, when bikes like these were first used for pit work in the early 2000s, many people simply bought children's motorcycles to use, usually Japanese made ones.
Nowadays, PIT bikes are raced in their own right. However, their smaller size means that PIT handlebar risers are often fitted to make them more comfortable to ride and easier to control, especially when the rider is of an adult size. Because they are less tricky to maintain than standard motorbikes, many owners choose to fit PIT handlebar risers themselves, avoiding the need to take the vehicle to a professional mechanic. Nevertheless, buyers should be aware of the basics of mechanics before attempting to modify any vehicle and ensure that the PIT handlebar risers they are considering purchasing will be right for their particular bike.

Purchasing Considerations for PIT Handlebar Risers
Prior to buying PIT handlebar risers for their bike, buyers should take into consideration certain factors, such as their colour and dimensions.
Making Measurements
PIT handlebar risers are usually imported from the United States, Japan, or China. Since so many are destined for the American market, Australian buyers should be aware that by far the majority of them will be sold using Imperial dimensions, usually inches. This means that riders ought to measure their usual riding position on their bike using a tape measure with inches on it.
To work out how far the handlebars need to be raised, the rider should sit on their bike in the position that they would normally assume. Measure the distance from the ground to the hand position. Now, measure again - but this time from the ground to the desired hand position. Although it is possible to estimate this, the best results are achieved by the rider sticking their hands out in what feels like a comfortable position and having someone else take the measurements. Once the two height measurements have been made, subtract one from the other to establish how far the handlebars need to be raised.
Choosing the Right PIT Handlebar Risers
Some handlebar risers are universal and can be used on all sorts of dirt bikes, not just PIT ones. PIT bike riders can use these because they are nothing more than simple bolt-on mounts that attach to the bike's triple clamp to raise the position of the handlebars and to stop them from slipping down. However, some buyers will prefer to search for risers that have been specifically marketed for PIT handlebars.
From the measurement taken earlier, it is possible to search for PIT handlebar risers that match the figure as closely as possible. However, buyers should also be aware that adjustable risers are available to purchase. These usually have two or three different spacers which can be added or removed to fine tune the amount of raising or lowering of the handlebars as required.
Finally, risers are available to buy in a number of different styles and colours. Some buyers don't need to adjust their handlebar height at all but simply want to exchange the ones that they currently have in order to alter the appearance of the bike. If that is the case, then buyers don't need to make any measurements other than the size of their current risers to find matching ones.
How to Buy PIT Handlebar Risers on eBay
Buyers looking for PIT handlebar risers on eBay ought to look in the Honda, Yamaha, or Suzuki. Another option that buyers often find useful is the price filter which can be set at both the upper and lower limit.
Conclusion
Some measuring prior to shopping is helpful to ensure that the right handlebar spacers are bought for a PIT bike. Alternatively, seek out adjustable risers and experiment a little with different settings once they are delivered. Buyers should take a moment or two to check a seller's ratings before purchasing and benefit from the experience of other eBay users.