Debuting in the early 1990s,
Harmony Kingdom Box Figurines
-- also known as
Treasure Jests
-- are small sculptural containers depicting animals, people, plants and flowers, fish, and other creatures, often with great humor. They range in size from just a couple of inches square to six inches or so square. They were originally created in 1989 by Martin Perry in the Cotswolds area of Great Britain and produced there as a cottage industry, gradually enlarging the line to include works by other artists. Then Perry's company, Antiquark, contracted with the American
Harmony Ball Company
for boxes to hold the company's chiming Harmony Balls, which soon expanded into the
Harmony Ball Company
selling just the boxes to hold jewelry and other small treasures. In 1995,
Harmony Kingdom
was born.
They were deliberately designed to be a limited collectible, complete with introductory dates, retirement dates, specialty editions, different versions within the same edition, mold or paint variations, and surprise pieces such as the one-of-a-kind jeweled versions that show up in the ordinary wrapping of certain very special collections. Each also contains
"The Secrets Of The Kingdom"
: an ongoing series of storylines and artistic in-jokes that are explained on the company's website at
http://www.harmonykingdom.com
. For example, pieces by Peter Calvesbert always have a mouse on them somewhere, and pieces by David Lawrence always include an acorn. Under the supervision of Artistic Director Martin Perry, the whimsical and sometimes amazingly realistic animals of the
Treasure Jest
series, the beautiful blooms of
Harmony Garden
, and the entire
Harmony Kingdom
line all display the craftsmanlike attention to detail and quirky sense of humor for which Harmony Kingdom's artists are known.
Each prototype is hand carved, then a mold is made. The
Box Figurines
are poured from a special blend of crushed marble and resin that resembles ceramic, then individually painted by hand. Most of this production takes place in Wimberley Mills, in the scenic Cotswolds area of Western England, with all of the work done by local craftspeople as a traditional cottage industry, but some has been outsourced to China in recent years.
There are 26 collections listed altogether on the company website as well as 2 more collections produced by the
Harmony Ball Company
which are available on eBay as subcategories of the
Harmony Kingdom category
. We will discuss half of those collections here and the other half in Part 2 of this guide in
A Collector's Guide To Harmony Kingdom Box Figurines~2
.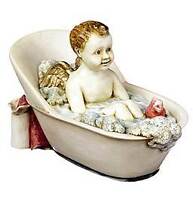 Angelique
is a series of a dozen or so angel figurines, carved mostly by David Lawrence with one (
Tendresse
) by Anne Richmond. Some are
Timed
or
Limited Editions
; some were made for the
Holiday
season; some are from
The Elusive Few
subset; but all were made in fairly limited quantities and have long since been retired. Shown above is
Noel
: Released on May 1st, 1999 as a
Holiday Timed Edition
of 9962 and retired on December 31, 1999,
Noel
is the little brother of
Joyeaux
and thus gets the second bath. While
Joyeaux
watches over her angelic sibling's bath time,
Noel
plays with his toy duck in his bubbly tub. But what lurks in the waters below?
Version 1
contains a submerged rodent merrily rowing in a miniature boat inside and a green band around the bottom edge of the tub. The
Infinity Version
contains a sandy basin with starfish inside and no green rim outside. Hallmarks include ©, star, HBC logo, ed.#, and DL.
Buying Group Exclusives
were offered only to certain retailers. Although they have not necessarily been formally retired, they were made in smaller editions and obviously had more limited availability.
The
Black Box Series
by Peter Calvesbert has been produced to the tune of one per year since 1998. Larger and more complex than the standard
Box Figurines
, each takes a social issue or cultural phenomenon and interprets it with an eye towards wit and irony. For example, the
2008 Black Box
,
Coup d'etat
(below) examines the production of foie gras, a well-known French delicacy. Foie Gras means "Fat Liver", an apt name as ducks and geese are force fed corn mash until their livers are up to ten times their normal size.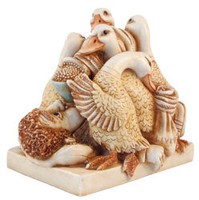 In typical
Black Box
fashion, the tables are turned. Five ducks take revenge by force-feeding Master Carver Peter Calvesbert. One of the sacks of corn is labelled "Liverburst" (a play on the name of the German sausage). This can be the unfortunate consequence of force feeding. France consumes 80% of the world's foie gras, thus the inscription "France" and "80" on the lid. Upon the base are names of countries that have prohibited its production, and "Arny 2012" refers to Mr. Schwarzenegger and his intention to ban foie gras in California by that year. The interior shows a goose working out. Evidently, he is worried about the weight he's putting on.
The
Black Box Series
are
Limited Editions
of 1000-5000 depending on the year, so they are very rare and increasingly valuable.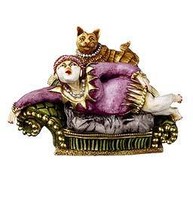 The
Clair De Lune Collection
focuses on the adventures of four French courtesans --
Kiki
(shown above as
Kiki & Cat
),
Colette
,
Justine
, and
Josephine
-- and their fabulous feline friends.
Kiki
ran away to Paris at the age of 13 and drifted for a time until she found work as an artist's model. She speaks not a word of English, but her warm nature transcends language and she is extremely well liked by everyone. Her greatest achievement is her primitive and colourful painting style that few took seriously until her first sell-out show. Another trademark are her heavy eyelids that she colours in copper one day, royal blue another, or else in silver or jade.
Covets
are whimsical yet functional figurine boxes by Monique Baldwin, combining three dimensional carving and detailed etching. Each creature is depicted with something it covets. For example, the elegant cat shown below covets two mice, which scramble away at the last minute. On the interior is another coveted treat, a bird.
Mousetrap
is a
Fixed Edition
of 750 pieces worldwide, while other
Covets
were produced in editions of 2500.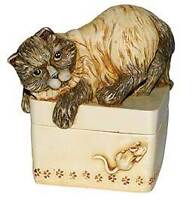 The
Disney Collection
-- produced in collaboration with the Walt Disney Company -- depicts famous Disney characters such as Cinderella and 101 Dalmations as interpreted by various artists.
The Elusive Few
, also by various artists, is a collection of three angels and six animals produced in editions ranging from only 43-659. Originally released in the U.K., they were removed from circulation in January 1996. In April 1997, the
Harmony Ball Company
offered a limited release of 300 pieces.
Event Pieces
were specially produced for and only available at
Harmony Kingdom
tours, gift shows or conventions.
The Garden Party
is a collection of 12 whimsical Treasure Jest animals by Peter Calvesbert and David Lawrence, all of which were carved starting in 1995 and retired by 2001. They were produced in small editions of several hundred to several thousand starting in 1995 and were retired by 1998.
Harmony Circus
is a collection of 19 themed pieces by David Lawrence -- including various performers such as
Bozini the Clown
,
The Great Escapo
,
Henry The Human Cannonball
,
Madeline of the High Wire
,
The Ringmaster
, and
Olde Time Carousel
-- plus a circus ring, circus arch, and
The Audience
.
Interchangeables
is a unique collection of seven
Treasure Jest
animal
Box Figurines
made of three parts each that can be mixed and matched. They were carved by Adam Binder in 2001, made in very
Limited Editions
of 2700-3000, and retired by 2003.
Made by the
Harmony Ball Company
and technically not part of the
Harmony Kingdom
,
Jardinia
cachepots are elegant and imaginative vases, urns and boxes that are visually compelling and functional. They range in size from two to six inches tall and are produced overseas. For example,
Hakuna Matata
(below) is a lidded cachepot created by Ann Richmond. Included on the sculpture are African elephants, Kudu bulls, gazelles, impala, and Sable antelopes. Their peaceable co-existence visually depicts the meaning of the jar's name, which translates from Swahili as "no worries".
Hakuna Matata
was produced in a
Fixed Edition
of 350 worldwide, but most of the
Jardinias
are
Open Editions
, meaning they still are in production.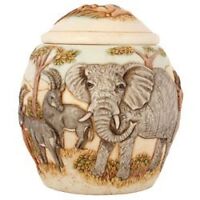 Two kinds of hallmarks are found on
Harmony Kingdom Box Figurines
-- the carved hallmarks and the Crown Stamp -- indicating each item's authenticity and origin. Here is the official rundown on
HK
hallmarks as taken from the company's website @
http://www.harmonykingdom.com/news/story.asp?id=531&ex=jpg
.
Carved Hallmarks:
The carved hallmarks are usually located on the exterior of
Harmony Kingdom Box Figurines
, although sometimes they are on the lid of the Box Figurines. These include year of creation hallmarks, artist hallmarks, and edition numbers. Hallmarks do not follow any set sequence in their appearance on each figurine. The copyright symbol © has appeared on all
Harmony Kingdom
pieces since 1994, and the
Harmony Ball Company
treble clef has appeared as a hallmark since 1997.
Another hallmark is the clock face, used to indicate the month carving was completed. The clock may have hands or dots to indicate the month. This hallmark was used from 1995 to 1997.


Year of Creation Hallmarks:
The year of creation hallmark indicates the year the carving of the piece was completed.

1995: Apple/Bomb. The bomb pays tribute to the Oklahoma City tragedy

1996: Diamond/Coffin. Commemorates Martin and Corinna Perry's tour of a morgue on New Year's Day, 1996.

1997: Heart. The heart shows the excitement over the introduction of Lord Byron's Harmony Garden® and Lord Byron's search for love.

1998: Star. Stars appeared on "Sneak Preview," the first Box Figurine produced in 1998.

1999: Half Moon. The half moon represents the eve of the millennium.

2000: Double diamond/MM. Two capital letter "M"s in mirror image indicate the year 2000. M is the roman numeral for 1000.

2001: Smiley Face. We made it to the new millennium! Also references the smiley faces, or "emoticons" used to show emotion on the World Wide Web.

2002: Peace Sign. This symbol indicates hopefulness for world peace.

2003: Yin-Yang Symbol. A well-known symbol from the East. 


Artist Hallmarks:
Each artist uses a special hallmark to "sign" their work.

Peter Calvesbert: P & C intertwined. This hallmark looks like a snake curled around a staff. Peter Calvesbert began using this hallmark in 1995.

Peter Calvesbert: PC in circle. In December 1995 Peter Calvesbert began using this hallmark.

Monique Baldwin: Eye. This unique hallmark belongs to Monique Baldwin, artist for Harmony Garden.

Adam Binder: Gecko. Adam Binder created this hallmark after observing a gecko in his yard.

Mark Ricketts: R. Mark Ricketts carves his "R" in various places on his works.

Sherman Drackett: S in circle.

David Lawrence: DL in circle.

Martin Perry Studios: M in circle.

Ann Richmond: AR. Ann Richmond's "R" appears under her larger "A".


Version Numbers and Infinity:
From 1997 to 1999, special hallmarks indicated the version of the piece. In 1999, these edition hallmarks were replaced with an infinity symbol after the first 5000 boxes. The first 5000 pieces produced retain the "1" hallmark. Some
Limited Editions
may only have edition number "1."

For pieces produced from January 1997 through January 1999: 1 - first 3000 boxes; 2 - second 3000 boxes.

For pieces produced from January 1999 through 2001: 1 - first 5000 boxes; infinity symbol (∞) - all pieces after the first 5000.
Crown Stamp:
Harmony Kingdom
's crown stamp appears on all pieces from mid-1995 to the present. The crown itself remains consistent, but the small icon at the top of the crown changes from year to year. Thus, the crown stamp indicates the year of production. This is sometimes different from the year of creation, as artists may finish carving their work in one year but the piece may not actually be produced until the following year or even later. The crown stamp may be found on the base of the box or on the bottom of the lid. If your
Box Figurine
has no crown stamp, it probably was produced sometime before July 1995.

Year of Production Crown Stamps


1995 and 1996: Crown stamp with treble clef

1997: Crown stamp with heart

1998: Crown stamp with five-pointed star

1999: Crown stamp with half moon

2000: Crown stamp with double diamond/double M

2001: Crown stamp with smiley face

2002: Crown stamp with peace sign

2003: Crown stamp with yin/yang symbol
eBay
is a great secondary market for retired and/or otherwise unavailable
HK
pieces, but it's also a good place to find rare brand-new items, still in their original boxes with all documentation. Others have been carefully displayed, but all are suitable to be treasured by their lucky new owners.
As previously stated,
Harmony Kingdom
pieces are available in several
Harmony Kingdom categories
:
Garden Party
,
Jardinia
,
Picturesque
,
Pot Bellys
,
Roly Polys
, and
Other
. There usually are a couple of thousand
HK
pieces available on
eBay
on any given day, but opting to have your search include
Store Inventory
will double or even triple your results. Just click on "Store Inventory" on the left-hand sidebar of any
Search
page to have those items included in your search results.
You also can search for pieces by name, production number (although not many sellers list them that way), or by keywords such as "
owl
" (the type of animal you're looking for) or "
Santa
" (the type of figure) along with "
Harmony Kingdom
". In fact, searching just by "
Harmony Kingdom
" (with or without quotes) is a great way to pull up miscategorized items that won't show up in a search of any of the
Harmony Kingdom categories
. You might also do well to search by keywords
Harmony Circus
,
Harmony Garden
, or
Jardinia
(
Garden Party
,
Picturesque, Pot Belly
, or
Roly Poly
will pull up too many non-
HK
items). Miscategorized items can be great bargains since less buyers tend to find them. Again, including
Store Inventory
in your search will triple your results and show you many great pieces at Buy-It-Now prices.
Thank you for reading our guide. If you found it helpful, please vote by clicking "Yes" below.