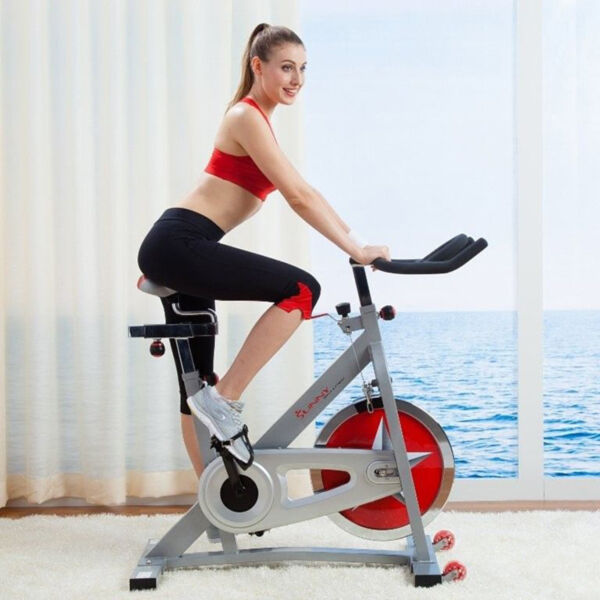 Aerobics or aerobic exercises are sustained physical movements meant to strengthen and stimulate the lungs and heart for improved oxygen utilization within the body's systems. Water aerobics are sustained exercises like swimming under water providing low impact to joints and bones. This form of aerobics is recommended for people needing low impact exercise that is safe for joints or other body parts, due to injury or aging.
Other methods of aerobic exercising can be performed regularly in the home, or at a gym using equipment like stair-climbers, treadmills, elliptical trainers, or rowing machines for deeper exercise and cardiovascular training.

Benefits
People who regularly exercise have better general health and live longer than people with more stationary habits. Aerobic exercises repeatedly move large muscle mass in hips, legs and arms. Aerobics produces an immediate response from the body. The body receives a maximized flow of blood to and from the lungs and heart muscle. This increases the amount of oxygen flow as blood vessels increase transfer of nourishment through-out the body. Vessels also remove toxins, waste products like lactic acids and CO2 to cleanse the body systems.

Different Forms of Aerobics Equipment for Different Purposes:
Of course the gym has most types of exercise equipment imaginable, but even if there is one close to home, the cost is much more expensive annually than owning preferred pieces of exercise equipment. Before deciding on a particular brand or style, it is important to look at preferred exercise types.
Treadmills
Those who prefer taking a walk for exercise might prefer a treadmill. These allow exercise enthusiasts to get all the benefits of walking, without worrying about the weather. There are several different styles of treadmill, and price, size, and use are the most important parts of making a decision.
| Type of Treadmill | Features and Uses |
| --- | --- |
| | Typically least expensive and most compact, users provide all forward momentum. |
| Electric | Range in size from small, home use to large commercial versions. Offer variable speeds and training programs. |
| Folding | Designed for easy storage, these may fold almost flat to slip under a bed or into a closet. |
| Incline | Flat surface training does not prepare for actual road conditions. Adding incline training is best when prepping for a marathon or other outdoor activities. |
Finding Low-Impact Aerobic Exercise
A treadmill is lower impact than running on the street or trail, but for a cardiovascular workout that is gentle on the knees, the elliptical often tops the list. The gentle back and forth motion helps prevent over extension on the knees, and the arm poles allow for a total body workout.

Upping the Aerobic Intensity
When first getting started with aerobic exercise equipment, start off with small steps, particularly for those who have been inactive for a long time or are just recovering from surgery or chronic illness. Research proves getting into healthy exercise after recovery helps a body gain strength, increase quality of life, and gradually returns the body to former vitality. Here are some ideas to begin searching for the best aerobic exercise equipment.
Types of aerobic equipment that have graduations of programmable exercise levels include:
Cross-country ski machines

Stair climbing equipment

Bicycling or jogging machines

Rowing or elliptical machines
Two things to check on when exercising are hydration and intensity. Drink plenty of water to stay hydrated. Use the talk test to judge intensity. If exercise makes it too difficult to talk, the intensity is probably too high. If talking is no problem, step up the exercise level.
Programmable exercise equipment sets the rate of exercise levels to increase gradually during each exercise phase. This controls gradual increases in stress levels as the body builds stamina and strength.

Buying Aerobic Exercise Equipment on eBay
eBay offers an extensive selection of aerobic exercise equipment. . An few examples would be the Schwinn Airdyre Windsprint or an Action Exercise Bike. Both are reliable and well-made products for aerobic exercising. Finding an Action C100 Exercise Bike, near new, for prices offered on eBay is an exceptional find. That's why eBay has become a favorite online location for people wanting affordable values.
eBay shoppers never have to sacrifice high-quality, aerobic exercise technology when getting top savings. Use the eBay search feature to find specific name brands, added functions and various price ranges for specific equipment.

Conclusion
The key to getting fit and living a longer, healthier life span is to find the type of aerobic exercise equipment that allows users to meet their fitness goals. First explore options in machines and equipment, next search eBay for high-quality, low-cost value equipment, order online and get quick shipping convenience. Most important, set up an exercise schedule. Begin slowly then build speed and lengthen exercise times. Exercise equipment makes getting fit and staying healthy quick, convenient, and affordable.