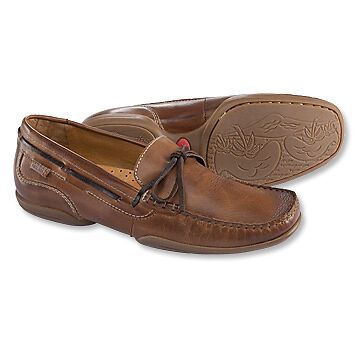 An excellent pair of shoes is essential for looking fashionable or formal. Fortunately, looking good doesn't have to come at an exorbitant price. Sometimes, knowing how to hunt for used men's shoes is the best road to owning a good pair of footwear that doesn't hurt the wallet.
Used Men's Shoes: Yea or Nay?
Some people may have some qualms on wearing used men's shoes. However, there are instances when buying used footwear makes perfect sense. Aside from buying an upscale pair of footwear (i.e. Emporio Armani or Allen Edmonds shoes) at a sizable discount, some shoppers may desire models that have been discontinued. In such cases, buying used footwear is the best option. Shoppers just need to keep in mind some considerations when they go this route.
Buying Men's Shoes: Factors to Consider
To make sure that shopper's get the best and most satisfying deal when shopping for used men's shoes online, here are important considerations to keep in mind:
Size
Before purchasing any footwear, it is important that shoppers know the exact measurement of their feet. To determine this, they can go to a local shoe shop and have their feet measured using a Brannock Device. Alternatively, they can try on shoes of the same brand to determine their size. This is necessary to ensure that the shoes they'll purchase online will fit perfectly.
Condition of the Shoes
Even though they're purchasing used shoes, shoppers should make sure that they're getting value for their money. This is why they have to check the condition of the footwear before buying them. Here are some components of shoes that buyers should be most mindful of.
| Parts of Shoes | Description |
| --- | --- |
| Soles and Heels | Superficial scratching is expected in used shoes. However, buyers should be wary of soles and heels that looked ready to be replaced or if the welt stitches are ground down. |
| Insole and Lining | Shoes with well-worn insoles never feel comfortable, so it's best to pass up deals if the shoes have compressed, cracked, or torn insoles or linings. Faded logos on the insoles are a good indication that the shoes have been worn a lot already. |
| Uppers | Any discolouration, cracks, or tears on the upper portion of the shoes are the most obvious indications that a pair of shoes may not be a good buy. |
Buyers should examine the different parts of the shoes closely, and, if necessary, they need to ask for additional pictures of the parts up close to make a sound decision.
Material
All shoes are not created equal. Often, shoes that are made of high-quality materials are the ones worth buying secondhand. Shoes made of leather, for instance, are good buys because they're durable and easily cleaned. Canvas shoes, on the other hand, are not as desirable when bought second hand, especially if there are some visible marks or areas of discolouration on them.
Price
Price is another factor to consider when buying used men's shoes. Used shoes' prime allure are their relatively low price tag. When considering this factor, shoppers should take into account additional expenses like shipping fees. Furthermore, if they are contemplating buying an expensive brand that requires some repair, shoppers have to make sure they factor in repair fees. After taking into account and summing up all the fees that could be incurred, buyers need to compare this to the price they would have to pay for the same type of shoes brand new. If the price of the used shoes comes out way lower than buying a new pair, shoppers may be in for a sweet deal.
Shopping for Used Men's Shoes on eBay
Shoppers hunting for the best deals on used men's shoes will find a plethora of options on eBay. To check out the extensive listings, shoppers can click on Fashion on eBay's homepage, then go to Men's Shoes. They can then choose the type of shoes they're looking for (such as boots, brogues, or sneakers), click on "Refine search", and then check the Used box under the Condition filter. Alternatively, they can also type "used men's shoes" or "pre-owned men's shoes" into the search bar to view the different listings. eBay's resources – such as seller feedback, product description, and images – make it easy for shoppers to come to a sound decision. In addition, shoppers can contact sellers if they have questions about a particular listing.
Buying used footwear is a great way to own designer shoes without hurting the budget. By purchasing a pair of used shoes on eBay, buyers can find themselves some amazing deals and make good savings.