SYMPTOMS FOR A FAULTY ELEMENT
everything works except there is no heat in the oven

TOP 4 FAULTS SHOWING THAT THE ELEMENT HAS BLOWN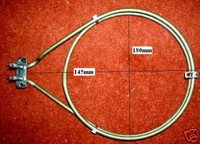 1 fan oven works in back of oven but no heat

2 thermostat temperature light comes on (if fitted) but no heat

3 occasionally it will blow the mains or trip in the household supply, when the fuse is replaced or the trip reset, - everything works but there is no heat.

4 sometimes when the element fails you will see small flames coming from the back of the oven, but not always.

Please leave feedback if this was helpfull to you.

feel free to ask any Question on your appliances,with 20 years experance in the feild iam here to help .
you can contact me at my shop link below.

Many thanks for reading paul
in the largest washing machine in the world