Have you been wondering what is the best type of sun protection swimwear to put on your child this summer?
There seems to be plenty of swimwear to choose from but are you really getting value for your money?
Have you considered that what you buy this summer will even last the next season?
Have you also considered that buying a good quality swimsuit could be passed onto a younger sibling with the peace of mind that it will still perform as UV protective clothing should?
Well it really isn't just a matter of putting something on that is going to cover their body because the sun's harsh UV rays can penetrate through normal clothing or inadequate swimwear. Obviously you need swimwear that will protect them from 97.5% of the sun's UV radiation but you also want to buy something that they are going to wear.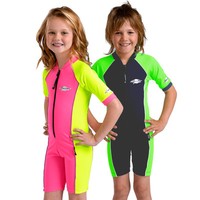 eBay store
This Rash Suit by Stingray that you can find at a discounted price at our eBay store - Sun Protection Oz ticks all the boxes. It has a high collar and a front zip so easy to get on and off. It covers most of the body with the added bonus of saving you applying a lot of sunscreen. For full body protection you may consider the stinger suit that we have in our store.
Features and Benefits:
- Made from superior quality Italian Fabric that contains no lycra - this suit will last for years and years and will not break down.
- Material is breathable keeping your child cool
- The vibrant colour and shape is retained after continuous use in chlorinated pools and salt water.
- Blocks out 97.5% of the sun's UV radiation giving you peace of mind.
- No chemicals have been added to the fabric, great for children with sensitive skin.
- Easy to wash and Fast drying.
- Piling resistant mosquito proof.
You really notice the difference in this material the moment you touch it and will be so glad you found it because of all the savings you will make.
Buy a unisex colour and pass on down to your younger sibling, this rash suit will still be in great condition in good shape and with its vibrant colour making this the quality sun protection product you are looking for this summer.