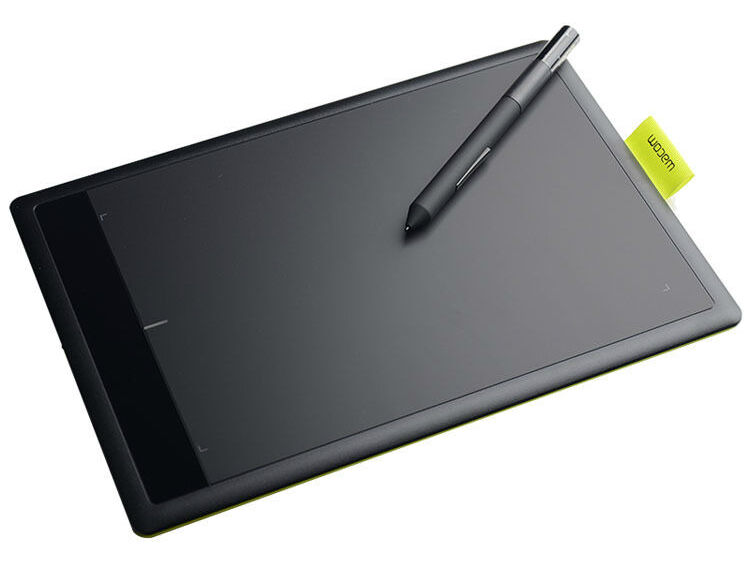 Pen tablets (or digitising tablets) are becoming increasingly popular in the Australian market since they are fun and useful for both casual users and professionals. One of the leaders in this industry is Wacom, a Japanese company founded in 1983 that specialises in creating graphics tablets but also makes pen displays, accompanying software and related accessories. Their tablets are noted for their pressure-sensitive and battery-free stylus (digital pen), convenient software integration, reliability and precision.
Those considering buying a Wacom tablet should first learn about the various options they have. The company creates products to serve a wide range of needs and interests.
Wacom Intuos Tablets
Intuos tablets have replaced Bamboo tablets. These are entry level graphic tablets suitable for hobbyists and those just starting out in a creative field. Sizes vary for the Intuos line, which means buyers can choose one according to their preferences. Retail prices range between AU $99 and $249, though cheaper ones can be found at certain markets and/or used.
Intuos Manga
Priced at AU $149, the Intuos Manga specifically caters to those who are intrigued by the world of manga. It comes with free software like Clip Studio Paint Pro and Anime Studio 8.
Intuos Pen Small
Able to easily connect to a Mac or PC, the Intuos Pen Small is easy to use and comes with a downloadable software bundle (includes Autodesk Sketchbook Express and Atrage 3 Studio). For those just beginning, this is a solid, affordable choice (under AU $100).
Intuos Pen and Touch Small
Running around AU $140, the Intuos Pen and Touch Small is a capable device that's great for those who want to create, edit and manipulate digital art. It comes with lots of downloadable software and a month of free premium lessons, too.
Intuos Pen and Touch Medium
For those who want a larger screen but don't require an advanced Wacom tablet, the medium Intuos is the go-to option. Its active area extends 216 x 135 millimetres, compared to 152 x 95 for the small. Its suggested retail price is AU $149, but the added space enables more fluid motion and broad strokes.
Wacom Intuos Pro Tablets
As the name suggests, the Intuos Pro tablets are geared toward professional graphic artists and other pros. They range in price from AU $299 to $599, but offer features such as wireless connection to the computer, tilt recognition, 2048 pen pressure-sensitivity levels and Wacom Brushes (in addition to other standard software).
Intuos Pro Small
Ideal for those that travel, the Intuos Pro Small's active area measures 157 x 98 millimetres. It costs AU $299.
Intuos Pro Medium
With an active area measuring 224 x 140 millimetres, the Intuos Pro Medium is a good middle ground for those who want more space but not more cost (it runs AU $399). The Special Edition is AU $429, but showcases elegant silver accents
Intuos Pro Large
Not as portable as the others, the Intuos Pro Large's active area measures 325 x 203 millimetres, and this added size makes zooming, drawing, editing and other functions much more seamless. For professionals who want to increase their work flow, this is a great choice.
Wacom Cintiq Tablets
Cintiq tablets are the elite line, and are noted for their high-definition LCD display, which makes for a more natural interaction with the screen. Image quality is simply unmatched by the two Intuos lines. These devices range in price from around AU $1500 to $3800 (sometimes more or less). Cintiq tablets can function as a stand-alone monitor, have exceptional colour accuracy and have all sorts of built-in shortcuts. Some models have a stunning 2560 x 1440-pixel resolution. There are well over 10 models available, with screen sizes ranging from 33.0 to 68.6 centimetres.
How to Choose a Wacom Tablet
There are numerous Wacom product lines on the market today, which can make choosing the right one difficult. A decision on which one to buy should be based on a combination of personal budget, needs and preferences. Those on a tight budget should stick with the entry Intuos line, while those looking to work more quickly should try an Intuos Pro or Cintiq tablet. Those who value portability should go for those Wacom tablets with a smaller screen, while those who mainly work at a desk or in a studio should go for a larger active area. The Intuos Pro and Cintiq lines both suit serious professionals, though Cintiq offers much more in terms of specs and features, and this allows for greater productivity.