As a long-time, avid fan of the computer games scene, I find it heart warming to think of all the titles I've played that really meant something. Games that truly left you enriched and overjoyed. What seems obscure is that I seldom experience such a feeling with games of any other genre. This is why my guide will focus on the world that is Adventure Games.
Adventure games, sometimes classified as Action/Adventure and sometimes Puzzle, are games where the setting and story play a significant part in the progression of the game as a whole. In the majority of adventure games, the player takes on the role of a protagonist, guiding him or her through challenges they are faced with. Adventure games in general require a lot of puzzle solving skills, and even if you don't affame yourself as a legendary puzzle solver, it's generally easy to adjust yourself to a pattern in which puzzles are presented to you in any game title. Puzzles are what makes an adventure game, what defines it. Without the puzzles, the game would be nothing more than a movie, yet with them it is so much more.
Most adventure games base themselves on an enveloping and rich story. The story interacts with the puzzles by giving the player hints and background on which to solve any particular challenge. There may be many concurrent puzzles, characters and setting present at any one time which must be solved, talked to or visited in order to further the players knowledge of the story.
In short, the games I love, adventure games, are a once in a lifetime chance to experience something grand. I can, with great despair, say that I'm sad to have finished all those games, because when one lives through a good story the first time, it's never as good the next time around. But, enough about background, let's have a look at what you have missed.
Adventure games of the golden age:
--------------------------------------------------
Maniac Mansion
- 1987
This is a noteworthy mention, for this is the game that started it all. A lot of adventure games have been written for the SCUMM engine, where SCUMM stand for Script Creation Utility for Maniac Mansion. Maniac Mansion takes a rather original spin to what most adventure games are these days, because the player controls three protagonists. The player may switch between them as necessary, some characters are in areas others are not, and colaboration is required to finish this classic. Although it doesn't boast a great deal of graphical finess, its story is certaintly entertaining more than inspirational, and dialogues are well developed. The game is enthrawling overall and (at least back in the day) was a surefire success.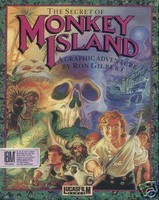 Monkey Island: The Secret of Monkey Island
- 1990
What - a - classic. The first installment in what I can honestly say is the best adventure game series I've ever played. The player takes control of Guybrush Threepwood, a mighty pirate, on his quest to find "Big Whoop", a legendary treasure. This game is filled with excellent dialogue, hilarity and is both an action packed thrill and a comedy. You really have to play this one true gem. Forget the graphics, I guarantee that disapointment is not an option.
Monkey Island 2: LeChuck's Revenge
- 1991
The sequel to the first part of this legendary series packs just as much of a punch. Saying anything about the story would inevidably spoil the first part, so I'll do no such thing. This is an all earth shattering game, developed by whom I'd consider the masters of adventure games, Lucasarts. The player again guides Guybrush Threepwood on his quest to find "Big Whoop"...again! Guybrush is swept aside trying to win back the love of his live, Elaine Marley. Monkey Island has always been about great fun, comedy and an all round fantastic experience.
Indiana Jones and the Fate of Atlantis
- 1992
Basing itself off of the successful motion picture series, Lucasarts brings us an adventure game that's hard to put down. Playing as Indiana Jones (of course), Indy must uncover the secter of Atlantis. But! The Nazis are also on the ploy, having learned what Indy knows it is a scramble to uncover the secret to the mythical atlantian power source: orichalcum. This is one of the first Lucasarts adventure games to feature a full voice sound track. Every character speaks, and the voice acting is very well done. This is certaintly a relic from the past with high production values.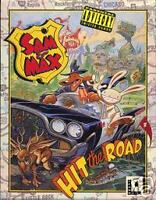 Sam & Max Hit The Road
- 1993
Sam & Max is a hilarious adventure game based on the comic series by Steve Purcell. The player controls Sam, a 6 foot anthropomorphic dog and Max, a 3 foot hyperkinetic rabbity-thing. With a modified control interface to other games released by Lucasarts it still comes out a winner. The player must solve the myster of the excaped sasquatch and the disapearing trees. Don't expect to find a down-to-earth game here, Sam & Max is all over the place, a looney-bin adventure that's as fun as it sounds. It also features a full voice-over soundtrack.
Day of the Tentacle
- 1993
The sequel to the game that started it all (not really) has a lot to live up to. Luckily it does in all respects. Day of the Tentacle does not follow on from the classic Maniac Mansion but rather start a new story in the same style of gameplay. Again the player controls three characters, but each character is in a different timezone. The past (100 years back), the present and the future (100 years forward) all come togeather as the player manipulates events across history to prevent the evil Purple Tentacle from taking over the world! This has to be one of the most fun-filled and challenging games due to the nature of time oriented puzzles.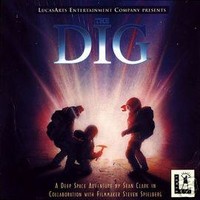 The Dig
- 1995
Bordering on vaporware, The Dig was released in 1995 based on an idea by Steven Spielberg which was later adapted into a major motion picture release entitled Deep Impact. Those who are familiar with the film will find that at least from the onset, the premise is similar. An asteroid is heading for earth and hence a group of astronauts intercept it and install explosive charges in order to change it's course. This is where the stories part and where the protagonists of the game discover that the asteroid is in fact a giant space ship. Needless to say, our heroes end up marooned on an alien planed, tasked with finding their way home by restoring alien technology to a working order. The theme of xenoarcheology is the key focus of this game as are the deteriorating interpersonal relationships between the three protagonists. Though dated, the graphics were excellent for their time and along with cutscenes produced by ILM and an incredible score by one Michael Land, this title is a must for those serious about adventure gaming and adventure gaming history buffs alike.
Full Throttle
- 1995
A long time in development has to render something awesome, and this is certaintly proof. Full Throttle, having been in development for over 10 years, came out with a bang. The player plays as Ben, the leader of the Pole-Cats motorcycle club, who has been framed for the murder of the boss of a major motorcycle manufacturer. Ben must go into the very heart of conspiracy and Corley Motors itself in order to clear his name and unmask the true villain. It is truly a beautifully produced game. With full voice acting on all characters and a music sound track to boot it is a magnificent adventure game.
Broken Sword: The Shadow of the Templars
- 1996
Broken Sword is a game that taked the player the world over. One of the main features of this classic is the sheer amount of locations that are visited over the course of the intriguing story line. Playing as George Stobbart, the protagonist of the series, you must uncover the secret of the Templars, a long gone crusade society that mythology to this day speculate amassed incredible wealth. This game really gets you thinking. The progression is flawless in every way and not a single moment seems try-hard or overbaked. In order to follow on to the sequels, you really must delve into the first. Doing so will allow you to get a better feel for the characters and you will enjoy the sequels more. Obviously I'd recommend this game for all that want a slightly more action based adventure.
The modern age:
-----------------------
Broken Sword 2: The Smoking Mirror
- 1997
The sequel to the affamed Broken Sword brings with it an original story and the cast of characters that made the first game what it is. Once more the player is thrust into action as George Stobbart as he must solve the mystery of the kidnapping of his girlfriend. The player treks on a globetrotting adventure where a plot is unraveling concerning the upcoming solar eclipse. What has to make Broken Sword what it is are the story and graphics combined in the most superb proportions. This is a game that leaves you hanging on the edge of your seat. Filled with suspense and conspiracy it is bordering on Action/Adventure, however it really has a style of its own.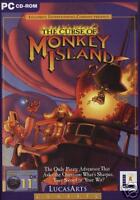 Monkey Island 3: The Curse of Monkey Island
- 1997
The all time flagship of the Lucasarts empire? I'm confident that it is. The Curse of Monkey Island would have to be my favourite adventure game of all time. The game is entirely hand drawn. Every scene you see, every animation is a hand drawn cell by artists at the Lucasarts studios. Upon a pirate ship owned by the zombie pirate LeChuck, Guybrush finds a ring that turns his one true love, Elaine Marley, into a golden statue. Guybrush must remove the curse or else his love is lost. I would suggest that you first play both prequels to this title, but it's not necessary, the game is made well enough for anyone to begin at this wonder. If there ever was a game I urged you to play, it is this. You will not be dissapointed.
Grim Fandango
- 1998
This is perhaps the most overlooked title of 1998. Many games came out that year, yet no one took notice of what could possibly be the game of the year for its respective time! Grim Fandango is the first three dimensional adventure game by Lucasarts, and in my opinion it is a raging success. The entire game is based on the mexican celebration of "The Day of the Dead". This is reflected by where you actually are, the land of the dead. Playing as Manuel Calavera, an afterlife package salesman, you uncover a villanous plot that something is rotten in the land of the dead. Traveling through vast, beautifully drawn art-deco cities, you must get to the bottom of fraud that's cursing this afterworld. I could not have been more breathtaken by this title, it is truly a marvel of video games in general. If you're keen of something 3D, this is for you.
The Longest Journey
- 1999
This little gem was released by little known FunCom games. It missed the eye of most gamers and even mine. I discovered this title several years after its release and was pleasantly suprised. The skill level of this game is rather high, the puzzles are in general not easy, in fact at some stages downright headcracking. April Ryan is an art student plagued by fantastic dreams she does not understand. In a dream, she is foretold of events that become realised and although she refuses to believe, she is soon forced into a life fate itself has bestowed upon her. This game takes a few new turns in the gameplay dynamics, and although I won't spoil what those are, they are a positive turn. It is a long tale but a very engaging one at that, and for those who love fantasy, I could not think of a better game to recommend.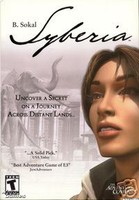 Syberia
- 2002
Though not the first, this is probably the flagship product for one Benoit Sokal, an illustrator and a visual designer. Having produced the relatively little known Amerzone, Sokal's graphical genius is clearly evident in this beautifully produced adventure from the Canadian developer Microids. It takes place in a semi-realistic world as you take control of one Kate Walker, a lawyer sent to a fictitious French town of Valadilene in order to finalise a sale of a toy factory. The game then takes you on a transcontinental journey due east, through Germany and Russia. Every location is akin to something out of a dream, an alternate reality where you wish you could stay if only the game would allow. The story, likewise, is very much out of the ordinary and although it has it's lapses, the rather romantic tone of the tale told makes for a truly heart warming experience.
Broken Sword 3: The Sleeping Dragon
- 2003
This is the third installment is the popular Broken Sword series and with its third step, it also gained a third dimension. Once again, you are placed in the shoes of one George Stobbart along side one Nico Collard. Likewise, you are hot on the trail of the legend of the Knights Templar and a conspiracy to take over the world. The story is somewhat trivial, however the game redeems itself nicely through the use of some very interesting gameplay mechanics and very entertaining characters, including many blatant and often hilarious stereotypes. The chemistry between George and Nico is very nicely presented not only by the animation work but also by the voice actors who have done a superb job in bringing these characters to life. A worthy successor to the legacy set up so firmly by the first two installments.
Syberia II
- 2004
This is a continuation of the original Syberia and unlike many other games, this sequel picks up the story exactly where the last had left off. Due to improvements in technology, the graphics are even better here, the environments more alive and the characters more defined. Perhaps the only downside is the rather forced story that does not unfold as beautifully as it did during the first installment. For those wanting to see more of Benoit Sokal's illustrative genius, there is plenty of it with his trademark architectural flair and machinery designs. Though the ending should not be disclosed, the entire second chapter of this story is a formidable counterpart to the legacy set up by its predecessor. The story is very powerful and moving and coupled with some of the best graphics ever seen in a video game, this adventure title is one of those rare little gems that will shine for years and years to come.
Still Life
- 2005
To those familiar with Post Mortem it will come as no surprise that Still Life is the sequel to it. While Post Mortem was played through the eyes of one Gustav McPherson, the story in Still Life is experienced by both Gustav and Victoria McPherson, Gustav's grand daughter. It is a story of two serial killers more than seventy years apart on the timeline of their evil deeds. The present moment is handled by Victoria who tries to understand the killer by studying a set of notes written by her grand father, Gustav. What is striking about this game is a very real feeling of suspense that is seldom found in adventure games. Though it is reminiscent of a lot of horror films, the story, never the less, keeps you on your toes. The narrative, handled by both Victoria's and Gustav's timelines, works and it works very well. What will surprise you the most, however, is the ending, and for that you will simply have to play and experience this story for yourself. Great production design with formidable voice acting and some very interesting characters.
Dreamfall: The Longest Journey 2
- 2006
I can honestly say that I have not played this game yet. It looks superb however. Playing as Zoe, the player must again travel between universes to solve another bedazzling secret. Look out for it!