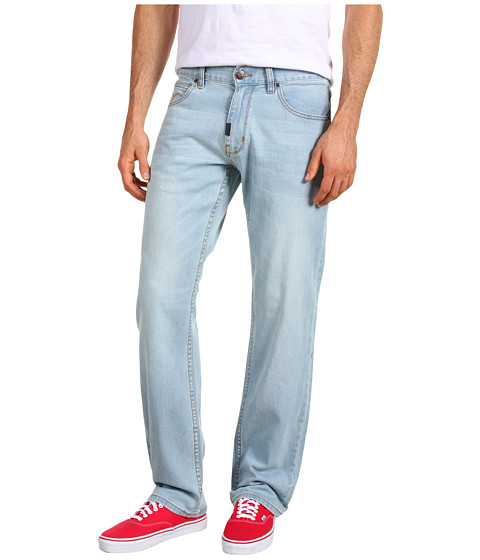 Jeans are the most popular form of men's casual trousers, not just in Australia but also all over the world, with thousands of pairs bought and sold every day. The many different designs on the market, along with various body shapes of men, mean that certain jeans will suit some people more than others.
When thinking of making a purchase one should consider how the jeans can flatter their physique, as well as the look they are going for. As there are many styles available, searching online is preferable as numerous amounts can be reviewed next to each other.
eBay in particular is useful for this as many items can be searched for easily and then narrowed down quickly in line with personal preferences.
What Are Jeans?
Jeans are a form of trousers or pants predominantly made from denim, a material with distinguishing features, which give jeans a recognisable look. It is a derivative of cotton fabric and traditionally coloured with an indigo dye.
Jeans first found their way to prominence via French manufacturers who had inadvertently invented the denim material. By way of Italian merchants, they soon spread around the world and to the Americas in particular.
The onset of the Californian Gold Rush meant that workers needed durable trousers with strong pockets so that they wouldn't tear easily. The man who contrived to create these trousers was one Levi Strauss, a recognisable name that is still associated with jeans today.
Into the 20th century, with the garment being worn by notable characters on television, jeans enjoyed a boom in their popularity. Today, they are a multi-million dollar industry, with many people choosing to wear them due to their casual but also smart appearance.
Different Styles of Men's Jeans
The popularity of men's jeans has seen numerous styles develop. The table below provides a quick description of the different cuts that men's jeans come with.
| | |
| --- | --- |
| Cuts of Jeans | Description |
| Straight Leg | The original kind of men's jeans, straight leg versions have the simple look. They remain roughly the same width from top to bottom and are neither too tight nor excessively loose around the leg. |
| Slim Fit | Some men prefer the slim fit look in their jeans, providing a well-groomed and slender appearance. They are tapered to hug the leg, but not so close that they become uncomfortable. |
| Boot Cut | Originally designed to be worn with boots, these types of jeans are similar to straight-cut jeans until they widen down from the ankle downwards. |
| Skinny | A style popular with the younger generation is skinny jeans. They will cling to the leg and provide a streamlined and thin outline for the wearer. They are sometimes known as 'drainpipe jeans.' |
| Flares | Although more common in the 60s and 70s, flared jeans widen significantly from the knees down. This provides a baggy appearance around where the shoes will be. |
Jeans can also come in different styles that men can choose between. They can be purchased as part of a desired look but also to suit a particular body. The table here highlights some of these styles further:
| | |
| --- | --- |
| Style of Jeans | Description |
| Low Rise | Low-rise jeans will sit further down on the waistline, sometimes below the hips. Sometimes called 'hipsters' they have gained popularity with youth movements of the 21st century. |
| Medium Rise | The 'normal' and traditional style of jeans will sit perfectly around the hip, not too high and not too low. A lot of men prefer these because they do not feel comfortable wearing low or high-rise jeans. |
| High Rise | High-rise jeans sit higher up above the waist, usually around 3 inches above the belly button. They were most popular during the 1970s, but are still worn by certain men today. |
Buying Flattering Jeans
As well as simple style considerations, some men will buy jeans to suit their body shape and leg physique. Consider what body type is in question and review some of the tips listed below to help with buying flattering jeans.
Smaller Sized Men
Avoid some flare and boot cut models because they will not compliment a smaller frame at all. However, if concerned about appearing too slender then avoiding skinny or slim cut jeans is also recommended. Straight-cut or some boot-cut jeans can fit well on smaller men.
Men with short legs should avoid boot-cut jeans, as they can make legs appear even shorter. Low-rise jeans and turn-ups at the bottom can give off a negative appearance also. Find a suitable length that will not come up far above the shoes or likewise drag on the floor.
Larger Sized Men
For larger men, think in terms of wider cut jeans with a higher-rise. In honesty, skinnier jeans that taper downwards and clutch the leg will not suit a bigger frame. For heavier men, low rise will only amplify overhanging stomachs.
Wider, baggier jeans can flatter the body shape further, whilst some straight leg versions can only exaggerate the heavier look.
Athletic Sized Men
Some taller and more athletic sized men will suit a wider range of jeans. Straight-leg jeans with a flat front can complement a solid physical build. For those with wider hips, look at boot-cut jeans as a way of streamlining the whole appearance from top to bottom.
Men with muscular legs may want to show them off with tighter jeans. For a more casual and relaxing look then consider wide-leg jeans or even flares that can provide more room to lounge around in.
How to Buy Jeans on eBay
The popularity of jeans has meant that many versions can be found in store or online. eBay has countless amounts from different types of sellers. They will be available both as auction items, where the highest bidder will win the jeans after the allotted time has expired, and instantly as a 'Buy It Now' item for the advertised price.
In order to begin a search on the site, simply type in 'men's jeans' and review the results. Alternatively, select the 'Men's Clothing' category and then 'Jeans' from the left-hand side menu.
Distinguish between the preferred sizes of the jeans, along with the desired brand if necessary. Some jeans can come in different colours apart from shades of blue, with blacks, greys and reds also available.
The preferred maximum and minimum price range of the jeans can also be selected. This is a brilliant way of instantly ridding any search of items out of the price range. Jeans at the lower end of the market can be found for less than $20, although prices of up to $200 may need to be paid to find a quality and long-lasting pair.
Make sure to read the item description carefully before placing a bid or committing to buy, notably in regards to the size. For pre-owned jeans then also take more time reviewing the details, as deterioration in their quality may have arisen. Contact the seller if further information is needed about both the jeans themselves and the payment or postage details.
Conclusion
Consider body shape before coming to buy one of the countless styles of jeans on the market. Look how the certain way jeans are manufactured and whether they can complement existing body features or even downplay ones that can make a person self-conscious.
Using eBay to make a purchase is recommended, as countless amounts of jeans can be found in the same place and acquired for potentially great prices. Check out the eBay Deals section of the site and in particular the 'Jeans' section if looking for further reductions in price.