Ancient civilisations believed that gold represented the sun whilst silver represented the moon. And, like today they were two of the most important precious metals.
Sterling silver is made up of 92.5% pure silver and a mix of alloys. This is done because pure silver, like gold is a soft metal and damages easily. Sterling silver is the most common form of silver used in jewellery. It is hallmarked '925'.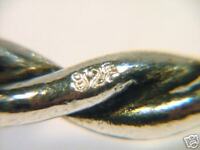 An example of silver hallmarking
A lot of jewellery falsely bears the name silver. What is known as 'Alpaca silver', 'German silver', and 'Tibet silver' are not made up of silver at all but of a mix of alloys created to look like silver. The only sort of silver you should buy is silver that bears a hallmark of 925, 999, or 800. This will differ for antique silver items and the hallmark will need to be individually researched.
Silver jewellery will tarnish if not used regularily. It is easily cleaned with a polishing cloth or cleaner. Many modern jewellery pieces use the natural process of oxidisation to help create a 3D effect on silver. Be careful polishing these items as you will loose the effect if you polish the black off.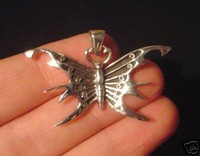 An example of deliberate oxidisation.
Most modern silver items come from Thailand, India and Mexico. Thai pieces are largely made using the lost wax technique producing many identical pieces. Indian jewellery is largely handmade so each piece comes out unique. They use a lot of natural gemstones such as onyx, amethyst and tigers eye. Whilst Mexican jewellery takes on a more tribal look.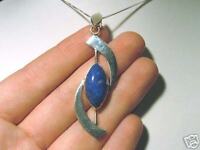 An example of Indian Sterling silver set with a Lapis Lazuli stone
English: Silver
French: Argent
German: Silber
Italian: Argento
Latin: Argentum
Spanish: Plata