Render her speechless! An ideal gift just keeps on giving... long after flowers wilt and chocolates are eaten, vintage ceramic electric jugs will lustre on as fancy ornamental features in her kitchen, plus, it'll appreciate in value every year. Rather than get another throw away present for her why not make next mother's day, birthday or Christmas different, select a gift offering real value. Selective shopping can yield an antique kettle that's not only attractive but highly sought-after. You should have it added to their household insurance and ask to for it to be returned to you in their will... by the time you eventually get it back again it will have spiked in value.
Remind her of Grandma's kitchen!
A great gift idea. Many varieties were created and matching one for personality and price range can be half the fun. Fancy art deco jugs became a status symbol during the Great Depression era. Anyone connected to mains electricity who could offer to boil you a cuppa from a wildly fancy jug was obviously doing swell. Ceramic electric jugs were produced in Australia during the half century spanning 1920s-1970s. The earliest jugs have ceramic lids, scarce now having lived through a world war and decades of dutiful service. Bakelite plastic offered cheaper durable lids through the 1940s and the ceramic electric jug with bakelite became a feature in almost every Australian kitchen by the 1960s. Modern plastics replaced bakelite as lids by 1970 and by 1980 the body of the jug was ultimately made entirely of modern plastic and space-age alloys.
"My Mother had one of these!"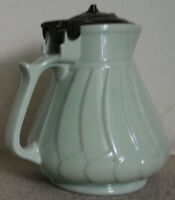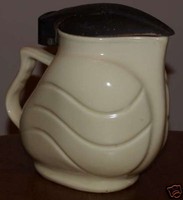 Since you've read this far I am sure you found this guide useful so please vote!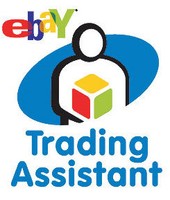 Trading Assistant Directory