Czech Firepolish beads are a must for any beaders bead box. They are the highest quality manufactured glass faceted bead available. Wether you are buying Czech Firepolish beads at your local bead shop or the vast selection available on ebay knowing your option will help you pick the right bead for the right project. Let the following information help build your collection.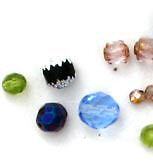 A Brief History of Czech Beads
A tradition that has been passed on from one generation to the next, Czech Bohemian glass makers have a rich beading tradition dating back to the 14th Century. Earlier craftsman's competed mainly with Venetian bead makers. Famous for there use of rich colours, by 1860's they became the European leaders in glass bead making.
It wasn't until the 19th Century, the industrial revolution that the Czech beading industry became the centre of glass bead making. They developed machines that enable pressing glass into heated moulds. Through constant innovation, improvement and perfecting this technique the Czech quickly became masters of pressed glass. Today the Czech's are in the fore front of the world bead market through there brillance of colour and there every changing variety.
(Reference the Centre for Bead Research)
What are Firepolish Beads
Firepolish refers to the manufacturing process how the beads are created. The beads are first moulded and pressed. Angles are then created on all sides of the beads to create the facets. The beads are then finished in an hot oven where melting the sides creating a smooth shinny finish. This process results in a perfectly beautiful bead, but the edges aren't as sharp nor are the facets as exactly sized as machine cut crystal.
Firepolished Beads shapes and sizes
Firepolish beads come in an amazing variety of shapes. The most popular shape is round. Sizes range from 3mm to 22mm, with the 4mm,6mm & 8mm being most common. Other shapes are rondelles, oval, teardrops and the stunning cathedral.
Firepolish Bead Colours
Famous for there stunning selection of colours and effects, there are over 800 hundred commonly used glass colours. Luckly the Czech beading industry is very organised and has a common naming system for there glass colours. So colours should be easy to match if sellers stick to the colour names given by the manufacturer.
A selection of the popular metallic iris colours are below:
Iris Blue - Combination of metallic blue, purple and a little bit of green mixed with bronze.
Iris Green - Combination of metallic greens, purples and a little bit of blue with mixes of gold and bronze.
Iris Purple - Combination of metallic purple, green and bronze.

Iris Brown - Combination of Hematite and Bronze.
Firepolish Bead Effects and Coating
Firepolish beads can be coated to created a vast selection of stunning effects. There are hundreds of coating, lusters and metallic finished available, below are the most popular effects and coating used.
AB - Is short for Aurora Borealis Roughly translated as 'Northern Lights'. The AB coating is applied to just one side of the bead creating a rainbow or prism effect.
Virtal - A rainbow iridescent effect with an added pink/ green metallic reflection underneath. The effect is applied just one side of the bead giving a beautiful shimmer.

Mirror - Crystal beads with a silver finish and coated with a brillant colour.

Crackle - The glass beads are immersed in cold water while hot, thereby cracking the glass. The beads are then reheated to seal the cracks giving a smooth finish.
Matte - Beads are tubled to created a subdued frosty look.
Opaque - Solid looking colour does not transmit or reflect light.
Perfect for Vintage and Modern Jewellery Design
Firepolish beads are one of the highest quality glass bead available, Czech beads will give your designs years of wearing pleasure. The variety of colours and shapes available will never cease to amaze and inspire you.
Happy Beading!!!