just a simple guide when buying video game consoles , this guide is mostly in refference to the older collectable systems such as the old nintendo 8 bit , atari 2600 , sega mega drive etc etc.
when buying consoles as a collector or simply to keep the kids amused its important to know whats a legit machine , whats a clone and whats a bootleg and a market rip off.
always do your homework , im seeing nintendo WII selling as high as $700 AUS when you can buy them retail for below $380.
Any item in the consumer electronics industry will depreciate , fall in value over time except collectables and specially issued items.
In fact the video game industry has been one of the most rapid falling depreciated items in the world.
They are also one of the most sort out after items as there is millions of collectors world wide.
Your homework also includes keeping up todate with a average range of what collectable consoles go for , such as super nintendo around $40 - $50 , nintendo 64 around $50 - $70 and so forth.
Same goes for bootlegs , clones and coppies , while it is said in most cases these can fetch bigger dollars , they can be rare , limited in the numbers , been out of production for over 20 years etc etc.
But they can also be freashly produced costing little dollars and making a ebay buyer think he or she is purchasing a 20 year old machine thats been stored away.
lets have a look at such a item.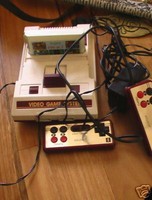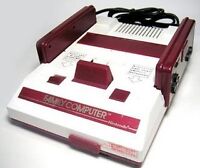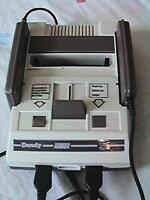 Picture A clone famicom Picture B original famicom Picture C another famicom clone
this is a 8 bit famicom , Picture A is a pirate copy , notice it doesnt say nintendo on it next to where it says Family Computer ?
Notice how close they look simular in all detail.
its worth about $15 to $20 , why ? because this clone was produced in mass bulk , i can actually buy one of these brand new in the box from china tomorrow.
Now the famicom in the middle Picture B , being the original Nintendo, its worth around $50 to $60.
Now lets look at Picture C , any guesses what this clone is worth ? around $80 to $100.
This is a famicom clone made in russia , extremely difficult to find and get a hold off.
hang on we not done yet.....
another famicom clone ,straight from china ,value around $30 to $40 , this is the older generation famicom clone so its no longer in production.

Now this is where things get interesting , another famicom clone , yet it bares the nintendo name on it.
A very big risk for a chinese company to take just to pull the sales and make the extra dollars , Nintendo would have sued them for millions of dollars , i dont know who manufactured this unit or its history , so who knows what happened.
No longer in production. A very difficult and sort after item to find , manufactured in china.
The value of this would be somewhere between $150 to $200.

There is hundreds of famicom clones , same goes with other nintendo consoles , segas , playstation and so forth.
what you see here is 5 different famicoms , 5 different values , so as you can see it does pay off to do your home work.
Look on ebay , see what others are selling for , check in online stores in japan and china.
I hope this guide has been helpfull and is a starting point as a collector or starting a collection in the world of video game consoles.
cheers baz