Oscar Wilde quoted, "fashion is a form of ugliness so intolerable that we have to alter it every six months." Just like we keep shuffling and refreshing our wardrobe, we love giving our homes a fresh look every now and then. It is not possible to get a house painted every six months. We can just add some magical touch to the interior décor by adding new item or cushion covers and removing the old ones. Reshuffling them will keep the glossiness of the items intact. Let us discuss about a few items which require shuffling: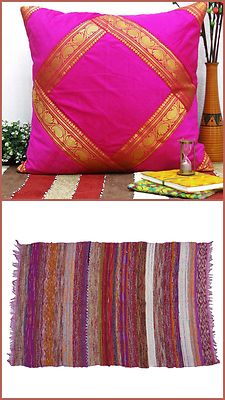 CUSHION COVERS
add life to the most prominent room at your home-the living room. Depending on the appearance of your sofa, you can decide on the cushion cover patterns, starting from the fabric, size to patterns and designs. Fabrics make an essential feature while choosing a cushion cover. Linen cushion covers are amongst the most trendy and beautiful natural fibers. But every linen cushion cover wouldn't necessarily complement your sofas. To make a better choice of cushion covers, we have the following guidelines:
Look around your room to decide on the pattern of your cushion cover. Before purchasing a cushion cover, make sure that the cushion cover would gel well with the sofa and at the same time complement the walls of your living room.
There are many magazines on interior decoration. Go through any one of them to get some great ideas for your cushion covers. Or you can browse the internet to get ideas that would match your preferences.
Next, you need to decide if you want a traditional or a modern look. The decorative cushions that have a lot embellishment would be perfect to fetch a traditional look. For a modern look, go for bigger sized cushion covers with simpler designs.
Most importantly, decide on the usage of the cushions and the covers. If you know that you've got to use it frequently, go for fabrics such as linen. Expensive material can be used as cushion covers provided you use them only for decorating. Mix and match the shapes and sizes and use the cushion cover to decorate your living room with ease.
MATS AND RUGS
do make a huge difference to your bedrooms or bathrooms. In order to pick the best mat and rug, go through the following guidelines:
You need to measure the dimensions of your bathroom so that you do not end up picking the wrong size. Generally the sizes that appear online are different from the real size. Therefore it is necessary to measure the size appropriately.
While picking a bath mat, go for a no-slip bath mat. Get one in vibrant colors to increase the charm of your bathrooms. Online browsing wouldn't fetch you much results because the products vary in sizes and patterns.