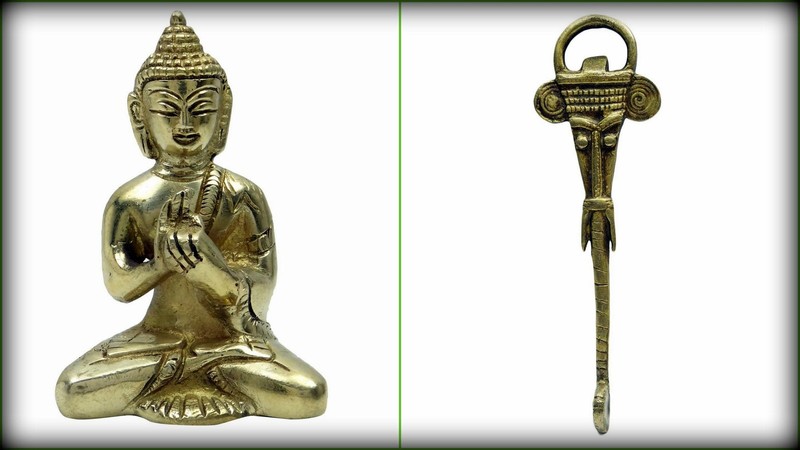 Metal art
is not new to Indian origin. Its history dates back to the Ancient Age, as back as 7000B.C. Any art work that is crafted from the 'ores of the earth, including bronze, gold, tin, lead, silver and iron are all included in metal art. Metal sculptures differ from stone or wooden sculptures through. Since metal can be melted and poured, heated and fused, hammered, it creates a long lasting work of art. But in order to maintain the glossiness of your metal decorative items, you need to keep them clean. It isn't a tough task to get your metal art work cleaned. You can easily do it by yourself at home with natural ingredients.
Follow the guidelines mentioned below to clean up your
brass decorative
items:
First, before your start off with the cleaning process, make sure that what you're cleaning is actually brass. There are probabilities of having a piece of brass plated iron or steel. Therefore, go for a magnet test before proceeding with the cleaning. If the magnet doesn't stick to the piece, it is brass.

You can use your kitchen sink or a large bowl for this purpose. Fill either with lukewarm water and submerge the item. Mix some gentle liquid dish washer and soak a cotton rag into it. Squeeze the cotton rag and start wiping the surface of the piece to get out the dirt. You can use a soft bristled toothbrush to get the minute dirt particles out. If your decorative item is cleaned, you can avoid the next steps.

Mix a couple of teaspoons of baking soda and washing soda with boiling water in a non-aluminum pot. This removes the lacquer from brass. You can either boil the brass item or submerge the object in boiling water. This is because when brass heats, it expands and shrinks when it cools. In this process, the layer of lacquer falls off.

You can create your own brass polish at home and keep your items clean. You need a lemon cut in half. Dig out the seeds and squeeze the juice out into the bowl. Get some table salt or baking soda. Slowly stir the salt or soda into the lemon juice until it becomes a fine paste. Your brass cleaner is ready. Now use a soft cotton cloth to clean the object. If you aren't sure if the item is actually brass or brass plated, go with the lemon and skip the salt or soda. A soft bristled toothbrush will easily clean the remaining dirt.

Once your brass is clean, rinse it and dry your brass quickly so that the brass item doesn't retain water spots. Apply a little olive oil very lightly to keep the brass item intact.