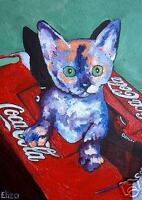 (ACEO painting of "Kitten in a Coke Box" by Elizas_art)
ACEO!
The phenomenon of ACEO's on eBay started back in early 2005 when some eBay artists came together form the eBay Group, ACEO. Art Cards, traded as ATC's had been around for some time. Enterprising artists realised that they could create and sell their own cards on eBay.
ACEO's are works of art on card that are exactly 2.5" by 3.5" (6.3cm x 9cm).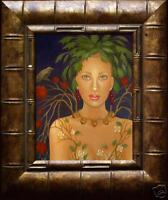 (ACEO painting of a "Druid Fairy" by painted_girl)
The joy of these cards is that they are small, relatively inexpensive (sometimes amazingly so!) and can be displayed several ways. While it's possible to show them as art, framed and hanging on the wall (where groups make wonderful shows) you can also place them in folders, the same sort of folders used to show trading card collections, to make wonderful and very original coffee table books.

There are as many ways to display them as your creativity allows!
(pastle ACEO by jenredstreake)

Many "new" artists have had their start in their artistic career making these cards. The size makes them very unthreatening and the number of mediums you can use is open to the artists creativity. Everything from fine oil paintings to pencil work is found used in the creation of ACEO's. Collage is big in the ACEO world, and some very fine examples of that art form are to be found in the ACEO format. Coloured pencil, pen and ink, ink and watercolour, crayon, even coffee has been used to create wonderful images on the cards.

Often artists will embellish their cards with small three dimensional objects such as gems or charms, but to be a true ACEO these must not extend too far - the card must always be able to fit into a trading card pocket.

A ACEO search on eBay AU turns up a wealth of talent available for a small price. However, another wonderful thing about ACEO's is that, because of their tiny size, postage is not a problem, and searching other eBay countries, such as the US, shows thousands of ACEO's ready for your pocket!

I hope that I have convinced you to take a look at this wonderful way to collect art, it's well worth it!