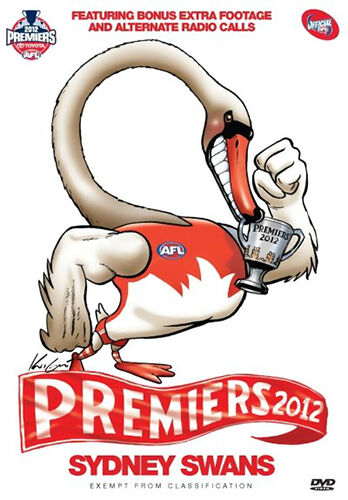 With an outstanding 17 wins for the 2014 season, the Sydney Swans are on their way to their fourth Grand Final in 10 years. Since 1982, many fans have followed every home game this fierce, determined AFL team has played at the Sydney Cricket Ground, where the club relocated from Melbourne. With distinctive red-and-white jumpers and trusty home-game mascot "Cyggy," the Swans work hard to keep their fan base proud of them, and play their best when championships are on the line. The Swans have worn the well-known red and white since 1880, and, as their official website claims, have defied "the odds to become one of the few continuously operating football Clubs of any code in the world."
The Swan Emblem
Because of the sheer numbers of Western Australians playing for the club, a journalist in 1933 referred to the team in a tongue-in-cheek fashion as "the Swans." The name came from the Black Swan, which was common to Western Australia. It stuck after a cartoonist published a drawing that highlighted the journalist's offhand comment, and the Sydney Swans emblem was born.
Sydney Swans Guernsey History
It wasn't until 1987 that the Sydney Opera House silhouette was added to the red-and-white jumper's yoke point. Previously, the jumpers sported a simple red "V" on a white background. Another change: the initials "SMFC" were added to the back of the jumper in 2004. This was a nod to the club's history and the period they were associated with the South Melbourne Football Club. The guernsey is typically worn with red footy shorts and red-and-white hooped socks. A seldom-worn clash guernsey is a mostly white version of the guernseys worn by players during home games.
Sydney Swans Trivia
When the red-and-white club guernsey was first worn in 1932, it was made of heavy wool. This made it cumbersome and hot for active club members on the field.
The Sydney Swans' first club song was based on a Gene Autry tune. The Autry song was later thought to be too subtle, and missing the necessary oomph to rally fans before or during the game. In 1961, the club eventually received permission to adapt Notre Dame's Victory March to be the Swans' new, much more motivational Club song.

AFL Grand Final Gear for Fans
Grand Final "Road to Glory" tees are highly coveted by Sydney Swans supporters. Fan gear runs the gamut from the aforementioned tees, to footballs; red-and-white caps and scarves; personalised guernseys for men, women, and children; beverage mugs; and footwear. Fans also have the option of dressing as their favourite Sydney Swans Club member, or applying a removable full-face "team" skin emblazoned with the Swans emblem. By the time the Grand Final ends, die-hard Australian footy fans will have been part of all the Grand Final's heart-stopping action, and will have witnessed the outcome of one of the country's top sporting events.