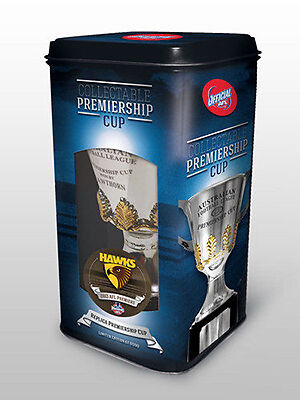 As spring starts and the football season draws to an end, footy fans gear up for the much-anticipated Grand Final with fan merchandise. Collectors can find this year's Grand Final memorabilia alongside merchandise from past matches available on eBay. There are also buying guides available online that can be helpful for determining authenticity.
Grand Final Posters
While the AFL does have officially licensed posters featuring players and clubs, some of the most treasured Grand Final posters are the WEG posters. The Australian cartoonist, William Ellis Green, developed an iconic style that collectors still seek out. He began drawing posters of the winning AFL teams in 1954, and continued doing premiership posters depicting AFL Grand Final winners until his death in 2008. As his popularity increased, he even created designs for winning clubs dating to the beginning of the league in 1897. Posters continue to be designed in his signature style and sold annually, although owning one designed by WEG himself is considered paramount to most collectors.
Grand Final Pins
AFL Grand Final lapel pins come in a variety of styles, and include the red, blue, and white pins that feature the year and logo of the Grand Final. The AFL Premiership Cup Pins are in the shape of the Premier Cup, with the year etched onto the cup. Apart from being a fun piece of memorabilia, proceeds from these have gone towards Ladder, a charity to assist those affected by youth homelessness. There have also been lapel pins of WEG posters for an arty, unique piece that is not as common as the other two styles.
Grand Final Record
The annual Grand Final Football Record is probably one of the most popular pieces of footy merchandise for fans and collectors – plus it is one of Australia's oldest magazines still in publication. Published once the final two clubs have been determined, the Grand Final edition is highly sought after, and can be purchased at newsstands and at the match. While the Grand Final edition is slightly more costly than other editions, it is still a very affordable piece of match memorabilia. Those who have just fallen in love with the game and are looking to add to their collection can purchase the 11-volume, hardcover set that covers the first 100 years of Grand Final Records. "100 Years of Grand Final Records" includes a complete, full-colour reproduction of each issue from 1912 to 2011.
Grand Final DVDs
After the match has been won, fans can relive their club's victory with recorded game day coverage. Although this piece of Grand Final merchandise takes a bit longer to go on sale, it is often a favourite item for fans of the winning team.
Grand Final Photos
2013 Grand Final winners, the Hawthorne Hawks, were captured in an officially licensed AFL panoramic photo from the Grand Final match. Merchandise like this is typically available post-match, and comes in several varieties. Framed and numbered prints offer some of the best shots of the game in one piece, while photographers sell shots in a variety of price points online. Collectors can even find historical photos from past matches. Clubs also have art prints and photographs (often signed) available for fans wanting to remember a winning footy season. Selecting a Grand Final photo is about personal preference, whether fans want to remember the team, a skilled player, or a historical moment in the match. As prices vary, it is important to remember that buying a limited edition, signed, or framed piece will typically be more expensive than a single print, but those more expensive pieces often hold their value over the years.
Grand Final Memorabilia Footballs
Printed with the date, the two competing clubs, and the AFL Grand Final logo, these commemorative footballs are ideal for display. Some fans purchase one before the match to bring it along, hoping to score signatures. For those not attending the match, autographed Grand Final footballs can be found for sale, but buyers should always make sure the signatures are authentic before paying premiums for autographed balls.