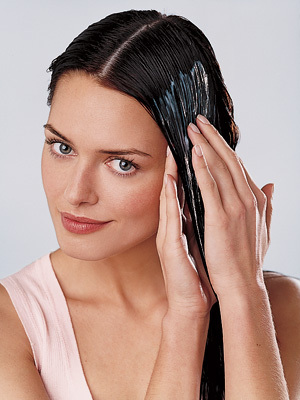 You know how to shampoo your hair – and really, what's so hard about applying conditioner or using hairspray, right? Wrong! There are a number of common mistakes we all make when caring for our hair. Here are our top tips for caring for your hair.
DETERMINING YOUR HAIR TYPE

To properly care for your hair it is important to understand your hair type. Here's what to look out for when determining your hair type:

- Normal hair appears strong and healthy and has good body. It stays looking freshly washed for longer.
- Dry hair is prone to damage and loses shape and bounce. This type of hair lacks lustre.
- Oily hair actually feels oily and becomes lank and limp soon after shampooing.
- Combination hair feels oily at the scalp with dry and brittle ends.

Hair becomes oily when your scalp produces sebum and it travels down the hair shaft. Often the hair farthest away from your scalp can be dry or damaged. So, it is a good idea to use a conditioner on the ends of your hair even if it is naturally oily.

FINDING THE BEST PRODUCTS FOR YOUR HAIR
Someone with coarse, dry hair has very different needs from someone with thin, healthy hair. Therefore, to care for your hair it is important to use a shampoo and conditioner that is suited to your hair type. Volumising hair care coats each hair shaft thereby increasing the diameter of the individual hairs. Conditioners for dry hair contain lubricants that coat the hair shaft, protecting it from brushing and combing damage. Shampoos for dry hair are designed to increase hair's moisture level by penetrating to the cortex and attracting water to the hair. Shampoos for oily hair contain better foaming surfactants and few, if any conditioning additives. Coloured hair can be protected from sun damage and colour fading by using shampoos that contain UV filters. So one shampoo and conditioner does not fit all. In order to bring out the best in your hair, make sure you are using a shampoo and conditioner for your hair type.
Oily Hair: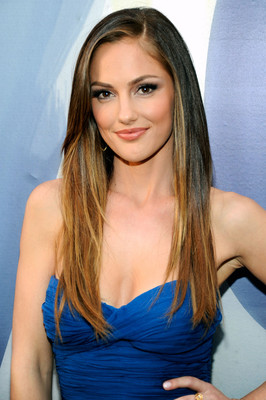 Oily hair can be tricky, because it's important to get the scalp (which is where the oil comes from) clean – but without drying or stripping hair. Most products for oily hair are designed to take away the greasy, limp-locks look with gentle cleansers that will leave hair looking healthy instead of parched.

When it comes to styling, think lightweight textures and finishes, regardless of how much hold you want. Avoid heavy creams, pomades, oils, and waxes, as they will weigh hair down or make it look too slick. Consider a lightweight styling spray that can tame wild hairs without the added heaviness of a thicker formula.
If you have oily hair, you should consider the following products:
Davines Natural Tech Rebalancing Shampoo (For Oily Scalp)
Carita Haute Beaute Cheveu Purifying Mask (For Oily to Combination Hair)
Nisim Oil Free Conditioner (For Normal to Oily Hair)
Shu Uemura Cleansing Oil Shampoo Anti-Oil Astringent Cleanser (For Oily Hair & Scalps)
Phyto Phytocedrat Sebo Regulating Shampoo with Essential Oil of Lemon (For Oily Scalp)
Rene Furterer Volumea Volumizing Conditioning - No Rinse (For Fine and Limp Hair)


Fine Hair: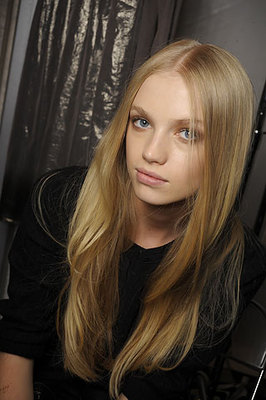 Fine hair is all about not overdoing it: The more you add to this hair type, the worse it can look—a little too much conditioner or styling cream and you look as if you dipped your head in oil. Those with fine hair also need to pay close attention to how much product (particularly styling product) they use, as overdoing it can cause even the best products can make fine hair look limp and lifeless.

For daily care, use a gentle shampoo and stick to sparing use of conditioners (applied just to the ends, or consider a lightweight leave-in spray conditioner). A lightweight styling spray or lotion can provide all the control you need without weighting hair down.
If you have fine hair, you should consider the following products:
Sachajuan Volume Conditioner (For Fine and Sensitive Hair)
Nutraluxe MD Hair Active Luscious Volumizing Shampoo
Shu Uemura Muroto Volume Pure Lightness Shampoo (For Fine Hair)
Kerastase Resistance Volumifique Volume Expansion Spray (For Fine Hair)
Ojon Volume Advance Thickening Spray (For Fine, Limp, Flat Hair)
Moroccanoil Extra Volume Conditioner


Dry Hair: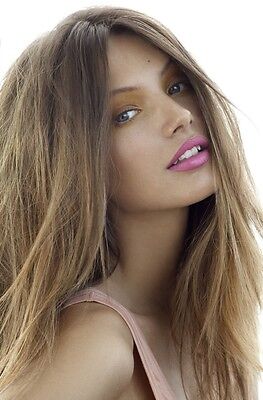 Dry hair needs moisture and usually lacks shine! Look out for moisturising shampoos, and formulas that say they're for damaged hair as well – since dry hair is more vulnerable to damage in general.
And don't forget the conditioner—it's essential! Again, seek out dry or damaged hair formulas, and condition every time you shampoo (as the act of shampooing, even with a product formulated for dry hair, can strip moisture). Dry hair can also handle heavier styling products like waxes, creams, serums, oils, and lotions that could weigh other hair types down.
If you have dry hair, you should consider the following products:
Rene Furterer Carthame No-Rinse Day Time Moisturizing Conditioner (For Dry Hair)
Sachajuan Dry Hair Shampoo (For Treated and Dry Hair)
Living Proof Restore Shampoo (For Dry or Damaged Hair)
Ojon Dry Recovery Revitalizing Moisture Mist (For Dry, Dehydrated Hair)
Kiehl's Olive Fruit Oil Nourishing Conditioner (For Dry and Damaged, Under-Nourished Hair)
Joico K-Pak Deep-Penetrating Reconstructor (New Packaging)



HAIR BRUSHING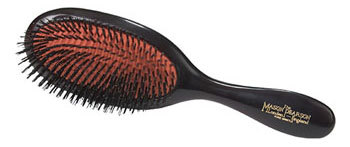 Brushing massages the scalp, helping to remove loose scales, and distributes sebum evenly through the hair, helping it to shine. However, over-brushing can make your hair greasy and may damage the hair and scalp. When brushing use a firm, regular stroke, pull the brush through the hair close to the scalp in a smooth motion and repeat until the scalp feels warm and tingly. Do not brush hair when wet as it can break. To avoid too many tangles after washing, brush your hair before you wash it. When you add your shampoo, lather by massaging in a downwards motion. Rinse and condition in a similar manner. While you may still have a few tangles they should be greatly reduced.
Combing may help to untangle any remaining knots gently. Ensure that your brush and comb have smooth rounded bristles. Don't use metal combs and brushes, which can damage the hair cuticle. We love Mason Pearson Boar Bristle - Pocket Extra Pure Bistle Hair Brush.
HAIR WASHING
Shampoos are primarily intended to clean the scalp. The ends of your hair don't get all that dirty, but the scalp and hair roots can get oily. The scalp will also always benefit from a massage, that will increase healthy circulation and help the hair that is developing in the follicles. Never 'scrub' whilst washing. Use light, even movements and gently massage the scalp with a circular action using the pads of your fingers, not your nails. Do not leave shampoo in your hair for any period of time, and always rinse out thoroughly. Leaving traces of detergent cleansing agents behind can make hair sticky and flat, not to mention serve as a source of scalp itching and irritation. For best results, use a clarifying shampoo once a week, to remove any residue and buildup. We love Moroccanoil Clarifying Shampoo.

You can shampoo your hair as often as you like! As long as you are using the right shampoo, washing won't make oily hair any oilier or dry hair any drier. And, unless your hair is particularly dirty or oily, you don't need to 'rinse and repeat'. The detergent action works in one lathering and water will rinse off the shampoo along with the dirt and oil.
For fine and oily hair lacking volume, we love Rene Furterer Initia Volume and Vitality Shampoo, adds volume and radiance to hair and restores the natural balance of your scalp.

For normal hair, we love Sachajuan Normal Hair Shampoo, which adds volume and shine without overloading hair.
For dry and damaged hair, we love Living Proof Restore Shampoo (For Dry or Damaged Hair), which replenishes moisture and improves manageability.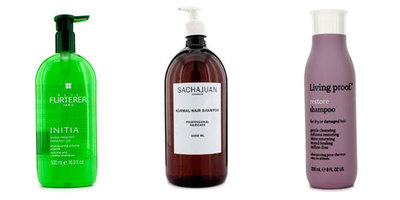 HAIR CONDITIONING

The use of a conditioner after shampooing will keep hair looking shiny and healthy and will help protect it from damage. Conditioners have benefits for both wet and dry hair. On wet hair it gives a smooth, slippery feel, preventing the hair becoming tangled and difficult to comb. The benefits continue even after hair has been dried, leaving it feeling soft and smooth. Hair is easy to comb and static flyaway is controlled.

To apply, squeeze the conditioner into your hand. Dip your fingers in it and start applying from mid-hair. Gently comb your fingers through your hair, coating it from mid-hair to tip. Concentrate on the most damaged areas, usually the ends. Leave on for 2-3 minutes for optimum results and rinse thoroughly. If you have damaged hair, it is very important to leave the conditioner on for as long as possible. Tip: For great results, slick a conditioner through dry hair before going to bed, and then rinse it out in the morning.
Too much conditioner or conditioner that isn't thoroughly rinsed out can make hair go limp. If you have fine or oily hair, using a shampoo that contains conditioning agents plus a conditioner can result in buildup on the hair, making it heavy and lifeless. Generally, a shampoo with minimal or no conditioning agents at all is best, and then use your conditioner only where you need it, not necessarily all over or near the roots and scalp. Tip: Unless your scalp is dry, you don't need to apply conditioner there.
Undesignated products are not for everyone, and unless you have truly normal hair, they're not for you. Someone with coarse, dry hair has very different needs from someone with thin, healthy hair. Fortunately, more often than not, the hair type indicated on the label is right.
For fine, oily hair, we love Bumble and Bumble Seaweed Conditioner, which has a lightweight formula that leaves hair soft and manageable.
For normal hair, we love Label M Daily Shine Conditioner, which is lightweight, yet conditioning enough for normal, healthy hair.
For dry and damaged hair, we love Phyto Phytokeratine Reparative Conditioner (For Weekened & Damaged Hair), which is formulated with botanical keratin, hyaluronic acid, ceramides and pomegranate extract, that work to re-construct and repair damaged hair.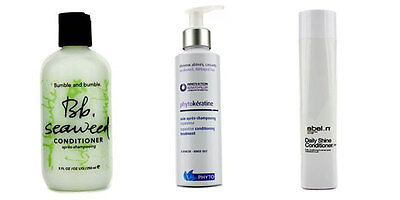 HAIR DRYING
Hair is most fragile when wet so take extra care when drying. Squeeze excess water out gently and then pat dry with a towel as rubbing will weaken and tangle hair, causing it to break easily. If you use a hairdryer you must be careful not to overdo it. Try not to hold the hairdryer too close when drying hair and use a difuser for lower temperature. Excessive heat can cause your hair to lose its natural moisture, resulting in dullness, brittleness and breakage during brushing.
Never use a curling iron or flatiron on wet or damp hair. The heat from these can easily exceed the boiling point of water, and that much heat can cause the water inside the hair shaft to actually boil, which in turn causes serious breakage and damage in that spot.
Prior to hair drying, use a heat protecting spray, to minimise damage to your hair. We love Paul Mitchell Heat Seal Thermal Protection and Style (For All Hair Types) and Frederic Fekkai Coiff Defense Pre-Style Thermal/ UV Protectant.

HAIR CAN GET SUN DAMAGED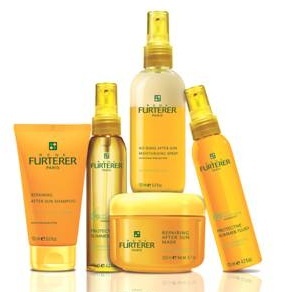 Hair is made of similar keratin protein found in the skin and can suffer dryness and become brittle from unprotected sun exposure. To avoid problems, use a shampoo and conditioner fortified with UV filters such as the Rene Furterer Sun Care range:
- Rene Furterer Sun Care Repairing After Sun Shampoo
- Rene Furterer Sun Care Repairing After Sun Shampoo With Palm Butter
- Rene Furterer Masque Reparateur Repairing After Sun Mask (For Hair Damaged by Sun, Salt and Chlorine)
- Rene Furterer Protective Summer Oil (Waterproof, KPF 90)
COMMON HAIR PROBLEMS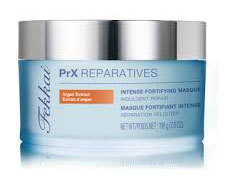 Hair damage can be caused by three main factors:
- Mechanical damage, for example by harsh brushing, combing or rubbing the hair too harshly with a towel.
- Environmental damage,usually caused by damage from UV radiation which causes structural damage to the hair fibre and changes to the hair pigment.
- Chemical damage, caused by chemical treatments such as perming, bleaching and tinting which change the chemical structure of the hair fibre and can make the hair more susceptible to damage.
When selecting the appropriate shampoo, conditioner and styling products, be sure to pay particular attention to the type of damage you are wanting to treat.
For chemically damaged hair, we recommend a strengthening repair treatment like the Frederic Fekkai Protein RX PM Repair Strengtener and Frederic Fekkai PRX Reparatives Intensive Fortifying Mask.

SPLIT ENDS
Split ends can be minimised with proper care. Split ends are a sign of dryness and hair damage and best way to manage them is to prevent further damage. Make sure that you use a good quality shampoo and conditioner to suit your hair needs; do not brush your hair extensively, especially when it is wet; avoid prolonged exposure to the sun and wind; and trim hair regularly.
You can also use products that will prevent further damage. We love Kerastase Resistance Fibre Architecte Renovating Dual Serum (For Very Damaged Lengths, Split Ends).