Buy what you LOVE!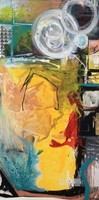 Buying art was once considered a 'boutique' investment - something beyond the capabilities of your everyday folk. However, the art scene and its rhythms are proving again and again that it is not much affected by economic conditions. It has more to do with cycles, where investors see art as a mid to long term investment and only buy that which will increase in value in the future.
The first rule to buying art is to buy what you love. Choose engaging artwork that takes on a life of its own, that makes a bold statement, or that you are instantly drawn to. That way, even if it doesn't appreciate as quickly as desired the intrinsic value of the piece is still there as well as a lifetime of visual pleasure.
Artwork and ornaments are uniquely personal and have a profound impact on a room. It is perfectly acceptable to design an entire room around an amazing painting or sculpture. Look for an artists commitment to style and consistency, and then at their track record. What is their exhibition record; marketability; length of career? Are they popular, or is the popularity over-hyped?
Educate yourself and investigate up and coming artists in your area. Talk to artists, curators, and other collectors. Work with a dealer, go to galleries, or search for artists online who are receiving good reviews. From the comfort of your home you can research the artist, evaluate the art in terms of its basic physical characteristics and view Certificates of Authenticity and Appraisals.
The art marketplace can be complicated unless you take the time to truly discover the Art World and open your mind to the variety that is available. Only then can you define your preferences and make informed selections for your collection. Shopping for art is like shopping for any other product - shop around for the best quality and remember that price and quality do not necessarily go hand in hand.