We think that the introduction of AUDIO BOOKS has been one the best and advantageous methods of Education. You can spend hundreds or sometimes thousands of dollars listening in a seminar, or you can pay as little as $20.00 and enjoy it in the comfort of your own home, or car or even while taking a walk on your mp3 player.
However, whenever there's great idea, there's someone that wants to abuse it. We at centralcoastauctions are a proud and loyal seller of genuine and brand new AUDIO BOOKS. We have found through thorough investigating that there are several sellers of AUDIO BOOKS that are pirated/counterfeit in Australia.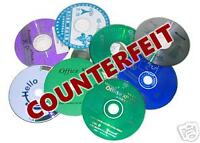 One of the main pirated items found in Australia are Anthony Robbins - Get The Edge and Personal Power.
Maybe ask yourself, how could a seller have several of the same used CD Sets. A pirate import perhaps....
What to look for : Make sure that you buy only brand new and sealed. Make sure that the listing states the items isbn.
Counterfeit media range in quality from hand-labelled recordable CDs to high quality replicas of genuine installation CDs. Counterfeiters will sometimes use holographic stickers on their CDs as an attempt to replicate genuine Manufacturers CDs' appearance. The holograms found on most CDs are not stickers, but are part of the CDs themselves.
The only way to protect yourself is BUY NEW AUDIO BOOKS that are STILL SEALED and stop these pirates from stealing.
Good luck and take care.