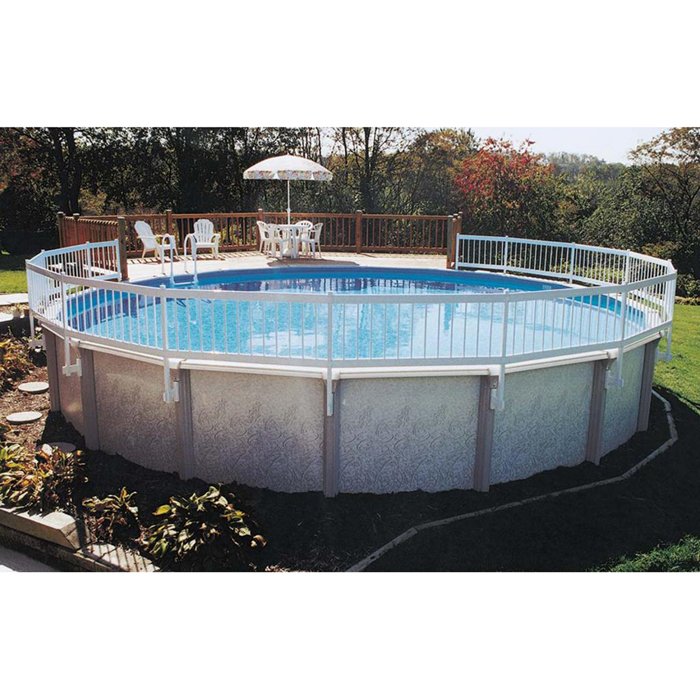 One of the best ways to deal with the heat of summer is by taking a refreshing dip in a pool. Swimming is also a great way to exercise, especially for those who need an activity that does not stress their joints. While public pools are available throughout the country, Australia has more private pools per capita than any other country in the world. When it comes to buying one's own pool, the big question to ask is whether to buy an above-ground or in-ground pool. Both are popular and provide the same benefit of having a pool, and both options have their own benefits and trade-offs. The key to choosing the right one is understanding how those trade-offs apply to the buyer's needs and situation. A little knowledge is priceless and ensures a wise purchase decision.
Overview of Pools
Whether it is above the ground or in it, all pools are more or less just very large bowls full of water. Large is actually an understatement, as the average Australian pool holds between 40,000 and 50,000 litres of water, or to put it another way, between 40 and 50 tonnes of water. Owning a pool, however, is not just all fun and games. Pool maintenance is required and includes keeping the water clean and preventing it from going stagnant. The water not only has to circulate but also needs the right chemical balance, which is maintained through the use of chlorinators.
Pool System Components
A pool has a number of components that all have to interact properly in order to ensure that the water remains clear and perfect for swimming. The key lies in the pool's plumbing and filtration system, which does the majority of the heavy lifting. This system has three major components: the pump, the filter, and the heater. Water is pumped out of the pool, filtered, heated, and then returned to the pool. Multiple inlets are used to prevent dangerous levels of suction. Most pools are also designed to be able to flush the filters automatically into the drains without the need for manual filter cleaning.
The Above-ground Pool
The two biggest advantages of choosing an above-ground pool are price and ease of installation. As the name suggests, an above-ground pool rests on the ground, rather than being sunk into it, which makes installation much easier as there is no need for extensive excavations, but that also tends to limit the design.
Above-ground pools are often round or oval in order to withstand the pressure of tonnes of water, and this leads to a proliferation of prefabricated kits. This does reduce the cost of the pool by a substantial amount but also means that it is more difficult to fit a pool into an odd-shaped yard as its largest dimension must fit within the smallest dimension of the available area. Above-ground pools also do not last as long; not only are they more exposed, but they also have to support the entire pressure of the contents. They may also require an external deck for ease of access and maintenance.
Prospective buyers should also be aware that these pools are not suitable for diving, and that they require a flat bottom in order to evenly distribute the water pressure on the ground. Even with these caveats, an above-ground pool is an excellent choice for many buyers, and not just because they can be relocated if the owner moves.
The In-ground Pool
As the name states, an in-ground pool really is a hole in the ground, albeit with a liner to keep the water in place. It should not surprise anyone that the excavation requirements alone make these pools far more expensive than their above-ground equivalents. However, this requirement also confers an advantage, in that the support from the surrounding ground makes it much easier to customise the design to meet the available area. This also means that in-ground pools often look nicer than above-ground pools, as they are landscaped into place. One result of this is that a properly installed pool can add to the value of a property, unlike an above-ground pool.
In-ground pools also allow for the excavation of a deep end, allowing for diving or even just a simple progression of increasing depth. Many jurisdictions, including New South Wales, may also require the installation of a safety fence or a cover. There are also a number of construction options available for in-ground pools with fibreglass being the most common in Australia, while both concrete and gunite, a form of iron-reinforced concrete, are also available.
Choosing the Right Pool
The first step toward choosing the right pool for any situation is understanding one's needs. The first factor in choosing a pool is budget, which is very important as some pools can cost more than a car. Other things to consider include the shape of the property; this can limit the size, particularly with above-ground pools. Buyers may also want to consider the presence of children; it is a lot easier to take the ladder away from an above-ground pool than to fence off an in-ground pool. The specific answer does not matter as much as having the knowledge to make an informed decision. For those unsure of which pool might best fit their needs, the following table matches various factors with the appropriate pool type.
| | |
| --- | --- |
| Factor | Pool Type |
| Limited Budget | Above-ground |
| Irregular space for pool | In-ground |
| Pool longevity | In-ground |
| Ease of Installation | Above-ground |
| Appearance | In-ground |
While these may not be the only factors to consider, they are important ones that every buyer should take into account before making a decision. Ease of installation is particularly important, as in-ground pools take much longer to install, sometimes weeks or months longer, than above-ground pools.
Buying a Pool on eBay
One of the best places to buy a swimming pool or pool accessories is eBay. The site offers almost anything you could want and all the tools you need to find exactly what you need. All you have to do is put your requirements into the search box, such as "in-ground pool" or "above-ground pool", and watch the results fill your screen. Buyers can also input more keywords into the search bar for a more specific search.
Then, you can use the various filters, including brand and condition, in the sidebar to narrow down the listings to just the pools and accessories that meet your needs. Before making any purchases, be sure to check out each individual listings page and visit the profile pages of sellers to see their feedback. This helps you determine which pool would be best for you.
Conclusion
One of the biggest decisions any pool buyer needs to make is whether to buy an above-ground or in-ground pool. Each option has its own advantages and disadvantages that the buyer needs to weigh and consider careful. What is key to making the right decision for any particular buyer is deciding which of these factors are most important for their own individual situation. For instance, if budget is the primary concern, then an above-ground pool is the best option for a buyer. They can also be relocated, which can be an advantage for someone planning to move in a few years. Other buyers with larger budgets may find the more permanent installation of an in-ground pool is a better fit for their needs as they add to the value of the home. With these considerations in mind, buyers are better able to make the right decision for their home.
Above-ground Pools|In-ground Pools|Swimming Pools|Indoor Pools|Pools