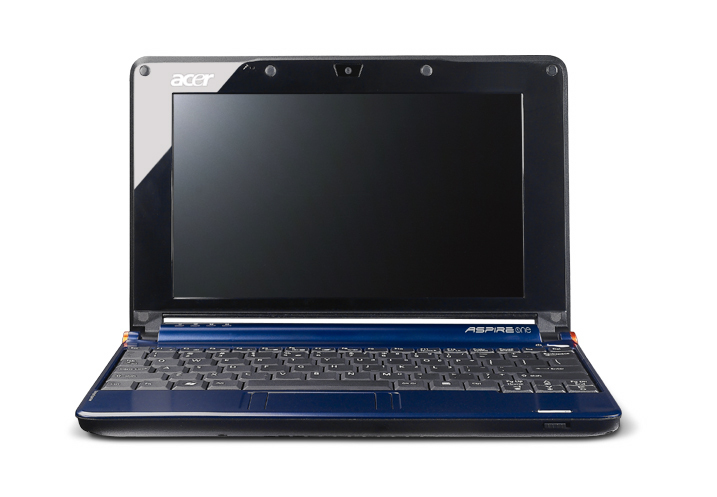 Before tablets took over the world, netbooks were the up-and-comers of the mobile computing world. They're small and their hardware doesn't require much power. The end result is a light mobile computer with a long battery life. Acer made a number of netbook models, with one of their more popular options being the Acer Aspire One, an 8.9-inch netbook.

Benefits of Netbooks
Netbooks are versatile, small, and light laptop computers that run Windows or Linux operating systems. These small laptops are designed to be on-the-go companions for work, school, and personal use. They're usually manufactured to give the longest battery life possible, which means that they aren't packing a lot of power. What they do pack are 6- to 10-hour batteries and a design that makes it easy to perform basic functions like browsing the web, checking email, and a few more intensive tasks.
Although netbooks use less powerful hardware than the typical notebook, they can still do a good job with basic, day-to-day functions. Netbooks may have been pushed out of the mobile device market by tablets, but with Windows tablets still being relatively expensive, this is one of the best ways to get a small Windows machine on the go.
Acer Aspire One Features
The Acer Aspire One 8.9-inch Atom N270 netbook has fairly typical features for a netbook from this particular era. The Intel Atom N270 processor provides an energy-efficient CPU with 512MB of RAM, which can be user-upgraded to offer additional memory. The build quality for the Acer Aspire One stands up to heavy use, making it a good choice for a go anywhere laptop. It has a 160 gig hard drive that is more than large enough for personal documents, music, and other files. The space is expandable with SD cards.
The Acer Aspire One Atom N270 weighs 2 pounds; its 8.9-inch screen is crisp and clear, and a few colour options give it some extra personality. This netbook comes with an 8GB SSD, which is not a lot of room, so it's worth considering swapping the existing hard drive out for a higher-capacity drive, or augmenting the device's storage with cloud-basic storage. An onboard GMA950 chip for graphics processing handles basic 2D games well, but struggles with 3D. The standard resolution for this 8.9" screen is 1024x600. While 3D game graphics don't handle well on this computer, it does great with video viewing.
The system is set up with Windows XP and useful pre-installed utilities such as Windows Live Messenger. The built-in webcam is also controlled through software, which allows the user to make group chat calls and other video chat purposes.
Acer Aspire One Accessories
Once the user has an Acer Aspire One, it's time to shop for accessories. A netbook case is the first order of business, as this small, light netbook is easy to drop. Cases come in a variety of styles, but a solid neoprene option provides plenty of protection. Small messenger bags, accessory cases, and other options give the user a way to easily transport this netbook, although it also fits easily into purses and briefcases.
Another useful accessory is a wireless laptop mouse. Laptop mice are smaller than a typical mouse, which makes them easier to carry in a petite netbook case. While the touchpad on the Acer Aspire One does the job, many times it's more comfortable to have a separate mouse to use.
A USB thumb drive is another important accessory for your Acer Aspire One. The internal drive is very fast, but it's very small; a thumb drive helps with holding media, pictures, and other items that can take up a lot of space. A 32GB or higher thumb drive should serve for most common day to day needs.
Buying an Used or Refurbished Acer Aspire One
The Acer Aspire One is an older netbook model, so it's difficult to find a new in-box option on eBay. Some sellers do offer new models, although used or refurbished models are far more common. It's important to understand the difference between the two terms. A used model is one that the seller has used previously, and has only removed the personal data off of the system. A refurbished model had an issue that was fixed by the manufacturer or the seller. Sometimes a hard drive died, but other times it's a more extensive switch. Understand exactly what type of model the seller is offering, and what has been done to the netbook over the course of its computing life.
How to Buy an Acer Aspire One on eBay
Start with the Computers & Tablets category to start the search for the Acer Aspire One on eBay. Go to the Laptops and Notebooks section to continue refining the search options. Some options for refining the search so it's easier to find the netbooks include: looking for the specific brand, choosing a screen size, or going with the processor brand that the netbook uses.